St. Petersburg in late autumn: A beautiful girl against the backdrop of St. Isaac's Cathedral. Indifferent people walk past, and she gives a short speech about a "disgraceful phenomenon – the disrespect of women."
This is the beginning of a video manifesto by 19-year-old feminist Anna Dovgalyuk entitled, "What's under my skirt?" In the video's next three minutes her companion on the metro pulls up her skirt, showing off her underwear, while the text at the bottom of the video talks about "upskirting" (taking pictures under a woman's skirt in public places), and she notes that Russia, alongside Japan and the U.S., is a world leader in terms of the number of women subjected to such humiliation.
Dovgalyuk posted her manifesto on YouTube and dedicated it to all men who like to peep under women's skirts, "on behalf of all young girls who have become your victims." "Look! And don't come near us," the video says.
Given the rising wave of allegations of sexual harassment in Hollywood, the general reaction to the video was surprising. The majority of those commenting failed to appreciate its message about disrespect and women's rights. Typical posts: "Dress properly and no one will look under your skirt," and "Feminism is 100 years old and they still don't get it: respect can't be demanded, it has to be earned. And a bare bum won't help."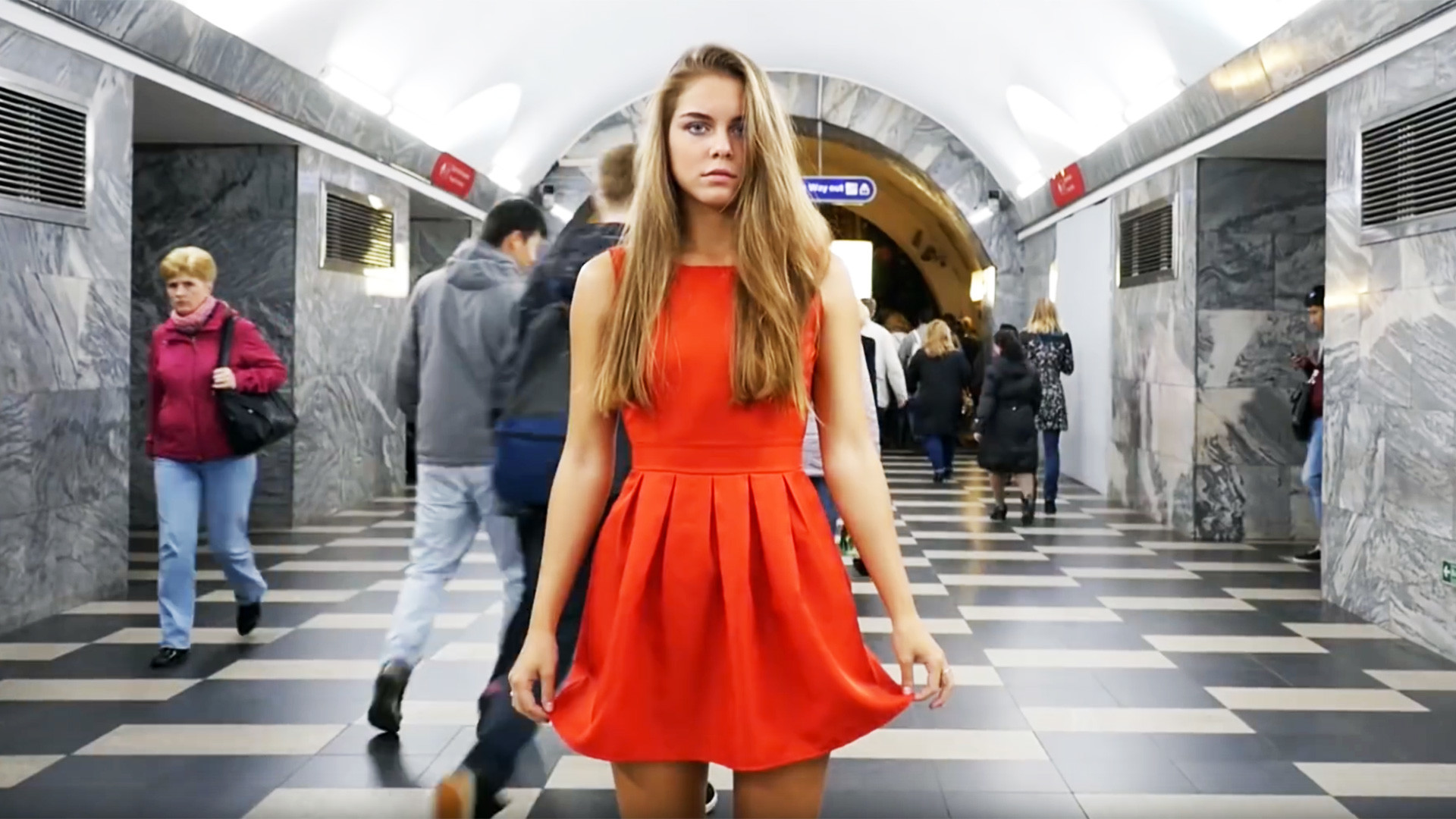 In addition, soon after the video's posting Dovgalyuk was suspected of providing escort services. On his Facebook account journalist Alexander Bunin posted photographs of the girl (doing exercises) outside the Burj Khalifa tower in Dubai, on a beach in Malta and in swimming pools and casinos in Monaco. Then, a week later he found photos, allegedly of her, on the website of the Kukolka upmarket escort agency in St. Petersburg.
Bunin also complained about the video's manifesto, saying, "it was clearly shot in a studio, using Chroma Key," because "the dress does not move in the drafts of wind from passing trains and there is zero reaction from passersby."
'Unreal' Russian feminists
Had it not been for the journalist's exposé, there may have been no chilling story about the oppressed sex in the wake of the underwear stunt. "In the eyes of ordinary people, the average feminist is a woman that nobody has seen and nobody knows what she does, but they know what she does is bad," said Leda Garina, director and curator of Eve's Ribs, a project about discrimination against women.
Feminists are confused with lesbians and identified as man-haters, and seen as simply unkempt losers with problems in their personal lives – these myths are still widely circulated, says Garina. A show on a national TV channel discusses in earnest whether a girl should be blamed for being raped, and rapper Oxxxymiron (Miron Fyodorov) makes a speech in front of thousands of people about the need for dialogue between people, putting feminists on par with Nazis.
Another popular point of view is that feminism doesn't exist in Russia and that it's not needed. When a Women's March was staged in 673 cities around the world in January 2017 (on the day of Donald Trump's inauguration, the planet's main sexist, according to the protesters), no one in Russia marched. Russia Beyond found only one woman supporting the event – Loretta Marrie from Singapore paraded alone on Vorobyovy Gory (Sparrow Hills) in Moscow holding a poster proclaiming, Why I March.
Women's status was better in the USSR than the U.S.
In fact, according to an opinion poll conducted last year by the Levada Center, 51 percent of men and 75 percent of women support equal rights between men and women, and the movement for women's rights in Russia is more than 100 years old.
Nevertheless, in terms of gender equality, according to the annual Global Gender Gap Report of the World Economic Forum, Russia today ranks 71st out of 144 countries, and feminist rallies in Russia gather fewer supporters than in Turkey (a conservative Islamist country where thousands of women still attend protests).
"Yes, at the time of the Bolshevik Revolution [1917], feminist initiatives carried substantial weight," Garina says.
Even during the Soviet period (when authorities banned feminism as a civil movement), the position of Soviet women was very different from the position of women in the U.S. or Germany. They enjoyed the right to work and education, and to keep their maiden names. Soviet women could fly into space or become tractor drivers.
Still, it was not a country where feminism had triumphed. Rather, it was about work duties, not about rights. After working on a par with men, women had to go back to perform "purely female duties" such as looking after the family and home.
Proving oneself in a man's world
Modern Russia has enough problems: domestic violence, sexual harassment, efforts to ban abortions or make them less accessible. As in the rest of the world, in Russia on average, women's salaries are less than those of men doing similar jobs and women's career choices are also not equal.
"I work in finance, I am the sole owner of the company and most of my clients are men because there are more men among wealthy people, something that again confirms a certain imbalance of opportunities," says Natalia Smirnova, general director of the consulting company, Personal Adviser, and a member of the American Financial Planning Association (FPA).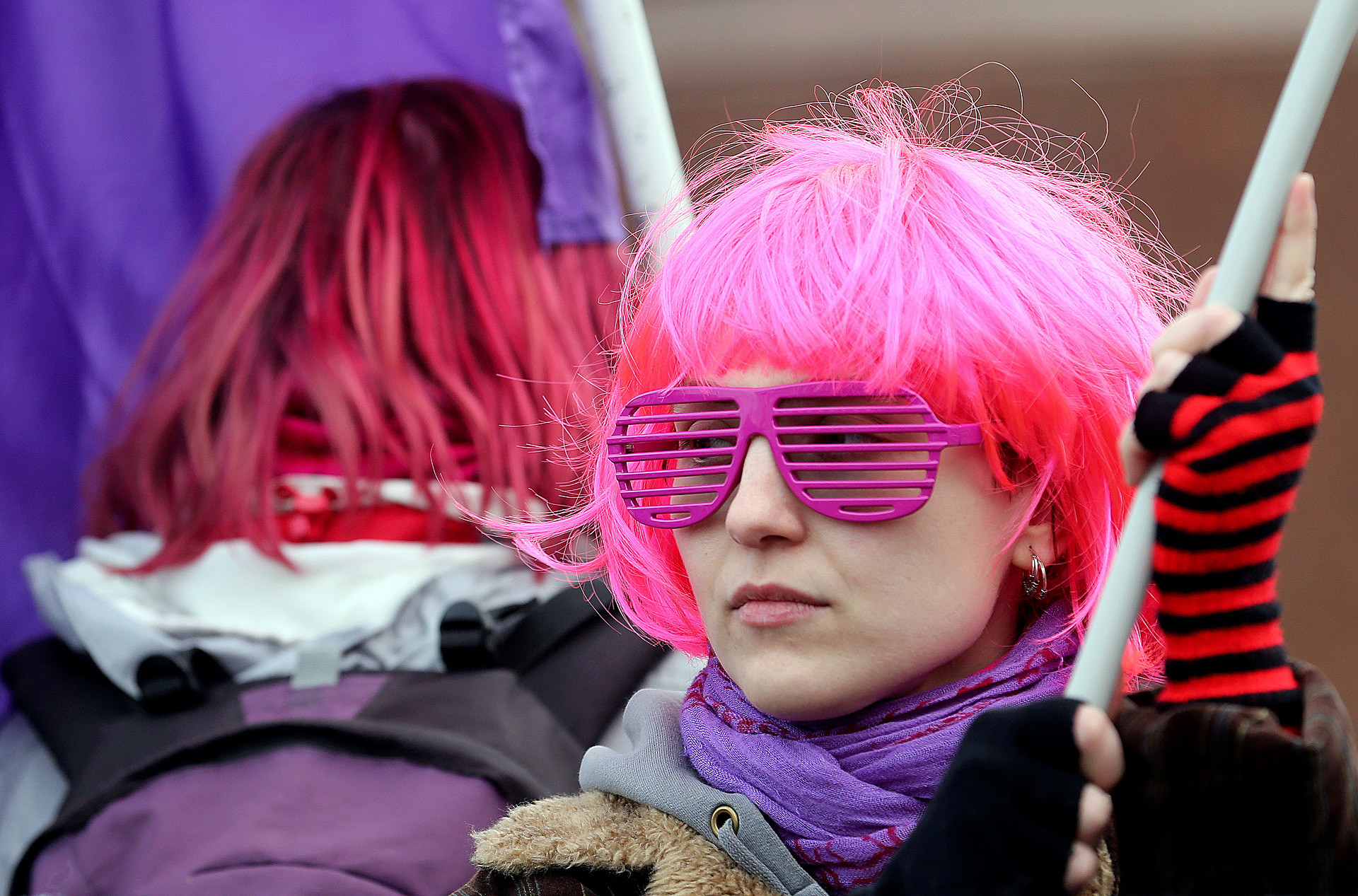 Women's march in Moscow
Sergei Fadeichev/TASS
Smirnova has been in the financial sector for over 15 years but says that at meetings with clients she still has to spend the first 15 minutes proving that, "despite the fact I don't have a Y-chromosome, my brain is no worse because of it."
"It is the same with colleagues. Meeting them at conferences, at first I encounter a certain condescension and jokes along the lines of 'lass, what do you understand in all this.' Only later they realize I have a serious client base and media exposure, and then gender becomes secondary," Smirnova says.
Overall, despite its long history, feminism in Russia is a young movement, and there are issues that women have to fight for. So far, the campaigning mostly takes place on social media, and Garina expects there will be a growing reaction to efforts to ban abortions, or bizarre proposals for a ban on selling cigarettes to women [it was turned down].
"This is a logical response to a conservative turn to the right," Garina says.
If using any of Russia Beyond's content, partly or in full, always provide an active hyperlink to the original material.