The quality of medical services in Russia can vary, so Russia Beyond - together with Moscow's Medicina Clinic - explain the subtleties of how to find doctors and medical care providers you can trust.
When it's a question of health, you obviously want to get it right - and if you live in another country it can be a daunting task trying to find the right clinic or treatment. In Russia, there are a few important points you should check thoroughly to make sure there are no hidden surprises when you visit a doctor, no matter how serious the problem.
1. Check for an international quality certificate
The certification of a clinic is the standard it adheres to, so don't cut any corners when searching. There are many certificates in the medical world and the safety they guarantee varies. But there is a "gold standard" which minimizes risks, be it medical error or a fall in a corridor: Accreditation from the Joint Commission International (JCI). Though common in the U.S. and Europe, it's still fairly rare in Russian clinics. Medicina is the only multidisciplinary clinic in the country which has all of its units accredited by the JCI.
In practice this means all processes are standardized - from the work of dentists or an operating theater team to the personnel department and the registry. For instance, all information about a patient is "embedded" in their personal barcode. By reading it, medical teams can access the patient's medical history, prescribed medications, known allergies, and recommended diet.

What's more, before an operation all members of the surgical team talk through the what they plan to achieve and the stages of the surgery to guarantee the entire team is on the same page.
Under JCI requirements, medical providers are supposed to have a pharmaceutical committee to analyse the drugs a clinic uses and determine which are best for patients. The committee also carries out analyses of the time it takes to provide care, regular independent audits, and much more.
"The introduced standards and business practices guarantee the highest safety level for patients and medical personnel," says Peter Yaverbaum, Medicina Clinic's director for dealing with insurance companies and sales. "Moreover, one can't prepare for such an accreditation in two or three months. Inspectors check everything: The last time a doctor had his certificate confirmed, how their diploma was checked, how a patient was treated, can a nurse open the door if a patient locks themselves in a shower and is taken ill, and where the kitchen inspection documents are to be found, even if the kitchen is not ours but belongs to our partner restaurant."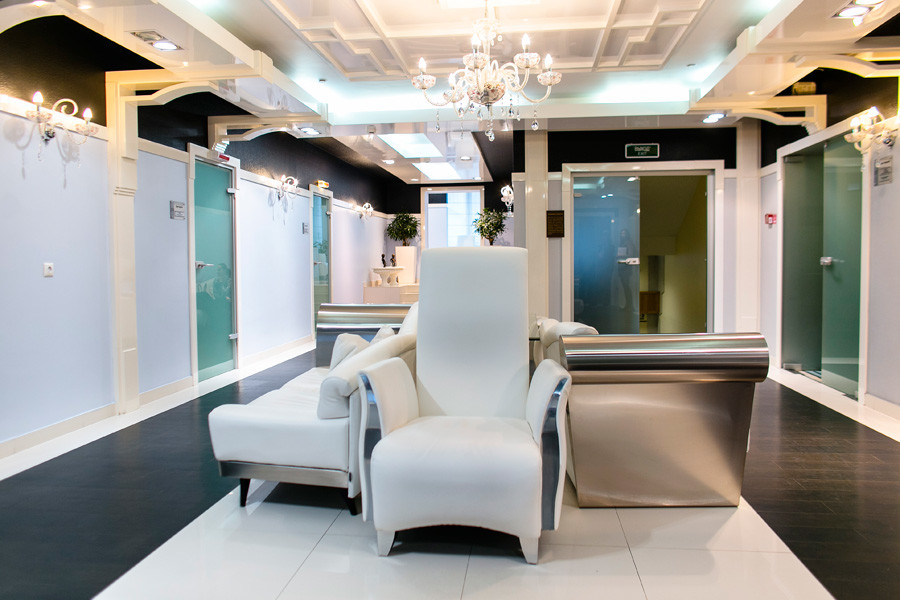 Moscow's Medicina Clinic
Mark Boyarsky
2. Focus on service and language support
It's not just about being able to make an appointment on a website, choosing a convenient time, or booking a return call. In Russia, potential language barriers between a doctor and a foreign patient can be a problem - so availability of foreigner-friendly services is a big plus. They include language support, escorting a patient to the door of the doctor's room, and translation of all information you and insurance companies may require.
The ideal working principle is "one patient - one doctor," Yaverbaum explains. "The idea is that every patient should be assigned a doctor who deals with the patient, participates in organizing care, and is responsible for the patient. We have a big clinic and a hospital with 105 beds. But wherever a patient ends up, they can expect a very high level of service. They will be met and escorted to the doctor, have an examination, and be immediately provided with results," Yaverbaum says.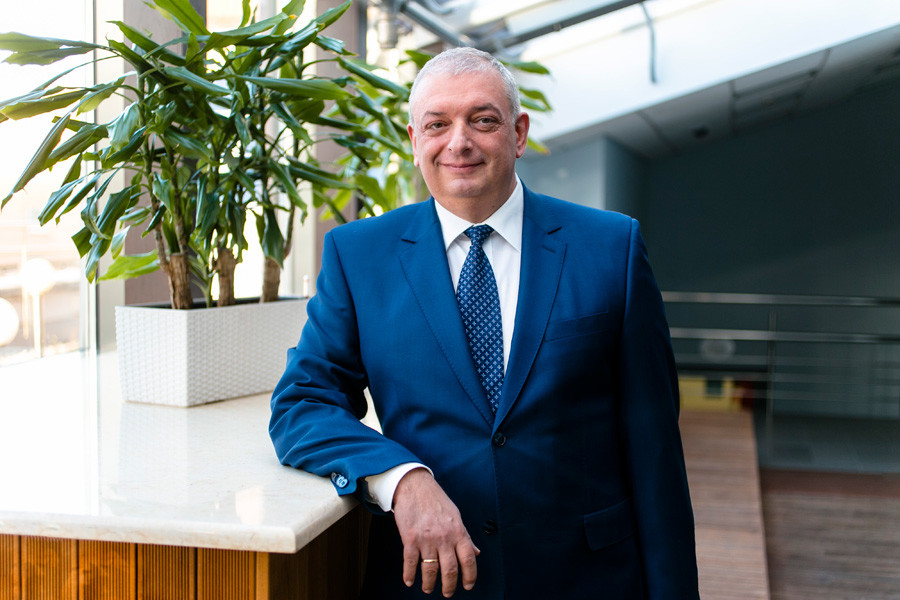 Peter Yaverbaum, Medicina Clinic's director for dealing with insurance companies and sales
Mark Boyarsky
3. Find out about availability of expert services
Even if your condition doesn't need exclusive, technologically complex services, their availability is still important when choosing a clinic. At the very least it indicates that the clinic is keen to develop and be at the cutting edge of technology.
For example, Sofia - Medicina Clinic's oncological center - uses the method of single-dose radiosurgery: The tumor is completely removed in one session, while the healthy tissue remains unaffected. The method has been developed by Israeli specialists and treatment doses (for any type of radiation therapy) are tested by the International Atomic Energy Agency (IAEA). It sends special sampler devices to Moscow where they are irradiated and sent back, and then the center receives certificates stating whether the dose applied was correct or whether there was a deviation from the norm.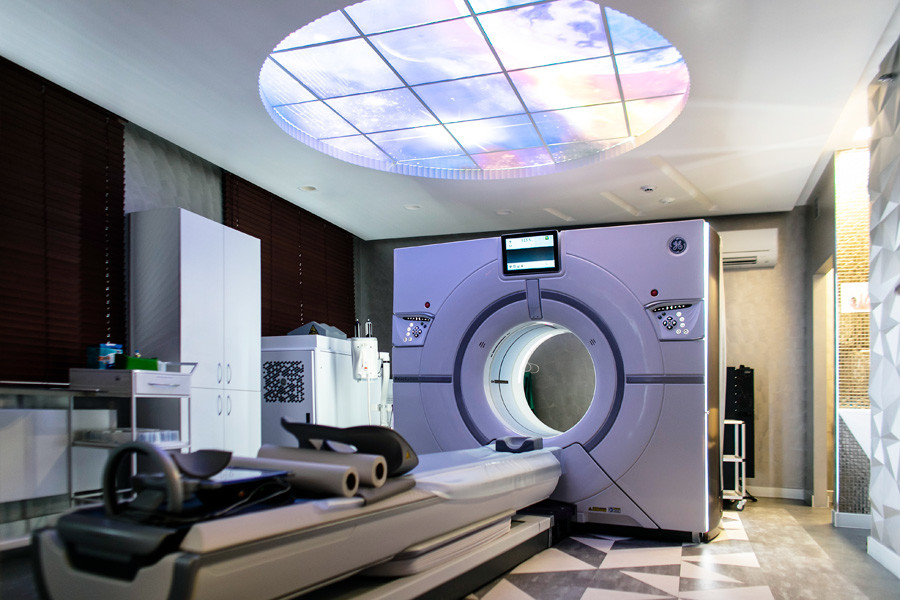 Сomputed tomography scan in Moscow's Medicina Clinic
Mark Boyarsky
4. Don't forget about your own insurance company
The ease of payment for medical services depends on contracts with foreign insurers and partners. Ideally, a clinic should have direct contracts with leading Western insurance companies such as Allianz Worldwide Care or BUPA.
Another good option is a clinic's cooperation with assistance companies (for instance, Europ Assistance or AP Companies Global Solutions) which represent Western insurers in the settlement of insurance claims. Payment is agreed and guaranteed through them. In such a case, provided there is adequate insurance, a patient won't have to worry about compensation or paying for services.
If your insurer is not included in the list of partners, it is better to find out in advance whether a clinic provides the required statements and reports in English.
In fact, a competently organized medical establishment won't put competition at the core of its ideology, Yaverbaum believes. If a clinic works for the sake of patients' health, it will have a large network of partners, including partner clinics.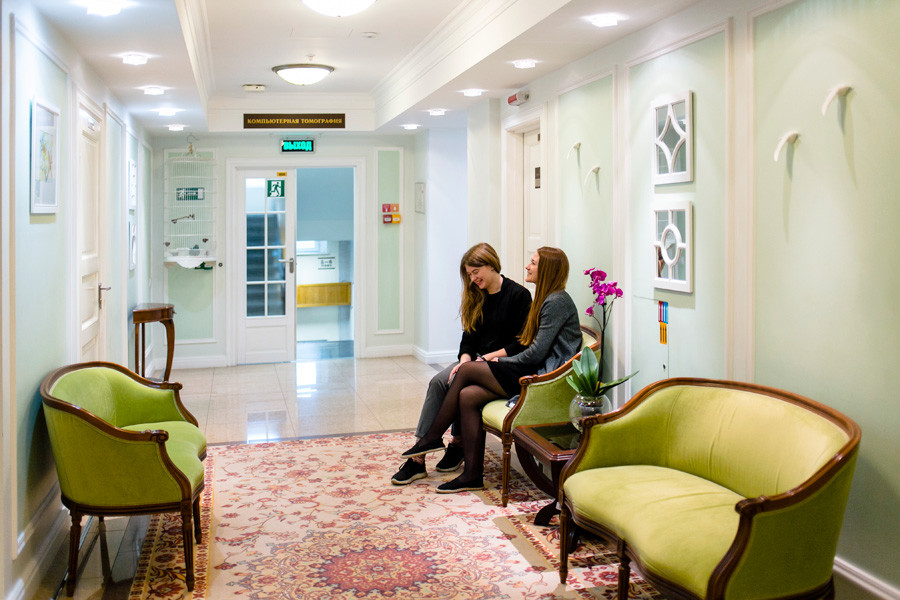 Moscow's Medicina Clinic cooperate with essentially all clinics in Moscow, many across Russia and a certain number of clinics abroad
Mark Boyarsky
"As regards to us, we cooperate with essentially all clinics in Moscow, many across Russia and a certain number of clinics abroad - in Japan, Germany, and other European countries. The most important thing is that people should come to a clinic that is clearly structured as far as they and their insurance companies are concerned," Medicina says.
Reference clock, X-ray, MRI, ultrasound +7 (495) 775-73-60
If using any of Russia Beyond's content, partly or in full, always provide an active hyperlink to the original material.