It's hard to find jeans that fit you perfectly when you're the tallest photo model in the world, like Ekaterina Lisina from Penza, Russia
Anna Arzamastseva/Barcroft Media/Getty Images
With both impressive achievements and things that are just downright bizarre, the Guinness Book of World Records has it all. And over the years many Russians have found glory in its pages. Let's take a look at some of the most peculiar records set recently.
In case you're wondering where the tallest photo model in the world lives, make no mistake – she's in Russia. Ekaterina Lisina used to play professional basketball. At 2.05 meters tall, she officially made her way into the Guinness Book of World Records in Sept. 2017.
In addition to being the tallest professional model in the world, Lisina has been officially declared to have the longest legs as well at 1.32 meters. After the end of her basketball career, Lisina (who unsurprisingly played center) transitioned in the fashion world. Judging by interviews with her, she leads a happy life and the only thing she has to complain about is how difficult it is to find clothes and shoes that fit.
"When I was looking for winter boots, I found only one pair in all of Moscow. That's a bit too much," Lisina told Russia's channel 5. But otherwise, she seems to be happy with her height and career.
Lisina can take pleasure in the great company of compatriots from the Guinness Book. Like any other country, Russians have set all sorts of records. Some of them impress, while others just seem really odd.
Spinning in the air, pulling buses with teeth
In Nov. 2017, the Guinness commission confirmed that Leonid Kulesh, a pilot from Chita (6,200 km east of Moscow) had set a world record in 2014 by performing 100 flat spins in a small Dragonfly airplane just outside his city. Online footage of Kulesh performing this feat looks a bit scary, with a fragile-looking aircraft spinning in high gear.
The pilot, who works as a sculptor and performs routines in the air only ashobby, loves the sky. "It's great up there. There are no earthly problems, just laws of aerodynamics gravity," he told the newspaper Kommersant.
Yet another Russian, Igor Zaripov did something even more impressive. In Jan. 2015, he pulled a 13.7 kg-bus 5 meters using just his teeth and thus setting a new world record, On the other hand, Zaripov has extensive experience with such performances since he works as an air gymnast in Cirque du Soleil.
Never mind age
Sometimes Russians really rise above aging. For example, David Barulya was officially registered on Feb. 27, 2017 as the lawyer with the longest practice in history: 70 years and 306 days. Several months later, Barulya passed away at 106. But no one can say that he missed out on life. Born before the October revolution of 1917, he fought in World War II, took part in capturing Berlin and then worked successfully as a lawyer, even winning a case at the ripe age of 104.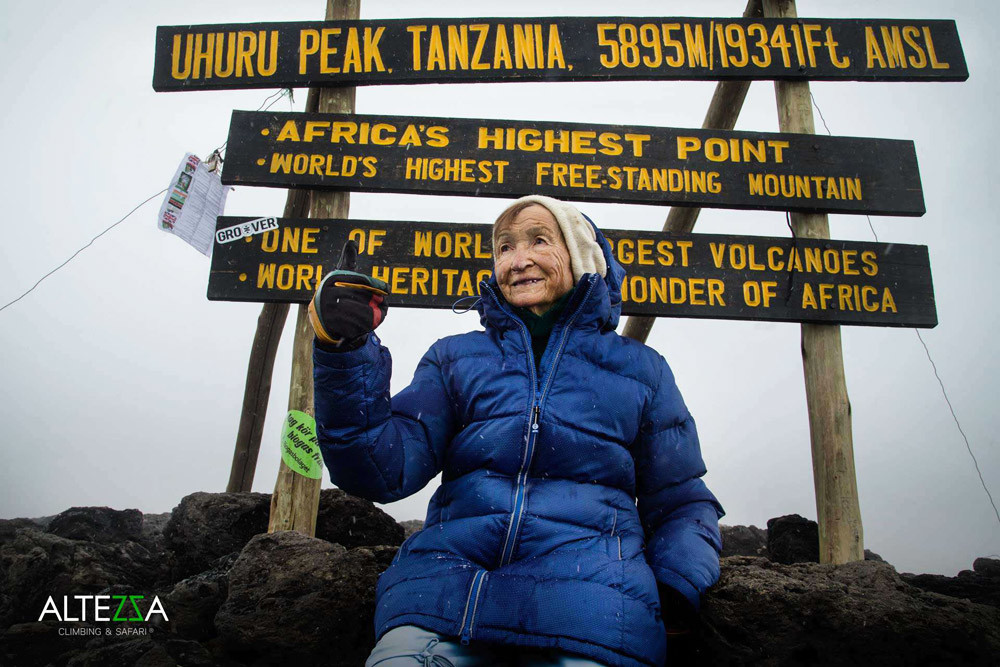 Meanwhile, Angela Vorobyova, a retired teacher, leads a life that is active even compared to most young people. In Oct. 2015, when she was 86 years old (she was born in 1929), she climbed Mount Kilimanjaro, the highest (5,895 meters) peak in Africa, thus setting the world record. "We danced a tango with our guide at 4,000 meters," Vorobyova said in an interview. And some people can't even bring themselves to get up from the couch.
How many Russians fit in a Toyota?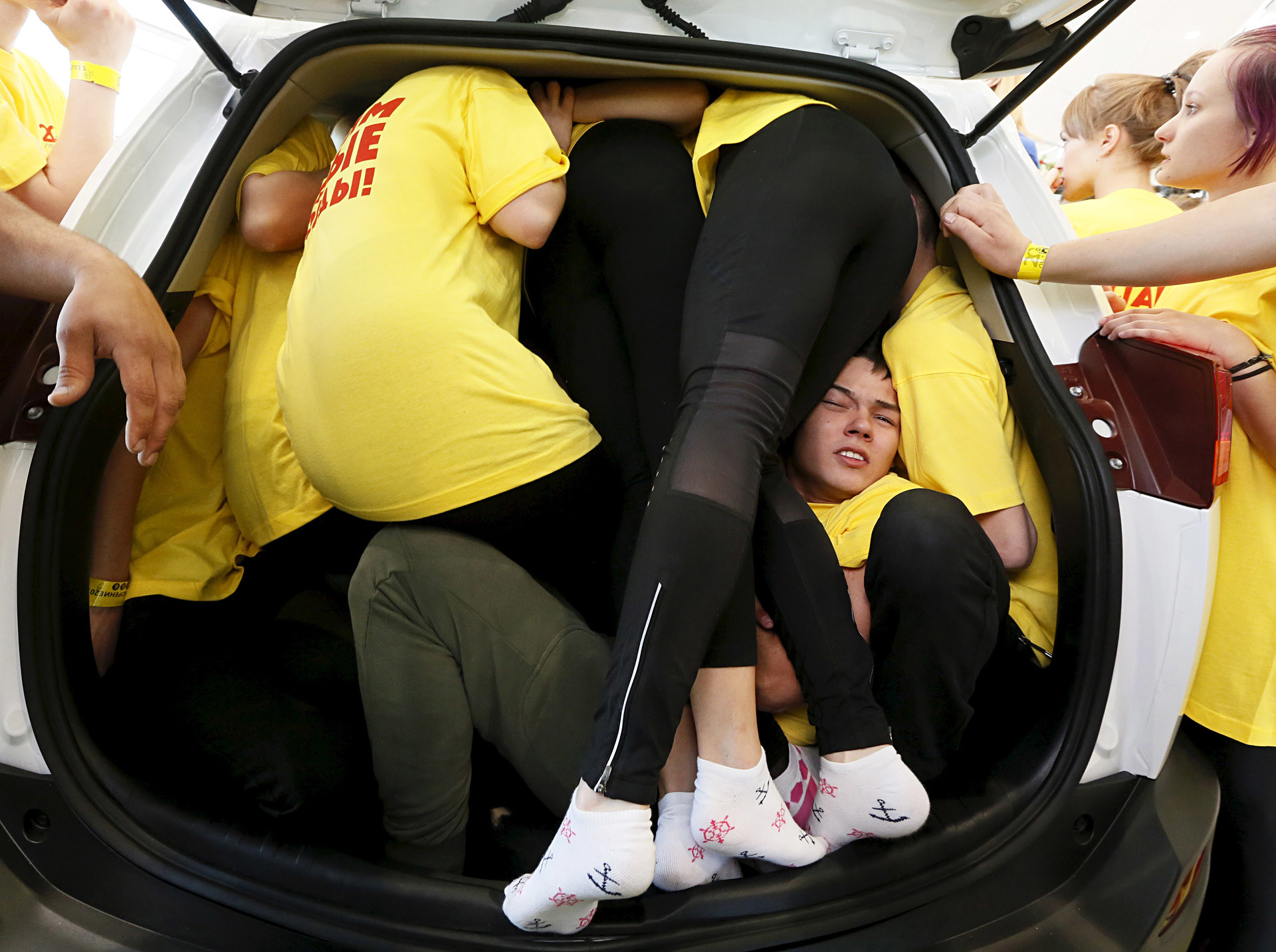 Students from the Siberian Federal University team squeeze into a car during an attempt for a Guinness Book of World Records. Judging by their faces, they're just plain happy!
Reuters
The answer is 41, and it's yet another official Guinness record: "the most people crammed in a large car." Actually, these people were students from Krasnoyarsk (4,100 km east of Moscow), and somehow they all fit into a Toyota RAV4 with the doors closed (presumably, not for a very long time). In addition to a sense of pride, each of the students who squirmed around in the car got 4,000 rubles ($71).
Crazy cooking
If you're starting to think that these Guinness guys are ready to register any record, no matter how bizarre, you're right. For instance, in Feb. 2017, JSC MAKFA, a Russian company that produces pasta, flour and groats went down in history (for several years at least) by cooking up the largest ever serving of pancakes. Take 16 cooks, around 8 hours of work, and you wind up with 12,716 pancakes. Don't worry though: Hungry Muscovites ate all of them, with none going to waste.
In the case above, it's more or less clear why they cooked so many pancakes since it was Maslenitsa, a folk holiday associated pancakes. But in Aug. 2013, for no particular reason, people from Amway Russia prepared the longest ravioli in the world. It was 29.28 meters long and filled with chicken and onion. Jack Brockbank, the official representative of the Guinness Book of World Records, said that he remains amazed at how ardently people pursue even the strangest victories. Evidently, this is true even when it comes to ravioli.
If you want to know more about Russian pancakes, read our article about unusual recipes. Sorry, we don't have a special on ravioli yet.
If using any of Russia Beyond's content, partly or in full, always provide an active hyperlink to the original material.