How a homeless teacher became a popular St. Petersburg tour guide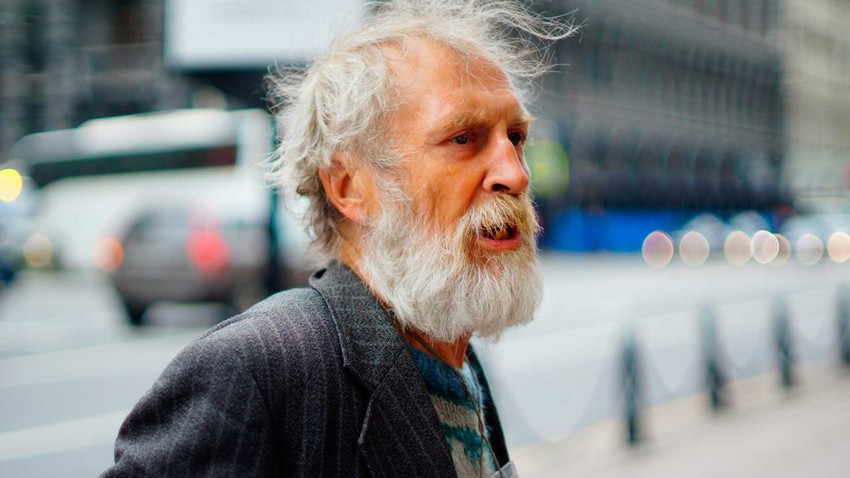 Pensioner Vyacheslav Rasner doesn't have a home of his own, but he knows a lot about St. Petersburg and gives guided tours along Nevsky Prospect, the city's main thoroughfare.
Among the many people offering guided tours by the Admiralteyskaya metro station in the heart of St. Petersburg, one elderly man, neatly but rather strangely dressed, stands out. Instead of a tour guide's bright yellow vest, he is wearing an old jacket, wide trousers and ridiculously large galoshes. He stoops slightly and below his gray beard there's a badge with his name: Vyacheslav Romanovich Rasner.
A connoisseur of local history
"Before becoming a tour guide, I was a geography teacher," says Vyacheslav. He finds information for his excursions at the Mayakovsky Library. "It has a section on the history of St. Petersburg. The women who work there already know me and give me advice on what to read."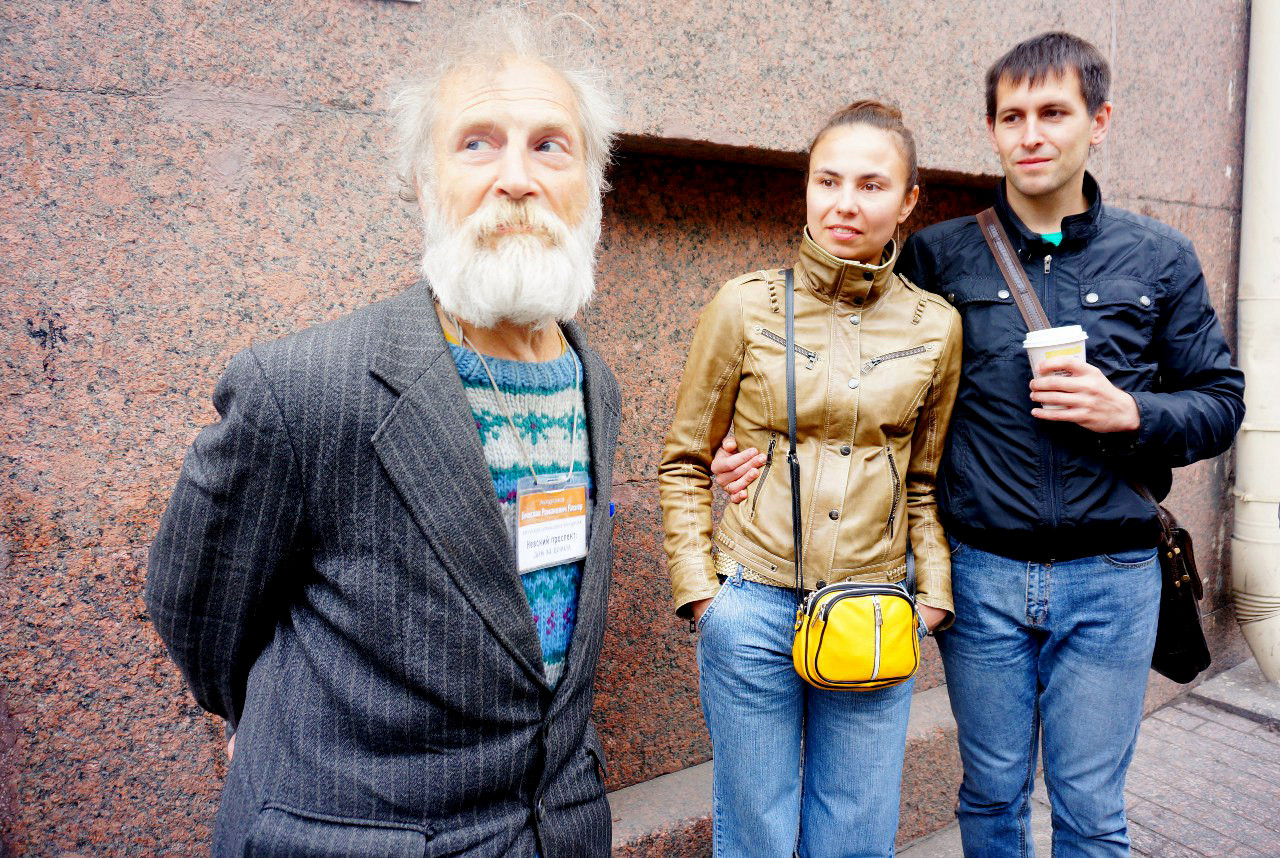 Vyacheslav starts his tour on the left side of Nevsky Prospect, on the corner by the Hermitage Museum's General Staff Building. Tourists are passing by, and we - three young girls under one umbrella - are listening to a story about No 1 Nevsky Prospect: About birch trees that for a very long time used to grow in the middle of Nevsky Prospect; about Empress Elizabeth Petrovna's Winter Palace; and about who lived in these buildings when they had only one floor.
Vyacheslav is no stranger to the vagaries of local weather - for six years he literally lived on the streets. His housing problems began in 2000 when he took in more than 20 animals (cats and dogs) to live with him in his room in a communal apartment. Following a decision by the district court, he had to give the animals to a shelter, but he couldn't part company with the pets.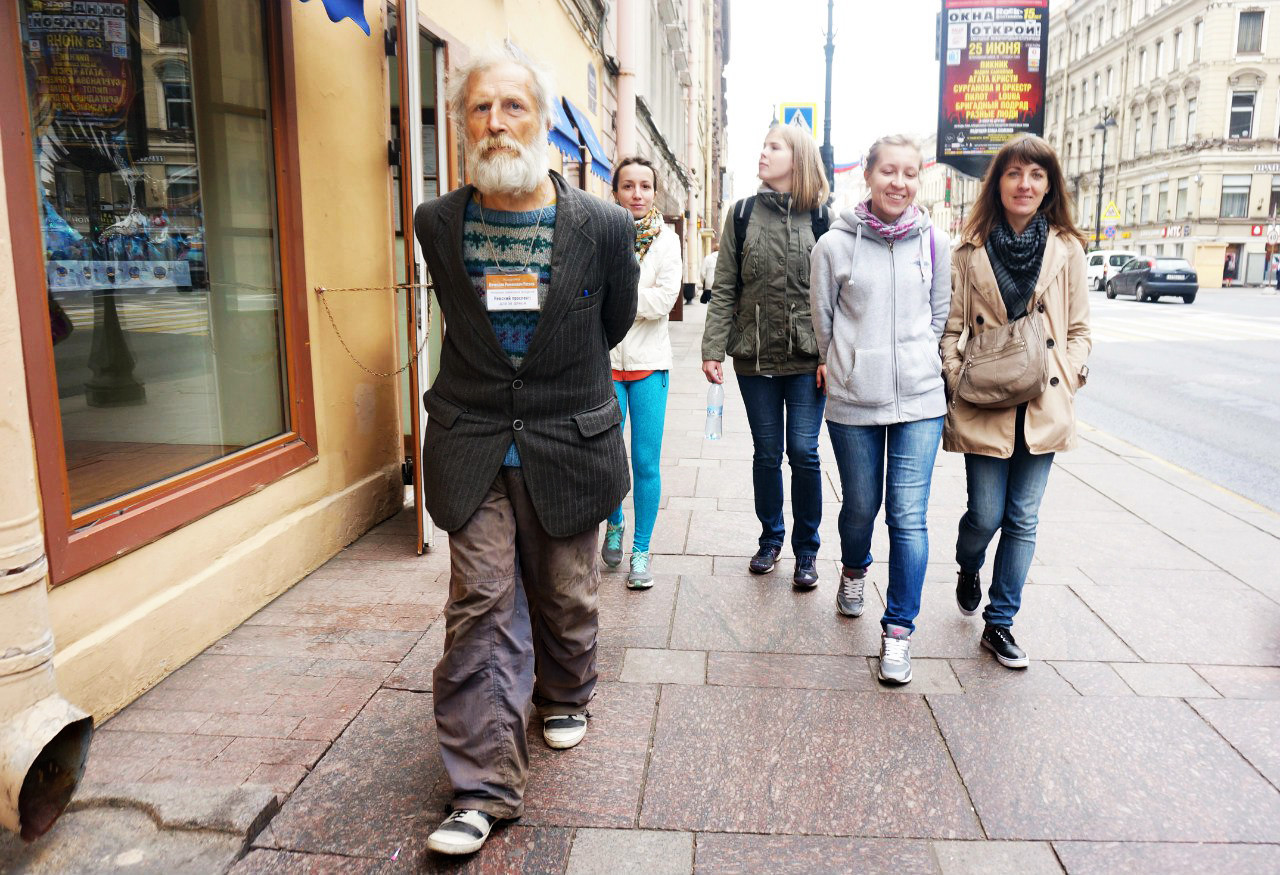 Yulia Teslenok
A female acquaintance volunteered to help him improve his housing conditions by exchanging his two rooms in the communal apartment for a separate flat, but Vyacheslav was cheated by estate agents and he ended up on the streets. At times he slept on bare asphalt and the dogs kept him warm. Then one evening in February, he received help from Svetlana Kotina, a volunteer at Nochlezhka (Night Shelter), a local charity.
Homeless man's dream
"I pass by there in the mornings on my way to the swim pool, and I started noticing him, a rather unusual homeless person. Once I bought him coffee. It was February and very cold. I brought him coffee again, and this time he started chatting to me," recalls Svetlana. The pensioner told her straight away that his dream was to be a tour guide. Nochlezhka helped him with food and accommodation for a time and then, with assistance from legal advisers, they submitted a request for housing. They found a woman who was prepared to give shelter to the homeless guide.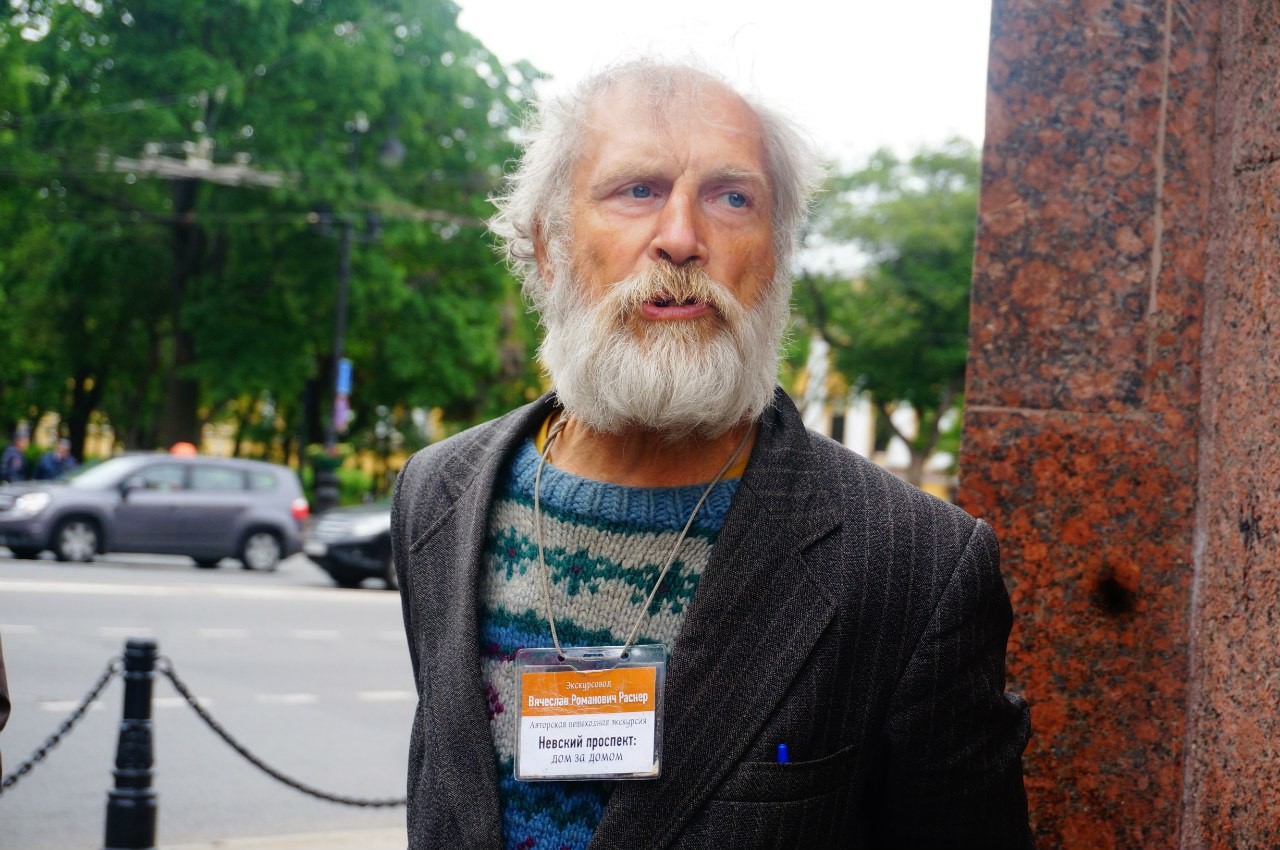 Yulia Teslenok
For a while, he lived in the kitchen of the retired woman's studio apartment, but recently activists managed to get Vyacheslav into social housing, a one-bedroom apartment where he now lives with two cats.
Vyacheslav doesn't know a thing about computers, so Nochlezhkadoes the promotion for him - a social media group (link in Russian) that proposes "walks with Rasner," and it already has over 16,000 followers. At the same time, the pensioner follows a spartan lifestyle: he goes to bed at eight o'clock in the evening, and in the morning gets up very early.
Weary of his popularity
During the tourist season the guide conducts excursions three times a day: At nine o'clock in the morning, at midday and at three o'clock in the afternoon. An excursion costs 600 rubles (about $9) per person. "I find this popularity wearying," sighs the guide. "I explain to everyone that I am not Alain Delon."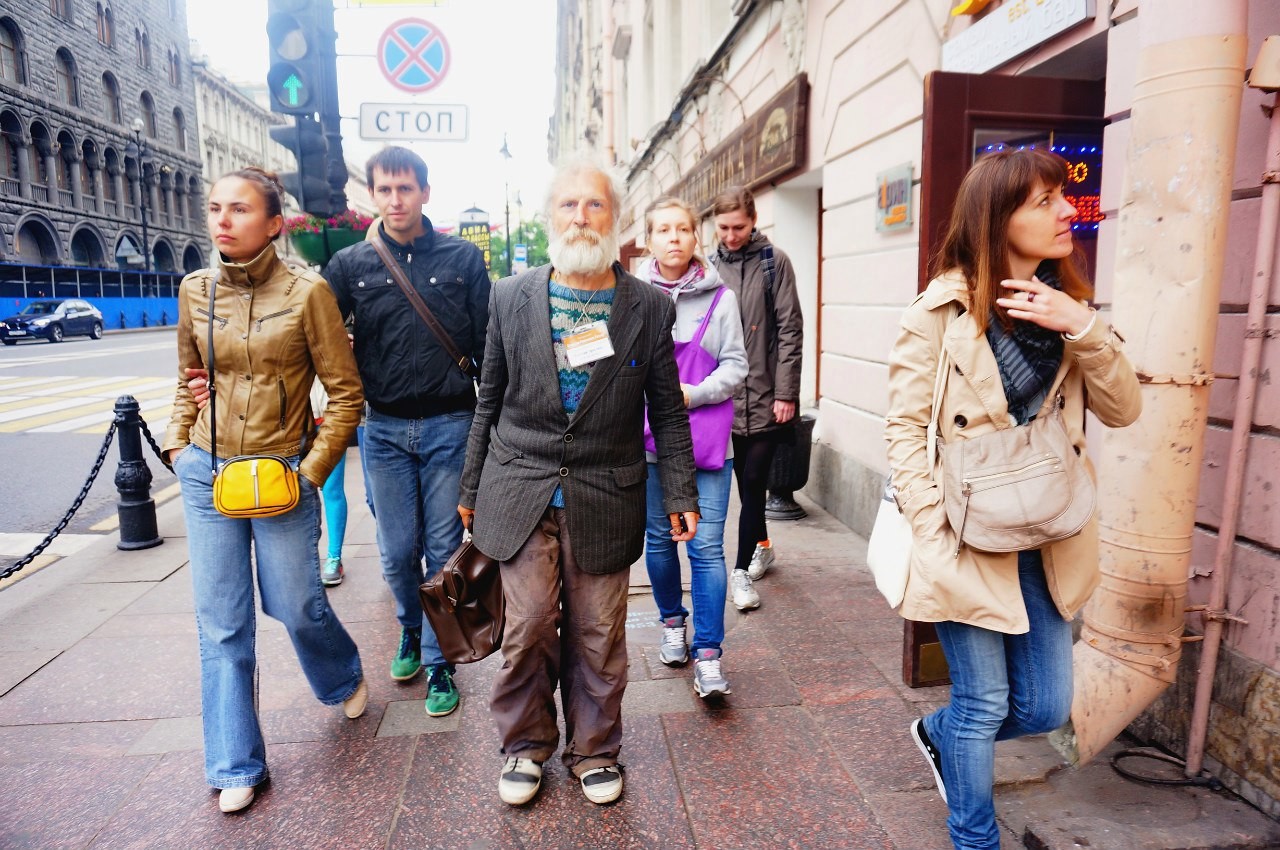 Yulia Teslenok
Vyacheslav's friend Lyudmila was a tour guide at Saint Isaac's Cathedral before retiring, and today she is preparing a guided tour for the other side of Nevsky Prospect. The two pensioners will be able to perform a "double act." At Nochlezhka they say they've already found a female interpretation student who is ready to translate on Vyacheslav's tours to assist foreigners. Usually two or three people attend a "walk with Rasner," but on some days as many as 10 tourists sign up. To help on such occasions a local music shop donated a sound amplifier.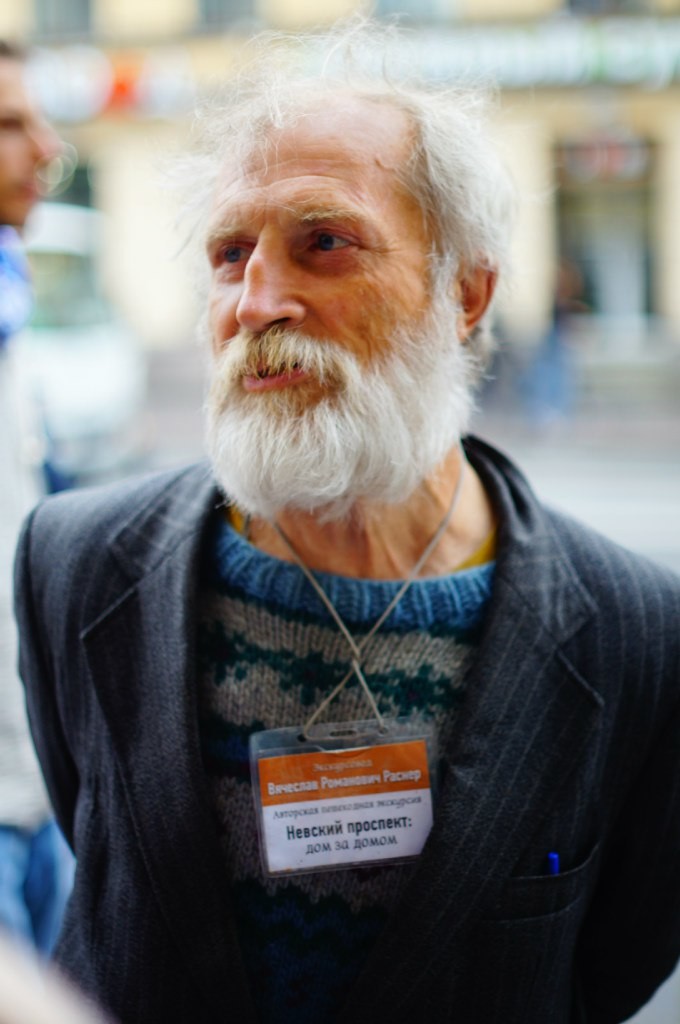 Yulia Teslenok
The excursion is over. Vyacheslav is slowly walking to the ATM to put his modest fee on his card. At the end the girls ask him whether they can bring their friends to one of his tours. "Yes, of course," the pensioner replies, a little wearily.
Read more: Why did a young Russian doctor open a hospital in a remote Guatemalan village?
If using any of Russia Beyond's content, partly or in full, always provide an active hyperlink to the original material.