Anna Starobinets: Describing schizophrenia from within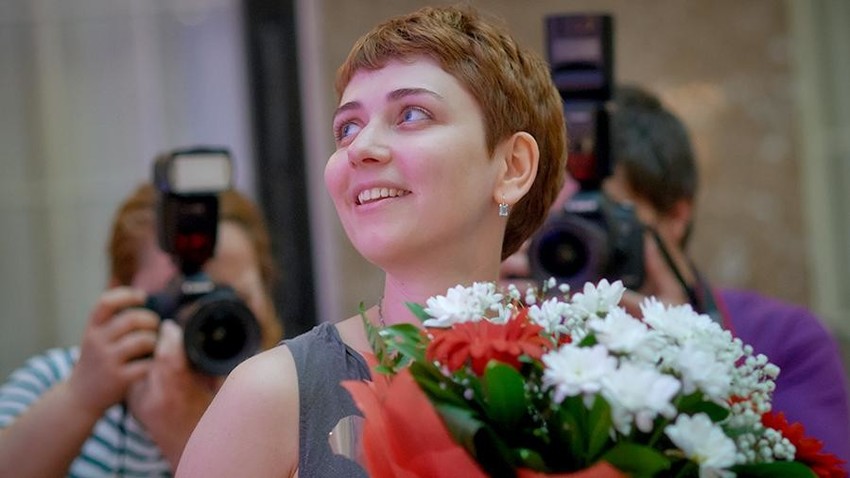 Anna Starobinets, an acclaimed author of frightening short stories and apocalyptic novels, writes in a style that has been compared to that of Edgar Allan Poe and George Orwell.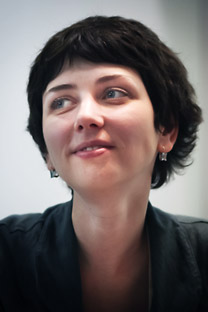 Anna Starobinets. Source: Dmitry Rozhkov / Wikipedia.org
There was once a little boy who was so fat and so hideous that he repulsed even his own mother when she looked at him. He would stitch up candy in his pillow, which would then melt into an abhorrent sticky mess. His twin sister refused to live in the same room with him. After some time, his mother finds a diary in the boy's handwriting where a queen ant residing in his mind lays bare her insidious plan: to capture the boy's body and thus later conquer all humanity. Will the boy bend to his new nature like Gregor Samsa in Franz Kafka's "The Metamorphosis?"
You will find out if you read "An Awkward Age" – a story that launched Anna Starobinets's literary career.
In fact, Anna wrote even as a child –fairy tales, though she rarely mentions this since she does not see it as the start of her creative writing career. "Horror" came into her life when she wrote the selection of stories, now translated into English, entitled «An Awkward Age.» It was also precisely her horror fiction that brought her critical acclaim.
Starobinets explains her choice of genre: "I did not consciously choose horror fiction in the sense that I never sat at my desk musing, with my fist under my chin à la Rodin's Thinker, on which genre to choose for my writing. Horror, mysticism, surreal thrillers, etc. just seem to be a way of 'packaging' thoughts, feelings, sensations, and possibly, even fears, that intuitively works for me."
After "An Awkward Age" was published, Russian critics labelled Starobinets the Russian Stephen King or Philip Dick. Despite the flattering comparisons, Starobinets insists she is different from all of her literary icons: "I believe no serious writer can ever defined by the genre he or she technically works in. Or another writer, come to that. In any event, I'm neither King nor Philip Dick nor Gogol nor any other writer I have been compared to."
Starobinets's horror takes various forms, from a fantasy story to a mystic novel ("Asylum 3/9" based partially on Slavic folklore), to a fantasy novel suggested by the namesake Russian-Japanese animation project ("The First Squad: The Truth," 2010), to a futuristic dystopian novel ("The Living One" shortlisted for the reputable National Bestseller Award in literature in 2011).
"The Living One is a 'pure genre' piece: a classic anti-utopia, imbued with Zamyatin's seriousness and Orwell's acrimony, loaded with the author's somber expectations regarding mankind's future, masterfully conveying a sense of repulsion towards worship of 'the wisdom of the crowds,'" literary critic Lev Danilkin wrote.
In some works, she bores into irrational depths, embracing the point at which mental illness devours people. In "The Rules" (from "An Awkward Age" ), a silent voice is constantly setting tough rules for the main character: how to walk, how to arrange things on a shelf, how to live… Starobinets poignantly revealed the gradual disintegration of a personality, describing the grip of schizophrenia from within.
For both Poe and Dick, who also engaged in such writing experiments, the experience proved calamitous, as they lost ground and their own sense of reality was eventually shattered. Anna, however, is not afraid of anything like this happening: "I think a comparison with Strugatskys' 'Zone' [from Roadside Picnic] is appropriate here: a dangerous area filled with strange, unpredictable and evil magical items that you can, nevertheless, sometimes drag out and put to some use (although definitely not for their intended purpose). Simply put, inside every person there exists such a Zone and some stalkers – people of art – venture into it on expeditions, some just a short way in, while others go deeper and further. I would not overestimate the danger of such trips."
Anna Starobinets will join other Russian writers in representing Russia at the New York Book Fair. When asked whether the Russian presence at the fair would help boost interest in Russian literature, Anna replied: "No exhibition of 'achievements of the national economy' can, by itself, turn Russia into a major producer of global bestsellers, or (as in the age of Tolstoy and Dostoevsky) leading exporters of Big Idea Novels. For this purpose, we need to have our own Joanne Rowlings, and new Tolstoys and Dostoevskys."
Anna acknowledged the value of book fairs (including the New York one) in helping show Russian books to their best advantage, at least to foreign publishing houses and literary agents. This certainly increases the chances for Russian writers to have their works published abroad (or, in the case of the New York fair, on the strategically important American, English-speaking market) and come under the spotlight.
Read more: 112 Russian writers ranging from great, to absolutely freaking great
All rights reserved by Rossiyskaya Gazeta.