Russian beach books to transport you to new horizons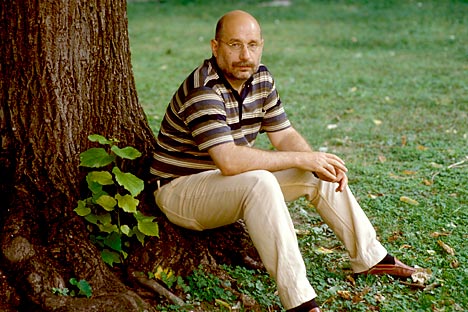 Russia's prominent writer Boris Akunin. Source: Leemage / East News
Dostoyevsky seems like a handful on the beach. As an alternative, Phoebe Taplin offers her recommendations of hot Russian authors to assist you in summer escapism.
Whether you're looking for escapist thrillers or weighty modernism, the latest translations of Russian novels and short stories offer something for everyone. For many of us, the summer holidays are the perfect time to try reading something different. Several people have asked for beach reading, so here are my recommendations.
Boris Akunin's tsarist-era detective stories have been entertaining holiday fare for well over a decade. "The Diamond Chariot" (Wiedenfeld and Nicholson, 2011) is the tenth novel to be translated and the adventures are still fresh and lively. From clock-racing bomb plots on the Trans-Siberian Express, Akunin takes the reader back to his detective's early adventures in Japan, for a fusion of Pushkin and haikus, and a twisting tale full of ninjas, samurais and twilit mountains.
At the far end of the narrative spectrum from Boris Akunin's scrupulously honorable hero, with his Japanese martial arts and delicate sensibility, is Sergei Kostin's clumsy, but introspective spy, Paco Arraya. Kostin's attempt to create a Russian James Bond in "Paris Weekend" (Enigma, NY, 2008) results in a foreign agent living in deep cover as a Cuban refugee-turned-San Francisco businessman, married with a teenage son.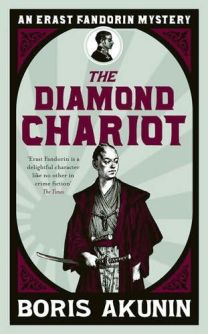 The cover of Boris Akunin's novel "The Diamond Chariot."
The author originally trained as a military translator and has more recently co-written "Farewell" (AmazonCrossing, 2011), a non-fiction account of double agent, Vladimir Vetrov. His fictional characters are not hugely convincing, but the authentic Parisian setting and the protagonist's philosophical asides make for a diverting read. Kostin has obviously spent some time in France, enjoying chilled wine, flute-shaped baguettes, pots of mussels and second hand bookshops, all of which make a great setting for incidental meditations on the nature of Russian identity.
If dystopian fantasies are more to your taste, contemporary Russian novelists will spoil you. One of the more recent offerings, from a controversial and outspoken author, is Vladimir Sorokin's absorbing "Ice Trilogy." Long enough to get seriously stuck in while on holiday, these three novels tell the bizarre tale of a young man who is mysteriously drawn towards a giant icy meteorite in Siberia. Awakened by the ice, he must find the other members of an inhuman cult in order to dissolve the Earth back into "Primordial Light." Sorokin is at his best mimicking the varied voices of geologists or anarchists, web designers or chemistry professors. Sadism and casual prostitution are set next to woven grass blankets and tea made from Altai herbs. If all this sounds too involved, you can get a much shorter dose of Sorokin's satirical skill in the bitter and brilliant "Day of the Oprichnik" (FSG, 2011).
Another alternative version of reality is available in Sergei Lukyanenko's bestselling "Night Watch" series. The "Last Watch" (Heinemann, 2008) shifts the action from Moscow to Edinburgh and features the usual cast of supernatural creatures, including some topical vampires. As ever, it is Lukyanenko's ability to combine everyday details with images of his magical underworld that makes these stories so powerful. A couple of young Russian students are wandering round a dungeon-style tourist ride when the boy is killed by what appear to be deep fang wounds above the artery in his neck. This is the cue for our hero, Anton of the Night Watch, to take on a case involving trips to Samarkand, legendary treasures and the ancient, dark magician, Merlin.
Anyone wanting something they can slip into a back pocket for a day out could sample Andrei Gelasimov's "Thirst" (AmazonCrossing, 2011) or Viktor Pelevin's "Hall of the Singing Caryatids" (New Directions, 2011). These two very different slim volumes represent some of the best developments in current Russian literature. Gelasimov's gritty tale of a disfigured veteran of the Chechen wars has a powerful redemptive current beneath the superficial tide of vodka and violence. His use of vernacular speech is disarming, burying philosophical depths under deceptively simple language.
Pelevin's short story, by contrast, exemplifies his powers as a master of postmodern science fiction. Young Lena is employed to stand naked and sing in an elite underground night club, under the influence of a classified serum, which enables her to stand totally still for up to two days. Pelevin intersperses drug-induced episodes with other voices to create a typically polyphonic cultural satire.
If you're looking for a series of compelling short stories between dips in the sea and like your existential angst in bite-sized gobbets, try Ludmilla Petrushevskaya's "Scary Fairy Tales" (Penguin USA, 2009) with the suitably horrifying title There Once Lived a Woman who tried to kill her Neighbor's Baby. Petrushevskaya's collection of macabre fables, reminiscent of Angela Carter's disturbing anthology, "The Bloody Chamber," wrests painful and ambiguous morals from stories of murdered monks or exhumed corpses.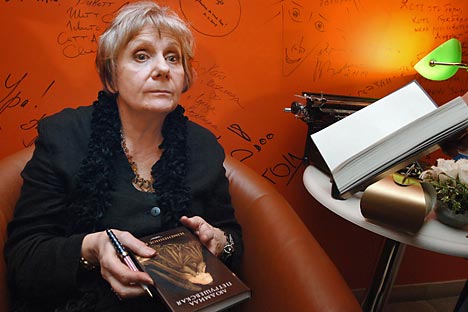 Ludmilla Petrushevskaya. Source: ITAR-TASS
If, on the other hand, you feel it's time to tackle a neglected classic tome, John Elsworth's recent translation of Andrei Bely's "Petersburg" (Pushkin Press, London, 2009) just won the Rossica Prize. Petersburg has been described as the "Russian Ulysses"; Vladimir Nabokov saw it as one of the four great "masterpieces of twentieth century prose" and celebrated its dense and challenging web of styles and symbols. It is a perfect book to take your time over, exploring the legendary history of a city in the grip of revolution. The experimental poetic violence of the story conjures up the frozen forests, domed churches and sooty, "many-chimneyed factories" of St Petersburg.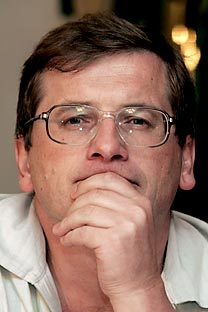 Oleg Zaionchkovsky. Source: Kommersant
For a far more light-hearted, but still thought-provoking evocation of a city, try Oleg Zaionchkovsky's "Happiness is Possible" (And Other Stories, 2012). This series of darkly comic vignettes tells the story of a struggling novelist, whose ambitious wife has left him for another man. What his story lacks in plot, it amply repays in disheveled charm and style and the towering portrait of modern Moscow, from its claustrophobic apartments to its sprawling, dacha-laced suburbs. Zaionchkovsky's skill is to turn mundane, domestic details into strange and symbolic signposts towards the title's elusive happiness. AD Miller (whose own novel, "Snowdrops," would be a gripping holiday read if you missed it) has written a thoughtful introduction, recognizing the subtle fire in Zaionchkovsky's "rewardingly risky" tale of "love, storytelling and Moscow."
All rights reserved by Rossiyskaya Gazeta.