Russian writers On the Road again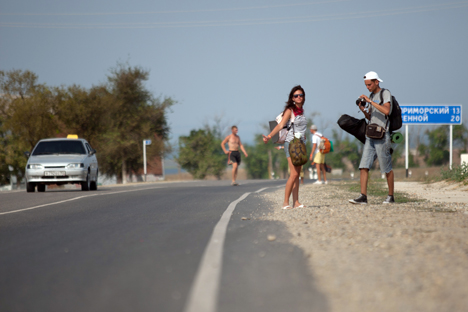 Hitchhiking is still widely accepted as a means of transportation in Russia. Source: PhotoEXpress.
Young, Russian hitchhikers share their tales in a brilliant, new volume of short novels and memoirs "Off the Beaten Track", inspired by Kerouac.
A new film of Kerouac's legendary "On the Road" is due to hit the big screen in October, reviving poignant memories of the beat generation. While the great era of American hitchhiking has faded, there are still numerous Russians for whom it is a way of life. This fascinating collection of stories by young travelers is a topical addition to the growing number of contemporary Russian novels available in translation.
"Off the Beaten Track" (Glas, 2012) is a compilation of three works written by Russian hitchhikers. The first two are novels, clearly based on the authors' experiences on the road and in the sub culture of shared houses of modern Russia. The last piece, "Traveling to Paradise," charts an autobiographical walking/hitching odyssey from Russia to Egypt through the Middle East.
Kerouac's influence is most obvious in Irina Bogatyreva's "Off the Beaten Track," the longest, central novel from which the volume takes its name. Bogatyreva's prologue, repeated towards the end, sets out her characters' lifestyles and philosophy: "wayfarers on roads without end… We are legion, dots scattered along the road, romantic followers of our guru, Jack Kerouac…" They are young, they are free and their motto is "the Road Is Always Right."
We first meet Bogatyreva's heroine, "Titch" with her trademark rucksack and tattered sneakers beside the hellish Moscow Ring Road on a rainy night, but throughout the novel she returns physically or mentally to the Stalin-era apartment block where she lives. Here in a rambling commune off historic Yakimanka in central Moscow, "I was reading Kerouac up in my gallery," surrounded at various times by African drums, an ancient piano and a pet crow. She feels as though Kerouac's "stuff had been written by a mate in the Yakimanka commune I just hadn't run into yet" and dreams of going to America and meeting him and hitching to the "warm, solitary, misty mountains of California."
Titch, whose nickname refers to her youth, is devastated to discover her hero is dead and to realize that the America Kerouac described was gone, "killed in Vietman … It had become flabby and bourgeois, stuffed its cheeks with hamburgers and gone to Hollywood." Her own political apathy seems typical of her generation, for whom the Soviet era is history. She feels herself living at the junction of eras where "we can see clearly enough what used to be, but who can tell us what is coming next?"
The young authors and narrators seek reassurance in new rituals or resurgent religion. They stress the power of storytelling, collecting tales of the road. The anthropomorphized road itself becomes a character in the central novel and in Igor Savelyev's "Pale City," the opening story. "Pale City" is a fresh and vivid roadside love story, winding through the Urals and following each interconnected hitcher across the "vast expanses of his [or her] native land." Western readers might be surprised how many single women travelers are represented here.
One reason for Kerouac's particular resonance in Russia is a shared sense of distance. The boundless Russian steppe is a recurring motif: "our immense, immense country", Titch calls it. One of the traits shared by all three writers is a powerful sense of place, lost in the forest or having coffee and sweets in Diyarbakir. Russia, distinct and massive, is always present, whether they are traversing its endless roads or comparing it with other countries.
Savelyev's chief protagonist, Vadim, talks about watching the shooting stars beside the unlit highways: "Russia's not like Belgium, where they have floodlights on the motorways." Over here, "it's just you and the stars." Loneliness becomes a key image in the novel. Savelyev observes at the end that many hitchhiking terms have been borrowed from English, but "the roads, the solitude and the melancholy are quintessentially Russian."
Tatiana Mazepina, whose middle-eastern memoirs end the book, also loves to "scare the locals with stories about Russia. To tell Austrians who can cross their country in five hours, for instance, that to in order to get from Moscow to Vladivostok it takes six days by train." Mazepina travels not to be alone, but to meet people and discover kindness, "to disprove all the things people so love to say against each other." Her adventures have an ecumenical inclusivity that is reminiscent of Ludmila Ulitskaya's powerful documentary-novel, Daniel Stein.
Mazepina seeks out the compassionate humanity that underlies all faiths. She encounters the "gifts of the road" with an open heart that sometimes borders on naiveté, as when she walks into the desert with no water. An orthodox Christian, she is equally delighted when a happy, singing priest blesses her with holy water or when a Muslim family unwrap layers of shawls and caskets to reveal a hair of the Prophet Mohammed. Her pilgrimage has a spiritual dimension; she tells the hospitable Jordanians that Russia's moral and religious foundations "were completely destroyed and are only now being restored." Readers may not agree with the protagonists, but there is something of Kerouac's passion for life in these tales. The energy of these young writers carries you with them on their erratic, atmospheric journeys and might even change your life.
All rights reserved by Rossiyskaya Gazeta.