Art Ovrag youth festival attracts thousands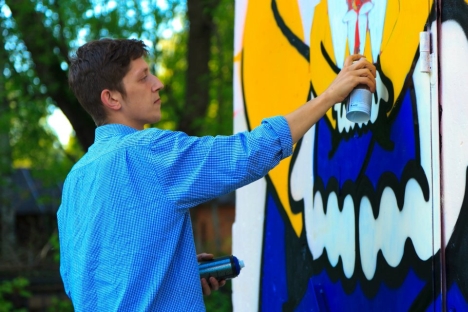 During the Art Ravine festival, which took place over three days in Vyksa, a factory town in the Nizhny Novgorod Region of north-central Russia, participants painted on fences, walls and pavement. Source: Alexandra Krasnova
Counterculture art fans and adrenaline addicts flock to north-central Russian town for the second year in a row.
During the Art Ravine festival, which took place over three days in Vyksa, a factory town in the Nizhny Novgorod Region of north-central Russia, participants painted on fences, walls and pavement. Source: Press Photo
For the second year in a row, the Art Ovrag (ravine in Russian) youth festival took place in Vyksa, a factory town in the Nizhny Novgorod Region of north-central Russia. From May 29-June 3, several thousand people gathered in a ravine outside the city, which was turned into an amphitheater for the event. During the Art Ovrag festival, which took place over three days, participants painted on fences, walls and pavement; demonstrated stunts on skateboards, arranged seminars, rapped, conducted dance classes and learned to make found-art sculptures.
Vyksa isn't an obvious location for a youth art festival. It is the home of a large metallurgical plant that produces extra-large diameter pipes for the Nord Stream gas pipeline, wheels-to-order for Russian Railways and housing for armored vehicles. A third of Vyksa's population works in the plant and the town's landscape is made up of factory chimneys and large warehouses.


"Life necessitates doing this. For towns like Vyksa, retaining youth is a question of survival. It is important to make sure that the kids do not leave for Moscow," said Vyksa Mayor Igor Raev. "To do this, there should be a full-fledged urban environment. Youth art is an indicator of development."


To encourage artists to participate in the event, Raev drove artists from nearby Nizhny Novgorod around Vyksa in his own SUV in the weeks before the festival to show them the sites available for use during the event. The city administration made it clear that the artists could use any surface they liked during Art Ovrag, so in the two weeks before the festival, the participating artists painted surfaces at the main shopping center, the local college, the steel tower of the fire department and the pillars of the Lenin House of Culture.


"When we were painting, a lot of people came up to us," said artist Nomerz. "Ninety percent of them had a positive attitude, old ladies brought us cookies ... I do not do illegal things: I paint by day with the knowledge that I am beautifying the city."

In addition to encouraging young people to stay in Vyksa, Art Ovrag served another important social function. "Vyksa is a well provided for and prosperous city, but by number of drug addicts, it is one of the leaders of the Nizhny Novgorod Region," said Irina Sedykh, chairman of the board of trustees of the OMK-Participation charity fund, sponsored by the United Metallurgical Company. "We wanted to do something bright and interesting for young people in order to divert them away from drug use. On the website Virtual Vyksa, we watched a video where the kids performed tricks on BMX bikes, skateboards and rollerblades."
The 2011 Art Ravine festival in Vyksa. Source: Youtube / ArtResidence
In addition to the efforts of the Vyksa city government, the Moscow cultural foundation Art Residence played a big role in organizing the cultural program. Art Residence takes its inspiration from Russian avant-garde artists such as Vladimir Mayakovsky, David Burluk and Vasily Kamensky. In 1918, this group published a decree about democratization of art, declaring art should be not "in the palaces, galleries, libraries and theatres… but on the walls, fences, roofs, cars, trams and clothes of all citizens." Their forward-thinking motto "Let's make streets a celebration of art for everyone" is very close to the Art Ovrag festival slogan "Make art at your street."
The program of the second Art Ovrag included exhibitions of works by Spanish architect Lorenzo Fernández-Ordóñez, American sculptor John Powers, master classes by the Battery Dance Contemporary international dance company, Russian fashion designer Slava Zaitsev's laboratory of fashion, lectures from the Shchusev State Museum of Architecture, and others, including Carmen Nicole Smith from New York Battery Dance Company. She was invited by Art Residence leader Konstantin Grouss, who saw the group in New York. Smith was visiting Russia for the first time and, with two of her colleagues, ran dance workshops for 20 local students ranging in age from 12-17 during the five days of the festival.
New York Battery Dance's participation was party of their "Dancing to Connect" program, which the group usually brings to countries in crisis or into stigmatized communities. "We didn't plan to overcome any problems in Vyksa, it's just small town, it was more about letting children to express themselves through dance. But we hope that their impression about Americans improved," Smith said. " The kids had different levels of experience, some were dancers, some were not, we had few gymnasts, some had Middle Eastern dance classes, and they all didn't know each other. I feel that they had great time and they were so happy." Smith was fascinated by the idea of mixing of art in Vyksa: "I loved it because usually at least in New York festivals are more concentrated on one kind of art or one kind of style, it was nice to see all this different forms in one space along with sculpture and hip-hop and dance and fashion."
The organizers of the Vyksa festival believe that "illegality" as a basic feature of street art has practically exhausted itself: graffiti is gradually becoming "normal" art, where taboo is giving way to content. But can art be confined within an area specially designated by the municipal government? The Vyksa project is not unique in Russia because of the fact that it has allowed graffiti and other street art, but because it is the first time that artists have not been restricted to a "reservation", but on the contrary, they opened up the urban environment.
All rights reserved by Rossiyskaya Gazeta.