Exploring 3 very different writers' houses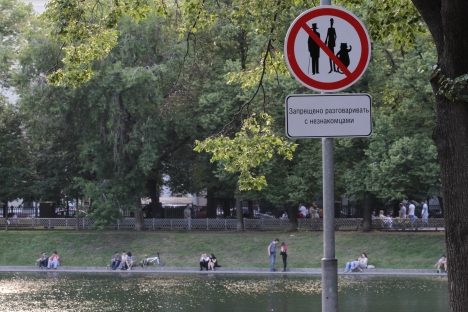 The opening of the Master and Margarita novel is set at the nearby Patriarch's Ponds and the park (pictured) where a sigh depicts three characters from the novel. The caption on the sign reads: "Never talk to stranfers." Source: RIA Novosti
Russia cherishes its rich literary history, and its key writers' residences are preserved and open to the public, for a nominal fee.
For the literature fan no visit to Moscow is complete without paying a visit to their favorite author's homeand getting an insight into their character and thought-processes.
Bulgakov:Bolshaya Sadovaya Street no. 10, apartment №50, metro Mayakovskaya
Bulgakov wrote his most famous novel, Master and Margarita, while living here, and used it as the model for the flat that appears in the book.
The opening of the novel is set at the nearby Patriarch's Ponds, and exploring the area is like stepping straight onto its pages, as you retrace Berlioz's steps down Malaya Bronnaya street to the Garden Ring, now sadly devoid of trams. If you're lucky you might encounter the resident black cat that lurks in the yard. Apparently this is the 11th cat they've employed for the task of creating authenticity – the previous 10 wouldn't live there.
Maintained as it was in Bulgakov's time, the flat also gives you an idea of the difficulties of communal living in the early Soviet period. With narrow corridors, a kitchen piled high with the plates of numerous families, one begins to understand Bulgakov's words that it was "a nightmare where the rooms are horrible and the neighbors too."
Tolstoy:Lev Tolstoy Street, no. 9, metro Park Kultury
Lev Tolstoy's house couldn't be more different to Bulgakov's, with its network of drawing rooms, family bedrooms and a servant's quarters.
This mini-estate in the centre of the city is a fitting public face for the heavyweight of Russian literature. It is very much a family house, and you get a sense of how important Tolstoy's relations were to him, supporting him mentally after the death of his son Ivan in 1895. In a corner of the downstairs living room is the desk where his wife Sofia re-wrote his manuscripts, while upstairs you can see where his daughter Maria proofread his work.
All the while you can imagine the great writer wandering around the house, or perhaps getting into a philosophical debate with one of his esteemed guests, who included the likes of Repin, Rakhmaninoff, Chekhov, and Bunin.
Part of the appeal of writers' houses is that they humanize figures who have achieved elevated status through their work. In Tolstoy's case it is interesting to see the shoes he made for Afanasy Fet, and the first bike he ever rode at the age of 67. Here was a man who was incredibly down-to-earth despite his background and ability, continually tempted by the idea of abandoning his literary pursuits and title, and living the life of a self-sufficient wandering ascetic.
Gorky: Malaya Nikitskaya Street 6/2, metro Pushkinskaya
Related:
For an architecture buff, Gorky's house is a must. A perfect representation of the Art Nouveau style, every room has some kind of special architectural feature. The central idea of Art Nouveau was to take traditionally hard, solid materials and make them curve and flow, and this principle can be seen in the ceilings, doors and window frames.
The main attraction is undoubtedly the central staircase that seems to be melting as it drifts downwards, despite being made from marble.
One thing that struck me about Gorky's house is the sheer quantity of chairs. There were at least seven seats just in his rather small bedroom, which made me wonder if he liked to move around as he thought up ideas, perhaps picking up one of the many porcelain figures in his cabinet and taking inspiration from it.
Being transported into the world of the writer is one of the great pleasures of seeing their houses. Despite their contrasting styles and owners, all three houses have one feature in common; the writer's desk. Standing here is where you get the clearest image of the writer deep in thought and, for a brief instant, you are part of their writing process.
All rights reserved by Rossiyskaya Gazeta.