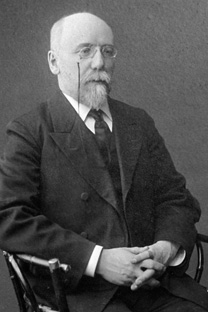 Fyodor Sologub (1863-1927). Source: RIA Novosti
Fyodor Sologub spent an entire decade writing his most popular novel, "The Petty Demon," which he completed in 1902. But editors repeatedly rejected the manuscript and the writer waited another five years before it was published.
The novel ran through 10 editions during the author's life, despite predictions by some critics that it was obsolete and everything described in it would be forgotten like a bad dream within another 10 years. More than a century after it was written, this strange book is as relevant as ever.
The protagonist, a provincial schoolteacher named Peredonov, is a difficult, cowardly, and unbearably banal man who finds pleasure in hurting people, while barely managing to conceal his madness under the mask of respectability.
There's something in Peredonov that is frighteningly familiar to any Russian, and heartbreakingly so--something that has long languished in provincial boredom and can rise from the darker edges of one's soul. Sologub describes the life of a remote town with detailed monotony.
While there are many characters in the novel, one of its most formidable characters is not even a person – it is more like Peredonov's hallucination, a creature called Nedotykomka. Sologub had invented and described her in his earlier poems, but this shadow became frighteningly real in his novel; anyone who has ever read about Nedotykomka will never forget her.
It is in this way that Sologub's writing wonderfully combines reality and mysticism, nobility and baseness, everyday life and the miraculous. He occupies a special niche in Russian literature for his unrivaled ability to express the dark sides of the Russian soul.
Silver Age poet Nikolay Gumilev (and first husband to Anna Akhmatova) used to say that while Russians didn't memorize Sologub's poetry, in a moment of sadness it came to mind all by itself.
Sologub was a young contemporary of Dostoevsky and a senior representative of the Decadent and Symbolist movements. He was celebrated by many of his contemporaries, including Alexander Blok, who called Sologub's writing "complete and whimsical," and his muse "sad and crazy."
Fyodor Sologub was born on March 1 1863 in St. Petersburg into the family of a tailor who had been a serf, the illegitimate son of a landowner.
The future writer grew up in the home of a petty aristocratic family where his mother was a servant. He became fond of reading when he was small and started writing poetry as a teenager. After graduating from a teacher- training institute, Sologub spent 10 years teaching mathematics in various provincial towns and even authored a geometry textbook.
He adopted his pseudonym, Sologub, at the suggestion of an editor at the first serious magazine that published his works. His real name, Teternikov, must have seemed too ordinary for a person who translated Verlaine's poems.
He published his first books himself; he started writing the novel "Bad Dreams" while he was still teaching in the provinces. "Bad Dreams" already had some of the features that made its author famous and popular later on. While remaining within the realistic framework, Sologub was able to describe a subtle, yet mystical provincial daily life, balancing precariously between daydreams and reality, fear and desperation, which are felt so strongly in backwater towns.
While Sologub could be called a successor to Gogol and Dostoevsky, he still remained an original and outstanding author. He pursued utmost clarity and accuracy in both his poems and his prose. This was not typical of decadents of the day, to whose circle Sologub initially belonged – they preferred "dark" texts loaded with ambiguity.
Sologub used to give numbers rather than names to his collections of poetry. By the time the third and the fourth volumes appeared in a single volume in 1904, Sologub had become a well-known and respected author. Debates raged within literary circles about how to classify his poetry; did it belong to the decadent movement, or was he a founder of nascent symbolism?
The poet himself took no offense at all at being called a decadent, and even wrote an article entitled "Is it a shame to be a decadent?" in which he laid out his own view of both movements.
Literary life was overflowing in Russia at the beginning of the 20th century, something that Sologub experienced firsthand: new books, publications, performances, theatrical productions, national lecture and poetry-reading tours, marriage, travelling abroad with his wife, and the foundation of his own literary circle. Despite his rising popularity, writing was never a full-time job for Sologub: he served as an inspector at one of St. Petersburg's public schools for a long time.
The last years of Sologub's life were tragic. After the revolution and the civil war, the country lay in ruins. The daily struggle to survive and obtain a piece of bread hastened the decline of Sologub's wife and "literary agent," Anastasia Chebotarevskaya. Her mental illness (she was schizophrenic) manifested itself in bouts of psychosis and delusions of persecution.
On an autumn night in 1921, Anastasia threw herself into a river—shortly before the couple received permission to leave Russia. Her body was only found in the spring. Sologub died quietly in 1927 after a long struggle with a debilitating illness.
The poet was largely forgotten during Soviet times, "Cruel time will erase many, but Sologub will remain in Russian literature," Yevgeny Zamyatin predicted, and he has been proved right.
All rights reserved by Rossiyskaya Gazeta.