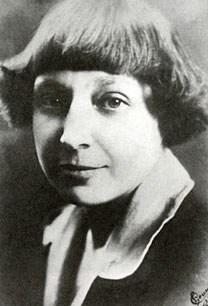 Marina Tsvetaeva, 1925, by Pyotr Shumov. Source: Press photo
When Marina Tsvetaeva's mother gave birth to a girl – instead of the boy she had so fervently wanted – she consoled herself with the thought, "At least she'll be a musician."
And with that lack of fanfare, Tsvetaeva was born in Moscow on September 26th, 1892. She learned to play the piano according to her mother's wishes, but eventually the notes slipped off the score and her fingers began to compose incandescent poems.
She lived by and for poetry. "Between word and action, art and life, for her there was no comma, no hyphen; Tsvetaeva put the equals sign between the two," wrote Nobel-winning poet and author Joseph Brodsky. It was through her daily writing, on a table free of papers, accompanied by a cup of tea and a cigarette, that Tsvetaeva translated the sounds of a unique world, be it in the form of poems, essays, plays, prose or the hundreds of letters that seduced those who read or received them.
Like her soulmate Anna Akhmatova, Tsvetaeva wrote about love in all its intensity, and her poems could be raw and confessional, about love known and unknowable: "But my river, with your river/My hand, with your hand never/May meet, my joy, while ever/ Dawn and dusk are apart,"
It would be the fire that would continuously feed her life: writing. She loved her husband, Sergei Efron, and, in a possessive way, her children Ariadna, Irina and Georgy. She was loyal to her family until the end of her days. However, Marina had lovers, men and women. There was no limit to her free spirit.
Efron wrote about this to a friend: "Marina is a creature of passions. (…) In culture, she idolizes heroes, in life, poets and lovers." Some of these passions were terrestrial, other infatuations were intellectual, almost always more intense than real ones. Love and poems are the subjects of the moving, intimate correspondence she kept with her blood brothers in poetry, Boris Pasternak and Rainer Maria Rilke, in the summer of 1926. Most of her poems deal with the theme of love. In them, she undresses without blushing. "There are feelings so serious, so authentic, so great, that they fear neither shame nor rumors."
In "The Poem of the Mountain" and "The Poem of the End" (1924), considered the most beautiful and important of her work, the poet loudly declares her love for Konstantin Rodzevich, one of her husband's old comrades-in-arms and the person for whom she nearly ended her marriage.
The following is an excerpt of Elaine Feinstein's translation of "Poem of the End": "Understand: we have grown into one as we slept and now I can't jump because I can't let go your hand/and I won't be torn off as I press close to you: this bridge is no husband but a lover: a just slipping past/our support: for the river is fed with bodies! I bite in like a tick you must tear out my roots to be rid of me." English-language readers owe Feinstein a debt of gratitude for introducing so many readers in English to Tsvetaeva's lush, open voice.
Without a Homeland
"I hate my century because it is the century of organized masses, which are no longer a free element." Marina Tsvetaeva lived in a strange, turbulent era, which she protested in vain. That strange world would hurt her deeply.
Thanks to the success of "Evening Album" (1912), her first book of self-published poems, she fell in with the cultural circles of Moscow, where all the artists and intellectuals followed some avant-garde movement. Tsvetaeva admired many of the contemporary poets of the time, especially Aleksandr Blok, Osip Mandelstam, Anna Akhmatova, and Vladimir Mayakovsky, to whom she dedicated numerous poems. However, she chose not to identify herself with any literary movement. Tsvetaeva was an individualist, contrary to the group think that then existed in art and which, after the Russian Revolution in 1917, Lenin's party tried to use to its advantage.
When Sergei Efron decided to fight the Bolsheviks in the ranks of the White Army, the revolution brutally changed the course of her life and caused similar upheaval for those close to her.
Marina stayed alone in Moscow, taking care of her two young daughters. "Who should I give the soup to, Alia (Ariadna) or Irina?" We are shocked to read in one of her journals.
In 1919, she sent the girls to the Kuntsevo orphanage, on the outskirts of Moscow, and a few months later, tragedy struck. Ariadna was sent home ill with malaria and Irina died of starvation at the orphanage. In 1920, at the age of 27, Marina was living on the brink. She then began a desperate search for her husband. On March 11th, 1922, with her daughter Ariadna, she left Russia for Berlin, where she was reunited with Sergei Efron. Two months later, the family moved to Prague, where her husband obtained a university scholarship and Marina received a small subsidy from the Czechoslovakian government. In Czechoslovakia, Marina was the happiest and most creative she had ever been.
The couple's third child, Georgy, nicknamed Mur, was born on February 1st, 1925. The family would live in exile in France for nearly 17 years before returning to the Soviet Union. (During this time, many accused Efron of working for the NKVD secret service abroad.) Most of Tsvetaeva's work, both prose and poetry, was written during this period: "Separation," "Poems to Blok," "The Tsar Maiden," the aforementioned "The Poem of the Mountain" and "The Poem of the End" and "New Year's Greetings" (1926), which she wrote after the death of the poet Rilke. However, it was difficult for her to publish because of her apolitical stance. As of the 1930s, Tsvetaeva seriously doubted whether her writing would have a readership. Her work was unknown abroad as well as in Russia, despite Pasternak's efforts. "…Here I am, unnecessary; there I am, unthinkable."
Dead-End Street
Tsvetaeva's return to the Soviet Union on June 18, 1939, proved to be her death sentence. Ariadna and Sergei were arrested and many of her friends likewise suffered the horror of Stalin's regime. The poet stopped writing, and this was her moral suicide. Months later, her son Mur found her hanged at their house in Elabuga. She had left him a note: "…I am madly in love with you… Tell Papa and Alia – if you see them – that I loved them up to the very last moment and explain to them that I ran into a dead-end street." Marina Tsvetaeva died on August 31, 1941, but her poems live on, and in recent decades have found new readers around the world.
The Sound of Tsvetaeva:
The poets's poems became lyrics to songs and managed to reach a broad audience, even in Soviet times. Songs with her poems as lyrics appear in several beloved Soviet-era films including "The Irony of Fate" and "The Cruel Romance," both directed by Eldar Ryazanov.
All rights reserved by Rossiyskaya Gazeta.