Nazi books create debate on book banning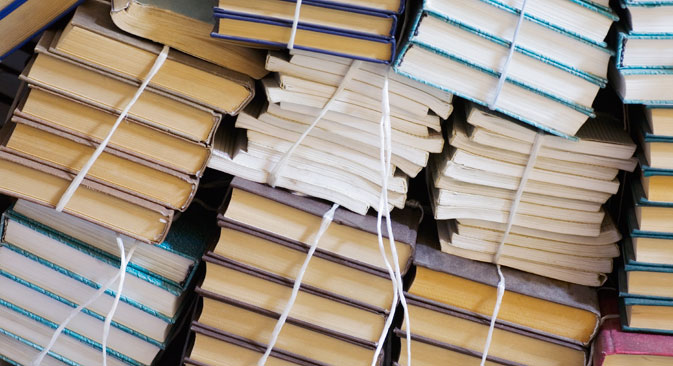 According to the law, fascist, nationalist and radically religious books as well as books promoting pornography or drug use are banned in Russia. Source: Getty Images/Fotobank
Recently published works by Joseph Goebbels and Benito Mussolini have provoked discussion about extremist literature in Russia.
Over the past year, Russian publisher Algoritm quietly released two books in small print runs – but the reaction they produced was anything but understated. The books, "Michael: A Novel," by Joseph Goebbels and "The Third Way" by Benito Mussolini, sparked a fierce debate in Russian society.
Readers' comments to articles about the books revealed a full spectrum of opinions on whether or not works by fascists should be published. Those who oppose banning the works had two main arguments: that it's better to know this perspective in order to fight against it, and that anyone who really wants to read these books will find a way to do so. Those arguing for a ban turned to historical memory, daring the opponents to give any reasons why a country that defeated fascism needed fascist books.
Writer and journalist Dmitry Bykov is one of those skeptical about the practice of banning books. "The practice of publishing books of obviously poor and even malicious content exists all over the world, and it is necessary. In order to understand fascism's origins, you need to read the fascists. You need to publish such works with good commentary—not just textual, but also psychoanalytical—in order to explain how fascism arises from these bombastic books. Yet banning them is the simplest thing [to do]," he said.
According to the law, there should be no debate at all—fascist, nationalist and radically religious books as well as books promoting pornography or drug use are banned in Russia. The Ministry of Justice keeps track of these books and after a book is officially declared extremist, a process that includes a legal ruling, the book is entered into the list of banned books. The law is broken not when the book is published, but when the book is distributed.
The process works something like this: a controversial book is released, then a complaint is lodged with the Prosecutor General's Office, then the media report on it, lively public discussion ensues, and the book is either banned or not. The result is that the book receives more exposure than if there was no law banning books at all.
Boris Kupriyanov, co-owner of Falanster, a bookstore that specializes in intellectual literature and the program director of the Moscow International Book Festival also rejects the idea of banning books. "Banning only provokes interest in these books," Kupriyanov said. "In banning a book, it's as though we are saying that we can't argue or compete with it, that it is stronger than us. And thus we are raising its prestige."
Kupriyanov himself has fought the authorities on this issue. In 2007, copies of five books published by the alternative publisher Ultra.Kultura were pulled from his store by investigators looking for pornography. If any was found, Kupriyanov would have faced criminal charges for harboring and distributing pornographic materials.
Ultra.Kultura, founded by poet and translator Ilya Kormiltsev, has often aroused the suspicions of the authorities. In addition to accusations of pornography, the publisher has also been suspected of publishing books that promote drug use and terrorism. In 2004, the sale of seven books from Ultra.Kultura's list was halted at once. Among the titles were Alexander and Ann Shulgin's "Pihkal: A Chemical Love Story" and "Storming Heaven: LSD and the American Dream" by Jay Stevens. In 2006, copies of Adam Parfrey's "Apocalypse Culture" and Phil Jackson's "Inside Clubbing: Sensual Experiments in the Art of Being Human" were destroyed, and the printer that produced them was fined. In 2007, the publisher closed down and was sold to the market giant AST Publishing Group.
This summer, unexpectedly strong passions were ignited over a title in children's literature. French author Sylvie Bednar's "Flags of the World," published by the independent publisher KompasGuide, was deemed "Russophobic" by State Duma Deputy Alexander Khinshtein. The politician was reacting to a paragraph about the Lithuanian flag, in which the banner's red is described as "the color of blood shed by the Lithuanian people in the battle with the Russian and German conquerors."
Khinshtein posted a statement on Twitter calling the publishers fascists, with the notice that he would send a request to the Prosecutor General's Officeregarding "Flags of the World." Large bookstores did not wait for the results of the investigation before returning their copies to the publisher.
Marina Kadetova, managing editor of KompasGuide, said about the controversy: "Without investigating the claims reasonably and in essence, most of the large stores returned the book, motivated to do so by the fact that it was their own decision. Only a few small stores have continued to sell the book. As of now, the Prosecutor General's office hasn't issued an official ruling. Of course, this whole scandal has hit us, so now the book can really be acquired only from the publisher, a few bookstores, and at book fairs we participate in."
The literary community reacted swiftly and supportively. A group including writers Ludmila Ulitskaya, Boris Akunin and Vladimir Sorokin along with literary critics, publishers and booksellers jumped to the defense of the small publisher with an open letter stating: "in this way, an atmosphere of fear and uncertainty is being created and fostered in Russian book publishing. Booksellers and distributors need to react to the claims of individual government officials, even when this may very well compromise their earnings and reputation."
Books have always had a particular status in Russia. And now, as previously, they are at the center of public attention, no matter what sociologists say about the decreasing interest in reading.
All rights reserved by Rossiyskaya Gazeta.