When John Steinbeck went to Stalingrad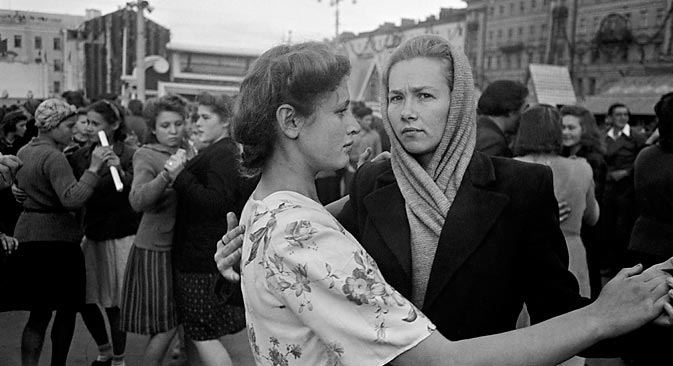 Moscow's 800th anniversary celebration in 1947. Source: Robert Capa © International Center of Photography/Magnum Photos/Grinberg Agency
"A Russian Journal" published in 1948, is the arguably among the most honest foreign reporting for its keen powers of observation, droll humor and sheer lack of conclusion about the place.
In the fall of 1947, John Steinbeck checked in at the repaired Intourist Hotel in Stalingrad with the great photographer Robert Capa: "We seemed to go on endlessly across the steppe, until at last, over a little rise, we saw Stalingrad below us and the Volga behind it."
The duo was far from their aristocratic room at the elegant Metropole Hotel in Moscow where they had begun their trip.
In Stalingrad, "our windows looked out on acres of rubble, broken brick and concrete and pulverized plaster," Steinbeck wrote, "and in the wreckage the strange dark weeds that always seem to grow in destroyed places."
During their time in Stalingrad, they became intensely fascinated by the resurrection of life among the ruins. The place was still horrifically gutted two years after the war, but it was far from deserted, they found. Stalingrad was a large city, and people had gone back to life and work.
"Underneath the rubble there were cellars and holes, and in these holes many people lived. We would watch out of the windows of our room, and from behind a slightly larger pile of rubble would suddenly appear a girl, going to work in the morning, putting the last little touches to her hair with a comb. She would be dressed neatly. How they [the women] could live underground and still keep clean and proud and feminine we had no idea. …It was a strange and heroic travesty on modern living," Steinbeck observed.
Before their Russian trip—which actually includes Soviet Ukraine and Georgia as well as Russia-- Steinbeck had just finished his book, "The Pearl."
Capa and Steinbeck had both covered World War II as journalists and they both had seen and endured a great deal. Their journey through Russia moved them so deeply that their diary of the trip is by turns funny, poignant,shocking and even, considering their heft as major chroniclers of the 20th century, at times naive.
Yet the two understood both the enormity and simplicity of their task: "This is just what happened to us," Steinbeck wrote. "It is not the Russian story, but a Russian story."
Sixty-five years ago, Steinbeck and Capa published "A Russian Journal" with Viking Press. Penguin classics reprinted the intimate work in 2000 and it is still available, a treasure for readers interested in a wide-eyed, open-minded view of the Soviet Union after World War II. Capa's photos are touching, candid, and heroic. In the 1948 New York Times review, "A Russian Journal" was called "superb."
In between chapters six and seven there is a short rant by Capa, called "A Legitimate Complaint." The photojournalist complains in a brotherly way, about Steinbeck's habits as a reveler and a drinker. For a glimpse into the daily habits of the author of "The Grapes of Wrath" and "Of Mice and Men," the scene is unsurpassed with wry humor.
Steinbeck and Capa also spent a great deal of time with farmers and their families in the wheat fields, and their witness to this intense work and collective organizational system is one of a kind. Not many outsiders spent time in the fields. Capa's photos give the reader the majesty of the experience.
Published two years after Winston Churchill first used the term "Iron Curtain," "A Russian Journal" was an attempt at "honest reporting without drawing conclusions," as Steinbeck put it, a form of journalism both liberating and true.
All rights reserved by Rossiyskaya Gazeta.