For Russian readers, a new book by Dina Rubina is always an unmissable event. She is perhaps the only modern Russian-language author who manages to combine elements that are often mutually exclusive, such as popular appeal and critical acclaim, thrilling action and rich, expressive language.
Russian literature is traditionally divided into highbrow and mass literature, which means that a specific literary work is accepted either by the critics or the general public. Books by Dina Rubina are a rare exception from this rule. They sell millions of copies and are simultaneously lauded by literary critics and scholars, which is further confirmed by the numerous literary awards Dina Rubina has received in Russia and Israel, where she has lived since 1990.
Rubina is a virtuoso author. She is adept at coming up with gripping storylines, while at the same time filling her books with real-life details, striking metaphors and believable characters.
Her protagonists are often artistic and unconventional people: painters, singers, circus artists or just people who have a talent for something. Dina Rubina herself comes from a world of art and music: she is married to an artist, is the mother of an artist and is the daughter of an artist. From the age of four, Dina posed for her father's paintings and then continued to show patience and hard work at a music school for gifted children and later at a conservatory. It must be her background in music that makes intonation so important in Rubina's writing. Her own reading preferences center around authors who, as she puts in, "sound in unison" with her own intonation: Chekhov, Nabokov, Bunin and Brodsky. One of her favorite writers is Borges.
Rubina has a special gift of turning real-life observations into an artistic reality and doing it in such a way that the prototype always ends up just a poor reflection of its literary equivalent. Her writing style is striking and memorable, just like Rubina herself. With a mischievous and slightly ironic look in her eyes, aristocratic bearing and sonorous voice, this is a woman who instantly takes you under her spell. It was with good reason that she was called Dina after the Hollywood star of the 1930s and 1940s, Deanna Durbin. Despite being a professional writer, Dina Rubina often refers to herself as an "artiste" and seems to take particular pride in her ability to imitate any accent, in not suffering from stage fright, and in the fact that there was a time when her livelihood came from public speaking, not as a performing actress of course, but from delivering literature lectures at schools.
One important distinctive feature of her books is their incredible polyphonic quality. It may partially derive from the fact that Dina was born and spent her childhood years in Tashkent, a sun-soaked Central Asian city where representatives of different cultures and ethnicities lived side by side. The scorching sun, the polyphony of an Oriental city, various episodes from her early and teenage years come up again and again in Rubina's novels and short stories. For example, in her epic novel "On the Sunny Side of the Street," which is set in Tashkent, a fictional plot interweaves with memoirs of real-life Tashkent residents to produce a truly powerful effect. That novel – which Rubina crafted on and off for over 25 years – received the prestigious Big Book award in Russia. Local enthusiasts and literature lovers in Tashkent now offer walking tours of the city inspired by the book.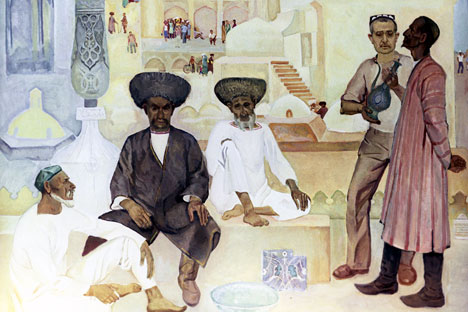 In an old city of Tashkent. Source: RIA Novosti / Anton Denisov
Dina Rubina began writing at 16: her very first short story, which the schoolgirl from Tashkent sent to a Moscow magazine, had the same ironic touch that later became her trademark, and was published in an influential literary magazine with a large circulation.
Early success did not spoil Rubinas's work ethic. She still spends 12-14 hours a day working, paying meticulous attention to every little detail in her books, from a technical as well as literary point of view. Rubina often goes through a huge quantity of reference material in order to become familiar with a particular subject, as her characters often have rather rare occupations, like a puppeteer or an art conservator. Besides, the author often sends her characters to various countries and cities of the world, which also requires a lot of painstaking research.
One of the most important themes in Dina Rubina's works is a search for one's roots, affinity with one's roots, the call of the blood. Her own search for roots led the writer to repatriation in Israel, where she and her family moved in 1990. That became a watershed in terms of her "biography, art and personality," which is reflected in her works.
According to her memoirs, in Israel Dina Rubina has "served a little, wrote a lot, performed, lived in 'occupied territories,' traveled under gunfire, received literary awards, published book after book in Jerusalem and in Moscow..." In a nutshell, there, as everywhere else, she has been busy turning life into literature.
Dina Rubina has devoted many pages to her new motherland. Interestingly, her books on the subject of Judaism encompass a whole array of genres and tones, from the tragic and the great in the novel "Here Comes the Messiah!," which has been translated into many languages and received numerous awards, to the ridiculous and absurd in "The Syndicate."
Dina Rubina is always a welcome guest in Russia: her meetings with readers are invariably packed, and her new books instantly shoot to the top of bestseller lists at Moscow's leading bookstores.
List of Dina Rubina's books translated into English:
- Monologue of a Life Model - SUNY Press, 2000.
- Here Comes the Messiah! - ZEPHYR PRESS
- Apples From Shlitzbutter's Garden - INVISIBLE CITIES PRESS
- On Upper Maslovka - FictionNet, 1996
- The Double-Barrelled Name - Excerpt in Nimrod 33, no. 2 (Spring/Summer 1990).
All rights reserved by Rossiyskaya Gazeta.