Google brings Chekhov to life for 24 hours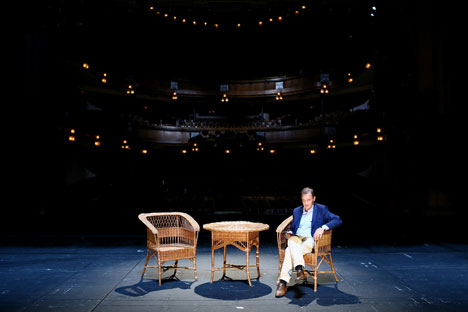 TV presenter Sergei Brilev reads Chekhov at the stage of Moscow Chekhov Art Theater
Hundreds of people from New York to Yuzhno-Sakhalinsk are reading from Chekhov's works in a live broadcast
As part of the Chekhov is Alive project, on Sept. 25 more than 700 people are reading from the great writer's works for 24 hours straight. The theatrical readings are taking place on 25 stages throughout the world and are being broadcast on YouTube and on chekhov.withgoogle.com.
In collaboration with the Russian Book Union and the Chekhov Moscow Art Theater, Google has organised one of the main events of the Russian Year of Literature for the 155th anniversary of the writer's birth.
Ordinary Internet users suggested that Russian actors and politicians read Chekhov. In the course of a few months more than 1.2 million people passed the "Which Chekhov Protagonist Are You" test, while 3,000 people made it through online casting and are participating with their video recordings.
YouTube's multi-screen technology is allowing cameras to capture different stages at the same time.
The project's producer, Fekla Tolstaya, who is Leo Tolstoy's great-great-granddaughter, said that the Chekhov is Alive project is an extension of an online reading of Anna Karenina online reading, where Russian actors and politicians read the novel over the course of three days.
Tolstaya and the project's creative team have mainly chosen short stories for the readings, but have also included his famous play The Seagull.
"We are offering people a chance to live with Chekhov for a day," explained Tolstaya. "That is why we have divided the readings thematically. When you should work – or, as Chekhov used to say, when "things must be done, gentlemen" – evening entertainment, insomnia and so on."
The story Lady with a Lapdog opened the readings; it is about a man and a woman who tire of their spouses and have an affair at a resort. They feel happy for a short while but then are tormented by what they have done.
"Along with the audience and the participants of the project, we have been watching attentively as Chekhov's protagonists come alive on the stage of the Moscow Art Theater – and other stages," remarked famous actor and theatre director Oleg Tabakov.
Google Russia's marketing director Dmitri Kuznetsov noted that searches for Chekhov increased fourfold after the project was announced.
All rights reserved by Rossiyskaya Gazeta.