Magical flowers and space adventures: Bedtime stories the Soviet way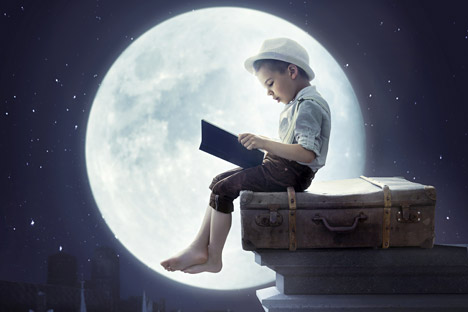 Young boy on a roof. Source: ShutterStock/Legion Media
Shutterstock/Legion Media
If you fancy giving your kid a taste of a Soviet childhood, why not try one of these classic books? Beloved by millions of youngsters in the USSR, these stories mix age-old fairy tales with Soviet idealism and a healthy dose of good old fashioned fantasy.
Old Father Frost
Vladimir Odoevsky (translated by James Riordan)
A kindly bearded man who lives in a winter wonderland. Sound familiar? It should, as Father Frost (Ded Moroz) is the Slavic equivalent of Father Christmas. In 1840 Prince Vladimir Odoevsky was the first person to write down a centuries old fairy tale about a mythic figure living in an ice kingdom that is accessible by a magical well. Generations of Soviet – and now Russian – children have listened rapt as they hear how hard work is rewarded with the gift of a necklace made out of icicles. This was almost not the case, however, as the story was originally banned in the Soviet Union for being too bourgeois, and it was only restored to its rightful place in Russian folklore on Stalin's instructions.
Grishka and the Astronaut
Anatoly Mityayev (translated by Ronald Vroon)
The year is 1970. The Brezhnev era has settled over the USSR, and with it come inspirational stories about young Soviet children who can literally reach for the stars. In this particular story an astronaut advises a boy to visit the moon, sparking a wild ride into space for him. Put in its historical context this story reflects a time when the Soviet Union had not yet fallen into stagnation and astronauts were heralded as symbols of the mighty superpower's promise. But all that aside – what kid doesn't love space? This story is worth exploring just for the futuristic '70s Soviet art accompanying it.
Grandpa Mazai and the Hares
Nikolai Nekrasov (translated by Irina Zheleznova)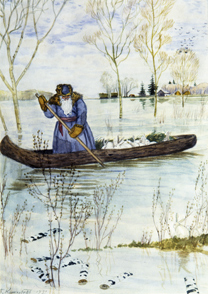 Grandfather Mazay and the Hares. Source: Sverdlov/RIA Novosti

Another staff wielding, robed grandfather, but this time without magical powers. Although Grandpa Mazai may not have an ice kingdom to whisk your kids off to, he does have an abundance of basic human empathy, which leads him to rescue some hares from a flooded river. Although it was written in the 19th century, this poem has not dated, and is a must-read to gain an understanding of how Russians relate to the rural space – Nekrasov's sympathetic portrayal of peasant life won him plaudits from no less a figure than Dostoevsky.
Rainbow Flower
Valentin Kataev (translated by Fainna Glagoleva)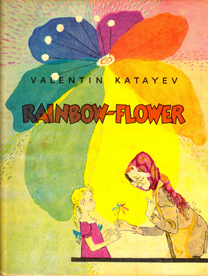 Rainbow flower. Source: Progress Publishers
A true staple of the Soviet Union, this is a heart-warming tale about a girl who is given a beautiful flower with seven petals.
Each petal is a different color of the rainbow, and every time she plucks one off she is granted a wish.
She uses her first six to wish for all the classic treats that a child could want, but she realizes that these haven't made her happy, and uses her final wish to cure a boy's bad leg. Read this one to your children to show them that material goods are secondary to friendship and caring for others.
In the Van
Samuil Marshak(translated by Margaret Wettlin)

No Soviet childhood would be complete without the influence of Samuil Marshak, the man Maxim Gorky described as "the founder of our children's literature." A translator and philosophical poet in his own right, Marshak was at the forefront of creating a new style of Soviet literature for children, inspired by British writers such as A.A. Milne and Lewis Carroll. He almost fell victim to the political Sword of Damocles twice: during the Great Purge of 1937 and then in the final years of the anti-Jewish "battle against cosmopolitanism" in the 1950s. But lay aside the politics and enjoy this playful story about a woman who loses her dog on a journey. She's in for a surprise as a result, but to find out what, you'll have to read the poem.
Read more: From Tolstoy to the Queen of Horror: Childhood in Russian literature
All rights reserved by Rossiyskaya Gazeta.