Moscow bids farewell to the legendary Galina Vishnevskaya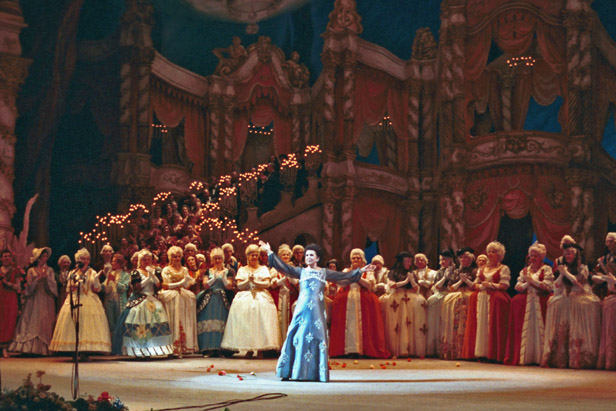 Galina Vishnevskaya, the great Russian opera singer, has died on 11th December, aged 86.
Photo credits: RIA Novosti, ITAR-TASS. Music: Tatiana's aria, "Eugene Onegin" opera, Peter Tchaikovsky.
Vishnevskaya was born in Leningrad in 1926, and lived through the entire Siege of Leningrad. Towards the end of the war she began singing in a choir, and then became a soloist with Leningrad Regional Operetta. During the 1950s she sang briefly in "estrada" variety performances, when in 1952 she was accepted in the Bolshoi Theatre's apprenticeship program. She had a fantastic lyrico-dramatic soprano voice – and she was ready to study relentlessly.
She sang in the Russian and Italian repertoires, taking on the most taxing roles – Tatiana in Tchaikovsky's Eugene Onegin, and the title role in Verdi's Aida. Her repertoire of roles was enormous. She performed with all the great conductors of her epoch, including Herbert von Karajan and Alexander Melik-Pashaev – she sang alongside the legendary Russian tenors Lemeshev and Kozlovsky, she performed with Placido Domingo, Dietrich Fischer-Dieskau and Birgit Nilsson.
In 1955 she married the cellist, conductor and composer Mstislav Rostropovich after a whirlwind four-day courtship. They lived together for 52 years, until his death in 2007. They performed together – at first he accompanied her at the piano, and then conducted her opera performances around the world.
Related article: Galina Vishnevskaya, great Russian opera star, dies at 86.
All rights reserved by Rossiyskaya Gazeta.