Moscow State University's campus reveals its secrets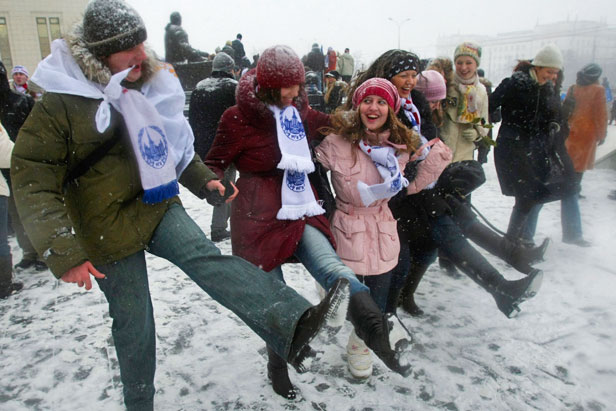 On Tatiana's Day (or Students Day), Russia's most renowned university opens its doors to all the students who feel the nostalgia for the years spent in their Alma Mater. RBTH spent a day in the heart of the Moscow State University (MSU) campus, obser
Tatiana's Day (or Students Day) is celebrated in Russia on January 25th and is supposed to be the most cheerful and happy-go-lucky holiday of the year. On this day, Russia's most renowned university opens its doors to the future, incumbent and ex- students who feel the nostalgia for the years spent in their Alma Mater. RBTH spent a day in the heart of the Moscow State University (MSU) campus, observing the everyday life of its students.
The Tatiana Day tradition started in the 18th century. On the 25th of January 1755 the Empress Elizabeth endorsed Mikhail Lomonosov's initiative to establish a university in Moscow and signed the corresponding decree. The date coincided with the memorial day of the Holy Martyr Tatiana (Tatyana), a Christian martyr in third century Rome who thus became the patroness of all Russian students.

This unofficial holiday has contributed for over a century to make a little easier the hard life of the Russian students, who are granted the day off for the occasion. After months of hard learning, revising and exams, students take the most they can from this day of freedom. On this day, the rector is called to pour honey-based mead to the students in the campus' lobby during a traditional ceremony. Moscow invites all the students to gather on Red Square, or rather in the skating rink near GUM, one of favourite sites in the longstanding Tatiana Day celebratory tradition. In the evening the youths are greeted by outstanding athletes, politicians, artists and cinema stars. It all ends with a holiday disco on ice. Night clubs and restaurants also organise special parties. So, if you want to find out what a real Russian student party is, make sure to be in Russia on Tatiana's Day!
All rights reserved by Rossiyskaya Gazeta.