Instaweek: Spring and Victory are in the air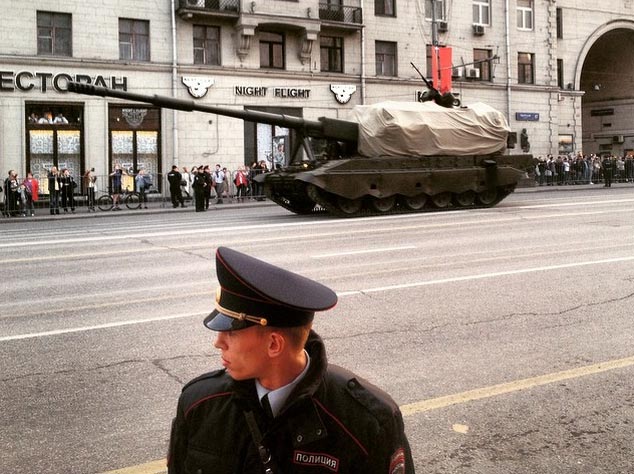 RBTH presents a news digest based on Instagram photos related to Russia
If you're out for an evening stroll in the centre of Moscow in early May, you'll probably see Victory Day parade rehearsals taking place on and around Tverskaya Street, central Moscow's main artery. This year the celebration will be the biggest and the most spectacular ever.
People gather in the streets and on Red Square to see the latest tanks and military vehicles, as well as thousands of soldiers in shiny uniform, marching briskly in step.
Spasskaya Tower is opened after renovation. The whole city is getting ready for the huge celebration – 70 years of Victory and, as usual, Red Square will be the focal point.
On the last weekend of April, thousands of subbotniks ("spring-clean Saturdays") were held in Russia. On Saturday, people went to nearby schoolyards, streets, parks and forests for a mass communal clean-up. In big cities, it's all accompanied by music, master classes, performances, bike rides and flea markets. This year RBTH visited a subbotnik in Moscow for expats, and more than that – we made a video about it!
The Night Wolves bikers' club was planning a Moscow-Berlin motor rally, timed to coincide with Victory Day, on April 25-May 9. The Polish authorities formally notified the Russian diplomatic mission in Warsaw that participants in the ride would be barred entry to the country. However, on Thursday, April 20, the head of the club announced that the riders had crossed the Polish border and were on their way to Bratislava, Slovakia.
Spring arrived in central Russia. It was snowing the previous week, but the last week of April was one of the warmest this year. The first flowers are blossoming in Moscow's Botanical Garden.
Sakura (Japanese cherry) is blossoming as well! Through April 26-27, at peak bloom, people come here to get a glimpse of the flowers. In Russia's central climatic zone, the bloom lasts approximately 5 days in spring. The earliest bloom of sakura in Moscow on record is April 25, and the latest is May 15.
All rights reserved by Rossiyskaya Gazeta.