Flying over Soviet bequest: aerial view of Moscow State University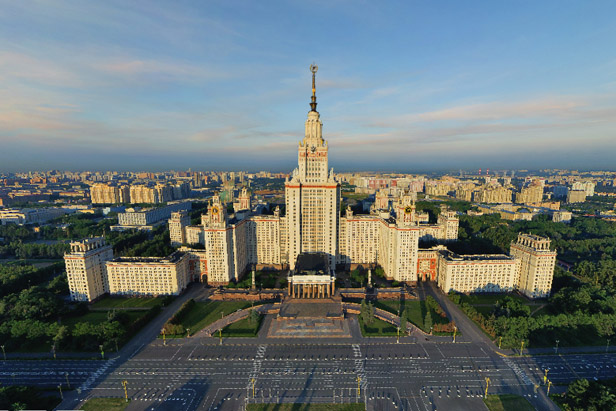 On the 15th of March 1948, the prescription concerning the construction of a new buildning for Moscow State University was signed. The main building of Moscow State University is not only one of the most famous Moscow buildings but also the biggest Stalin style high-rise building in the capital city. Moreover, 37 years long it had been the highest building in Europe till 1990, when in Frankfurt the MesseTurm skyscraper was built.
The aerial panorama is provided by Airpano.com
The main university building was being built since 1948 till 1953, it is 182 m high and its spire is 240 m high. The weight of the star on the spire is only 12 tons! The entrance to the top is opened and everyone can climb there and observe the Luzhniki, parks, arboretum, fountains and new MSU's library.
The complex on the Sparrow Hills is a part of Stalin Style High-Rise Buildings grandiose project. Their construction itself was devoted to demonstrate the power of the young state-winner which was developing skyscrapers' construction more efficiently than even most Western countries. The fact is that in 1940-s there were no high buildings in Moscow: the capital could afford to build only objects with a few floors and the only high buildings were the bell tower named after Ivan the Great and Moskva hotel...
All rights reserved by Rossiyskaya Gazeta.