Moscow spreads out before you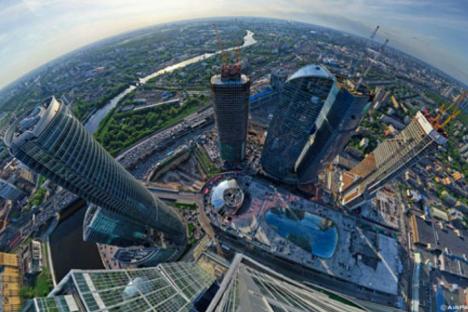 Dmitri Chistoprudov's photographs, taken from a bird's-eye view, reveal Moscow as visitors to the city, and even its residents, rarely see it. It is a huge, majestic, beautiful, and sometimes frighteningly massive capital. Sofia Rayevskaya of RBTH spoke with Dmitri Chistoprudov, the photographer, blogger, and co-founder of Photo Agency 28-300, to learn how he gets these shots.
Russia Beyond the Headlines: Where does Moscow make the greatest impression?
Dmitry Chistoprudov: I love Moscow very much. I would like to put out a book on Moscow. These days I spend less time on the rooftops; my interest in that has flagged. I have already been to all the most interesting places. That includes the Moscow tower (the tallest building in Europe and the CIS). Some high buildings do remain off-limits to me, like the Kotelnicheskaya Embankment building and some of the Stalin-era skyscrapers.
Currently I'm doing other things: shooting commercial interiors, photo journalism, managing Photo Agency 28-300, and traveling. Frequently I go on press tours. I might travel 500 miles from Moscow to shoot a photo report on a 17-story-high excavator. Or to take photos of a naval base, or a rocket launch at Plesetsk [satellite launch facility in northern Russia]. I continue to find large industrial subjects attractive. Recently I began giving master classes on shooting interiors and urban landscapes, and this involved some rooftop practice shoots.
And I do plan to resume my forays onto the rooftops, in order to collect material for my new book.
The Moscow-City International Business Center is a commercial district under construction since 1995 on the Presnenskaya Embankment in Moscow. It includes several high-rise towers, including the Moscow tower, which is the tallest in Europe and the CIS, and the Expocenter business and exhibition center.
Mirax Plaza is a multifunction business complex being constructed in Moscow by the Mirax Group, a developer and investment corporation. The buildings are almost 200m high.
Gorod Stolits is a complex with two high-rise towers and an 18-story building linking them, located on lot 9 of the Moscow-City district.
RBTH: What are your favorite places in Moscow?
D.C.: My favorite spots are [business center] Moscow-City, and the Mirax Plaza, right across the street. There's a good view of the City from there. From Begovaya, there's a beautiful vista of the transport junctions. And there's also Gorod Stolits, but it's already been closed to visitors.
RBTH: What was the start of your career as a photographer?
D.C.: It started with my being offended and angry at a blogger named Sasha Popov (Russos). Someone sent me a link to his photos of the subway system, and its tunnels. I was really impressed by them, and wanted him to take me with him. I took a long time writing him a letter, asking if we could go on a shoot together. I carefully reread it several times before I was ready to send it. And when I went to find his address, I saw this notice: "Requests to go on shoots with me will be ignored." That was in 2007. At that time, I was taking pictures of nature and flower blossoms. And working as a designer. But I wanted terribly to go up onto the rooftops and down into abandoned subway tunnels. After my unsuccessful attempt to work with Popov, I started feeling adventurous. And it so happened that somebody I knew asked me to go shooting on the Shchelkovskoye Highway. There I was able to get some images of interchanges on the Moscow Ring Road. This made such an impression, that I thought: That's it, this is for me!
I showed them to my colleagues at work. Through them I got access to another roof, and then a third. Then along came the PIK Group, which offered its facilities to photographers in exchange for photos. I was truly inspired. Soon after that a co-worker helped me get up onto the Empire tower in the Moscow-City complex. This was my first conquest of a high-rise. And orders for my photos began to snowball…Donstroi, the Capital Group, the Mirax Group, the biggest construction companies in Moscow!
In some of your panoramic photos it looks as if one row of buildings is superimposed on another. But that wasn't achieved with Photoshop, was it? Is that what Moscow really looks like? Building upon building?
Yes, that's what Moscow looks like when it's very hazy. The effect is particularly good at sunset. The more pollution there is, the prettier the landscape. Because then the buildings in the foreground are sharp and vivid, while those in the background are in the haze, as if surrounded by mist. In that respect the awful summer of 2010, when the capital was choking on smog from burning peat bogs, was heaven for photographers. There are extraordinarily beautiful photographs from that time! I went out at 3:00 a.m. with a gas mask and shot a lengthy photo report.
In general, I love shooting in extreme conditions. It's too bad the equipment doesn't always hold up… For example, I'm quite happy taking pictures when it's way below freezing. Or above the Arctic Circle somewhere. I adore mountains. Altay, the Alps… I really got an eyeful!
RBTH: What do you feel when you're shooting in extreme conditions?
D.C.: I've lost my sense of fear. Only cold calculation remains. In the beginning, though, I experienced intense sensations. For example, one of my first rooftops was one of the Stalin-era skyscrapers, which is a pretty old building. To reach the very top I had to climb a narrow fire escape amid cables, and it was pitch dark. Finally there was a narrow little platform and an outside ladder up to the actual spire. The three of us could barely fit up there, at the very top. It was really terrifying, but totally cool! I was afraid not so much for myself as for my camera mount, which would have been very easy to drop (laughs).
All rights reserved by Rossiyskaya Gazeta.