Trinity Lavra of St. Sergius, where Russian history was written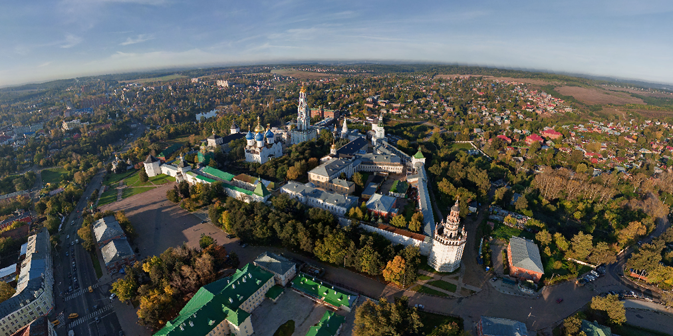 Several chapters of Russian History can be easily illustrated by the pictures of Sergiev Posad, a small town located in the Moscow Region.
Tartar yoke, Andrey Rublev and Dmitry Donskoy, the duel between Peresvet and Chelubey, Minin and Pozharsky, Peter I and Savva Mamontov - all these great people and events are more or less related with Sergiev Posad.
Undoubtedly, the town's main place of interest is the famous Trinity - St. Sergius Lavra. It "has been living" an interesting life since its foundation (the middle of XIV century). The story began when a young man Varfolomey, who was later taken the monastic vows as Sergy and propagated the ideas of non-money-grabbing and diligence, had settled in a simple cabin after the death of his parents. Step by step the monastery was becoming bigger and attracting both new devotees and pilgrims from all over Russia. A hundred years later the main temple which is the Trinity Cathedral was founded on the place of a wooden church. It was built with the help of Serbian monks from Kosovo, who took refuge here after the Battle of Kosovo Field. Later the monastery began to be named as The Trinity - St. Sergius Lavra.
The most significant iconostasis of the Lavra was created by the famous Russian icon painters Andrey Rublev and Daniil Cherniy. Especially for this iconostasis Rublev painted a famous icon "The Holy Trinity". Totally, the monastery's ensemble includes more than 50 buildings of different missions, which were designed and decorated by the best masters of XV-XIX centuries. Since 1993 the architecture of the Trinity - St. Sergius Lavra has been an object of UNESCO World Heritage.
But the Lavra is not the only place of interest of Sergiev Posad. This town, full of greenery and standing on the banks of the Kanchura River, saved a lot of ancient buildings and seems to stay in the past. The posads, which are the town's districts, were spontaneously built around the monastery and the town couldn't finally join them. Most districts are still having the charming old names such as Hardware Settlement (Skobianoy Poselok), Peasant Village (Krestianskaya Sloboda) or Birds' Town (Ptitsegrad).
We offer you to admire the town from the height, imaging that some historical, heroic or completely unbelievable event is going on right besides that house...
All rights reserved by Rossiyskaya Gazeta.