Romanov family photos now in color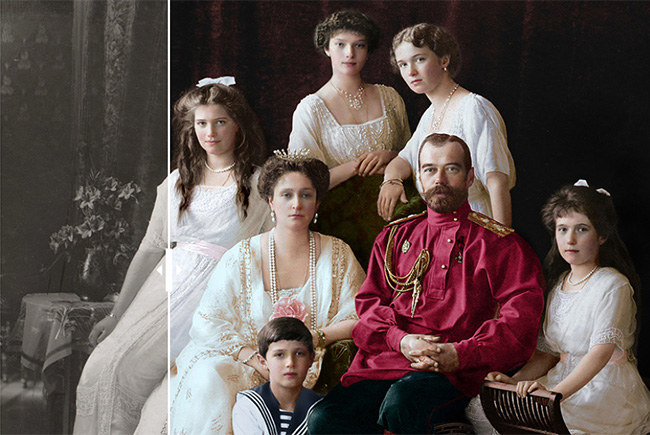 Russian artist Olga Shirnina (also known as 'klimbim') colors archive images of Romanov family.
Credit: Archive image
The Last Russian Emperor of the Romanov dynasty, Nicholas II with his family: his wife Alexandra, daughters Maria, Olga, Tatiana and Anastasia, and son Alexei. All of them together with their servants, court physician Eugene Botkin, maid Anna Demidova, footman Aloise Trupp and cook Ivan Kharitonov were killed by the Bolsheviks in Yekaterinburg on the night of July 16-17, 1918.
Credit: Archive image
Empress Alexandra Fyodorovna with daughters. / The children, four daughters and one son, were raised and educated together in the Imperial Palace.
Credit: Archive image
Nicholas II ruled from 1 November 1894 until his enforced abdication on 2 March 1917.
Credit: Archive image
Nikolai II's reign was marked by Russia's economic development and a simultaneous growth in its socio-political contradictions, revolutionary movements that ignited the 1905-1907 revolution and the 1917 revolution. It also caused the Russo-Japanese war and Russia's participation in World War I.
Credit: Archive image
Empress of Russia Alexandra Fyodorovna. / Alix of Hesse, the future Alexandra Fyodorovna, first visited Russia when her older sister Ella married Nikolai's brother, Sergey Alexandrovich, and became Elizaveta Fyodorovna. The future spouses' next meeting occurred 5 years later, when Alexandra Fyodorovna spent a month and a half visiting her sister in St. Petersburg.
Credit: Archive image
Grand Duchess Marie, 1906. / Princesses Maria and Anastasia were the youngest and most amicable daughters. Encouraged by Anastasia, Maria started to play tennis, which had become popular at the time. The girls would also get carried away with their jokes, knocking paintings and other valuable items from the palace walls.
Credit: Archive image
Grand Duchesses Olga and Tatiana in Livadia, Crimea. / Russia's Black Sea Fleet was based in Sevastopol, Crimea in the 19th and 20th centuries. Russian tsars often visited Sevastopol to inspect the fleet and attend official meetings and military celebrations. Among the Romanov family, Nikolai II, his wife and kids visited Crimea the most frequently.
Credit: Archive image
Nikolai II and his family spent most of their time at Alexandrovsky Palace (Tsarskoye Selo) or Peterhof. In the summer, they spent vacations in the Crimean residence, Livadia Palace. Every year, the tsar also vacationed on the yacht "Standard", sailing for two weeks at a time along the Gulf of Finland and the Baltic Sea.
Credit: Archive image
Grand Duchess Ksenia Alexandrovna. / Photo was taken at a grand fancy-dress ball that took place at the end of February 1903 in the Winter Palace, St. Petersburg (today's Hermitage Museum), which was to be the last ball of tsarist Russia.
Credit: Archive image
Grand Duchess Elisabeth, often called Europe's most beautiful princess, 1914. / Elizabeth (Elizabeth of Hesse-Darmstadt and by Rhine) was born a German princess and, after marriage, became Elizabeth Fyodorovna, Grand Duchess of the House of Romanovs. Throughout her life, she helped the suffering. After her martyrdom during the Russian revolution, Elizabeth was canonized as a saint. Today, a sculpture of her is located among the martyrs of the 20th century on the façade of Westminster Abbey in London.
All rights reserved by Rossiyskaya Gazeta.