Photos of famous Russian ballet dancers now in color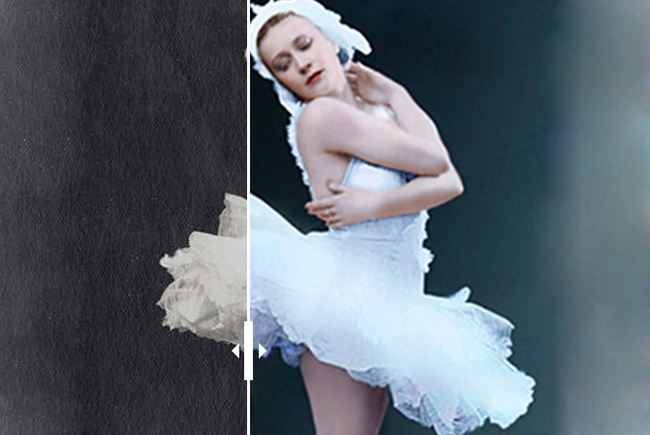 Rare archival photos of Russia's principal ballet dancers have now been colorized.

Russian artist Olga Shirnina (also known as Klimbim on social media) colors archival images. Her first series was dedicated to World War II heroes and the next one to the Romanov family. Here we present to you a striking assortment of images of famous Russian ballet dancers. / Ballet dancer Anna Pavlova.
Anna Pavlova (pictured) was the principal artist of the famous Imperial Russian Ballet as well as Sergei Diaghilev's legendary Ballet Russes.
Pavlova's most famous role, in "The Dying Swan," was first performed in 1905. / Anna Pavlova wearing dress a-la russe.
She joined the Ballet Russe in 1909 and formed her own company in 1911. / Anna Pavlova, 1913.
Anna Pavlova as a main character in "The Pharaoh's Daughter," a ballet choreographed by Marius Petipa.
Tamara Karsavina as the fiancée in "The Blue God" (1912). Costumes were made by Leon Bakst, the famous artist, stage designer and illustrator. He became known for his theatrical sceneries when he collaborated with Diaghilev on his ballet and opera performances in Russia, France, the U.S. and other countries.
Vaslav Nijinsky, the greatest male ballet dancer of the early 20th century. From 1913 he was a principal dancer and choreographer in Serge Diaghilev's The Ballets Russes, an itinerant ballet company based in Paris that performed from 1909-1929 throughout Europe and on tours in North and South America. / Vaslav Nijinsky in Scheherazade, 1910s.
Vaslav Nijinsky perfoming The Spirit of the Rose ballet. Jean-Louis Vaudoyer based the ballet story on a verse by Théophile Gautier.
Ulanova as Juliet in Sergei Prokofiev's ballet "Romeo and Juliet."
Galina Ulanova as a white swan. "Swan Lake", a world-famous symbol of Russian ballet, was composed by Pyotr Tchaikovsky.
All rights reserved by Rossiyskaya Gazeta.