8 Russian cities that you might soon see on the ruble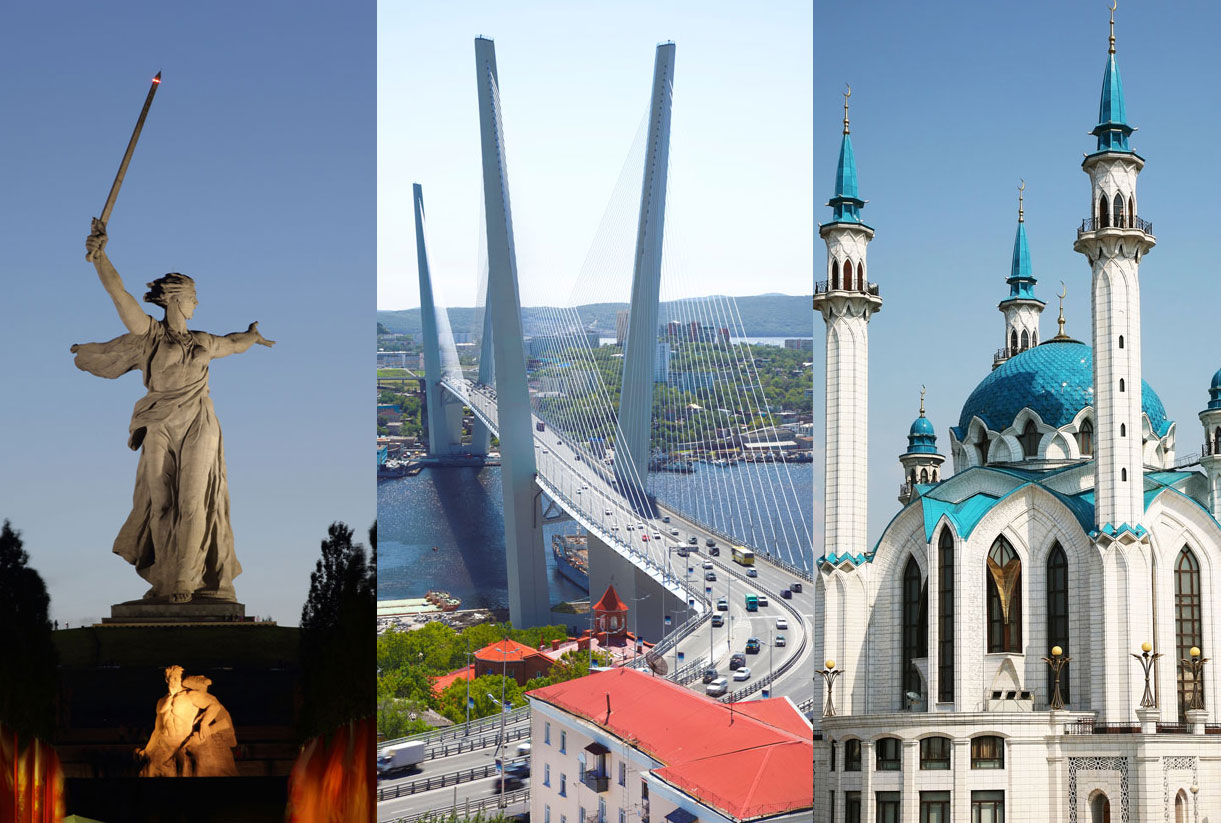 A month ago the Russian Central Bank launched an online vote to determine which of the country's symbols should appear on the new 200 and 2000 ruble banknotes. Here are the cities that are currently in the lead.
All Russian citizens can propose a city and corresponding symbol that deserve to appear on the new 200 and 2000 ruble banknotes to be issued next year. // The Eternal Flame and the Motherland Calls statue on Mamayev Kurgan hill in Volgograd. The memorial complex was erected in the 1960s to commemorate the victory of the Red Army over the Nazi invaders in the Battle of Stalingrad in 1942-1943.
More than one million people have made their suggestions online so far. The long list of sights most revered by Russians is already coming into focus. // Kazan, another city on the Volga, is vibrant due to the influence of Tatar culture and its strong educational traditions: the Qol Sharif mosque and the monument to famous mathematician Nikolai Lobachevsky in front of the Kazan Federal University.
In August the Central Bank plans to conduct a poll featuring the top 10 nominees. // Novosibirsk, Siberia's largest city is distinguished by its picturesque Bugrinsky Bridge and its famous zoo, which is home to the rare snow leopard.
The winners will be determined through a final online vote in September. // Vladivostok, Russia's outpost on the Pacific Ocean, fascinates with its many islands and bridges.
Murmansk, the world's largest city north of the Arctic Circle, is also a maritime center. It's no wonder that its major symbols are the gigantic Lenin icebreaker and the Alyosha monument, which is dedicated to Soviet soldiers, sailors and airmen that fought in World War II.
Some small cities are also competing. Take the ancient little town of Murom, the birthplace of the major Slavic epic hero Ilya Muromets. Today's Murom attracts visitors with its monument to the legendary bogatyr (warrior) Muromets, but also to see the modern Muromsky Bridge.
Crimea's Sevastopol, the cradle of Russian Black Sea Fleet, has a long and turbulent history behind it. Its main symbols are a monument to sunken ships and the ruins of the ancient city of Chersonesus.
Nizhny Novgorod, yet another city on the Volga River, is famous for its monument to the pioneering pilot Valery Chkalov and the charming baroque building of its local fair.
All rights reserved by Rossiyskaya Gazeta.