Khassan Baiev, the surgeon under fire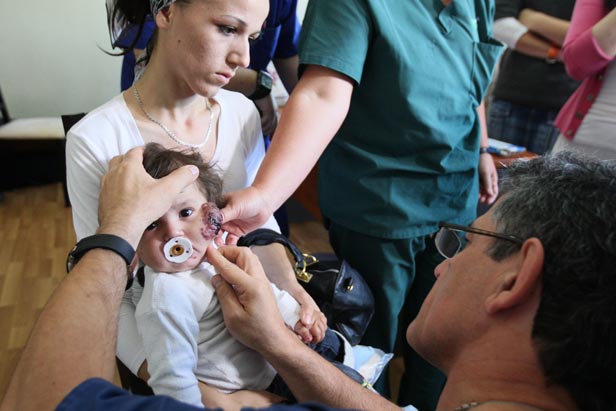 Khassan Baiev was born in Alkhan Kala, a suburb of the Chechen capital Grozny, in 1963. Graduating in 1985 and returning to Chechnya in 1988, Baiev became a successful reconstructive surgeon, particularly in the aftermath of the Soviet Union's collapse. But when President Boris Yeltsin issued the order to invade Chechnya a few years later, Baiev gave up his lucrative practice to perform trauma surgery. As the wars raged on, he was persecuted as a criminal by both sides. When he treated Chechen fighters, the Russians accused him of being a traitor. When he treated Russian soldiers, factions of Islamic extremists accused him of the same. Determined to uphold the Hippocratic oath, Baiev operated on all in need, from Russian soldiers to Chechen fighters. But, as he is always quick to point out, it is the civilians caught in between who are the main victims.
The memories of a plastic surgeon who survived in cruel times from Russia Beyond The Headlines on Vimeo.
During the first war (1994-1996), Baiev treated thousands of civilians. He also operated on and saved a Chechen field commander in a secret underground hideout with the assistance of a Russian doctor the Chechen fighters had taken prisoner. When a Chechen field commander threatened to kill the Russian doctor in retaliation for the murder of his brother, Baiev helped him escape. Thrown into a pit for nine days where the relatives of the field commander tried to force a confession, Baiev barely escaped execution himself.
During the second war Arbi Barayev, a notorious Chechen thug, tried Baiev in a kangaroo court for treating Russian soldiers. Facing execution yet again, Baiev was saved at the last moment by the Russian bombardment of his town.
The Russians, in turn, issued their own order for Baiev's arrest after he saved the life of Shamil Basaev, one of the Kremlin's most wanted field commanders. "With a million dollar bounty on Shamil's head, I could have been a rich man if I had let him bleed to death," Baiev noted.
Realizing that Baiev was a man wanted by both sides, Physicians for Human Rights helped him seek political asylum in the United States. He reluctantly emigrated in 2000, telling The New York Times: "Nobody likes to recall that I was saving elderly civilians by the thousands. The only thing they remember is that I was the surgeon who operated on Basayev." He received a
In the past three years Dr. Baiev has become an outspoken advocate for human rights who has been honored by Human Rights Watch, Physicians for Human Rights, and Amnesty International.
All rights reserved by Rossiyskaya Gazeta.