New Russian Startups rating results presented in Moscow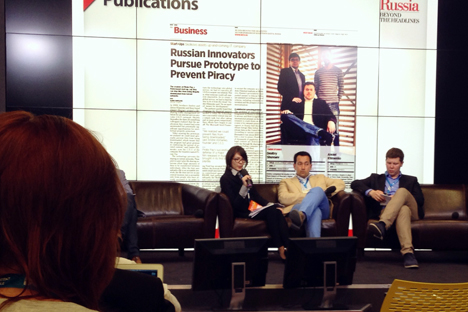 Dmitriy Repin of Digital October (far left), Camilla Shin, Manading Editor of Special Projects in RBTH (second from left) with their colleagues from PWC, Greenfield Project and RVC during the presentation of the summer edition of Russian Startup Rating. Source: Facebook / Digital October
The official presentation of Russian Startup Rating, a rating system developed by Digital October and Greenfield Project in partnership with PwC and Russia Beyond the Headlines (RBTH), took place during the Demo Europe conference at Digital October on June 3.
The previous and first version of the rating was presented in December 2012 during the Techcrunch Moscow event.
This year's summer edition of the rating unveiled that more than 70 percent of the considered startups operate in the sphere of information technologies. The main directions are: cloud services, medical applications, reference and travel websites, marketing platforms. Many of them had already been listed in the first edition of the rating earlier in December 2012, but some promising newcomers also have reached the top of the pyramid.
Startups with the highest score (AAA):
AlterGeo (geolocation in the city);
Ecwid (online store building);
RealtimeBoard (whiteboard collaboration);
DaOffice (corporate social networks);
Viziware (gesture recognition for advertising);
Doctor at work (a social network for doctors);
Gruzobzor (optimization of transportation);
EasyFamilyApps by FamilyRibbon (initiation of the older generation to the internet services).
Startups were classified in four tiers from AAA (the top category - the startup in analysis is growing well and has received investments and coverage in leading business and technology media) to D (the startup has no chance of developing).
The main goal of the rating is to analyze the flourishing market of Russian start-ups, evaluate how attractive they are for investors and give foreign investors a wider overview of innovative Russian businesses.
The list is updated with the most recent data every six month. RBTH is the general media partner for the project and will provide deeper coverage and exclusive information concerning the most prominent 50 startups featured in Russian Startup Rating. Follow their successes and failures, new partnerships and deals in the special project's section on RBTH - Russian Startups.
All rights reserved by Rossiyskaya Gazeta.