Silver Archer-USA winners announced in Washington, DC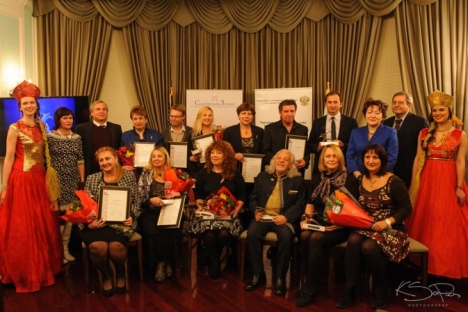 Winners of the Silver Archer-USA awards. Source: Press Photo
On Jan. 30, the Silver Archer-USA awards, which recognize the most successful projects working to further intergovernmental, cultural, economic and social ties between Russia and the U.S., were presented for the fourth time in Washington D.C. Eight Silver Archer statuettes were awarded to projects across the country in categories that included science, business, education and culture.
In the "Researches, Inventions, Innovations" category, the Archer went to the Russian-American Anti-Cancer Center, established in the Altai Territory in 2013.
This year, scientists tested a new joint vaccine based on a former cancer diagnostic technology developed by scientists at the Center for Innovations in Medicine, Biodesign Institute at Arizona State University. The laboratory is the first such center outside the United States. Its objective is to revolutionize cancer disease diagnostics and bring the technology to the clinics.
The Archer in the "Russian School" category went to Anna Budnyatskaya of the Russian School of Orange County in Newport Beach, California. The school, which is attended by 250 students between 2 and 16 years of age, teaches 24 subjects in Russian.
The Russian Center in New York and its head, Elena Branson, won the "Business and Technologies" Archer for its series of business forums in 2013 and 2014.
The winners in the "Historical Heritage and Culture" category were Irina Belozertseva and Lidya Drobysh, from the Moscow-based Aegis Media agency. They organized the 12th Russian Film Week in New York in October 2013. During the five days of the festival, more then 5,000 people saw 10 Russian films. The festival will continue in 2015.
New Russian Radio, of Sacramento California, which was launched in 1996, won the Archer in the "Communications" category.
The award in the "Charity" category went to Mikhail Morgulis and the Spiritual Diplomacy Foundation from North Port, Florida. In 2013 and 2014, the organization sent more than $1.2 million to orphanages for sick children in Russia, Belarus and Ukraine.
The Archer in the most prestigious category, "Persona," was awarded to Sergey Millian, the president of the Russian-American Chamber of Commerce, in recognition of his work organizing cooperation between Russian and American businessmen. He has also helped to attract an estimated $500 million of investment to Russia's economy.
A special award was also presented to designer Evgenia Luzhina-Salazar, whose couture gown encapsulate a range of Russian folk and imperial styles, combining peasant floral prints with corseted taffeta gowns and elaborately beaded headdresses (kokoshniki).
The Silver Archer awards for public relations have been presented in Russia since 1997; the first Silver Archer-USA awards were given in 2011. According to the project's website, the objective of the Silver Archer-USA awards is to highlight projects that expand intergovernmental, cultural, economic and social ties, aimed at furthering Russia's integration into the global communication space.
Information from TASS and Silver Archer was used in this report.
All rights reserved by Rossiyskaya Gazeta.