Construction work in Moscow unearths 9000-year-old flint tools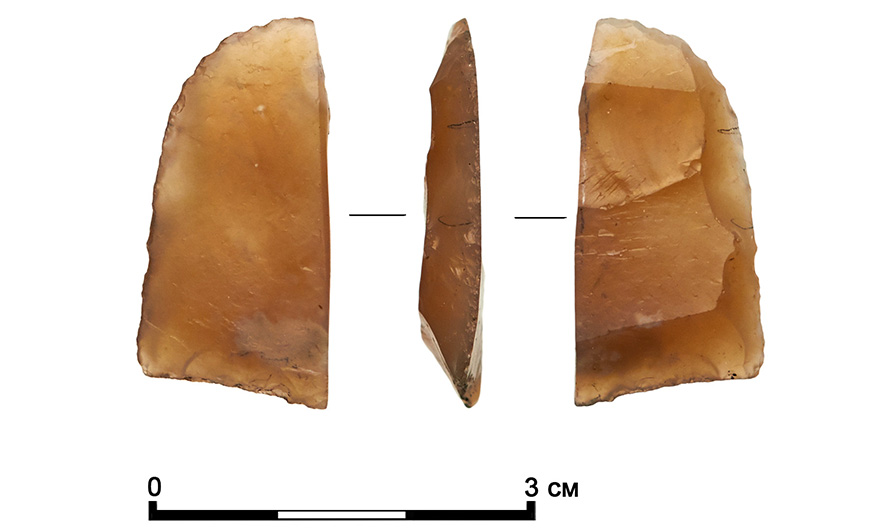 Flint cutters were every-day items used by Stone Age people.
Mos.ru
Accidental archeological discovery in downtown Moscow will force scholars to rewrite the city's history.
Archaeologists discovered rare flint Stone Age tools in Moscow during construction work in the downtown, reports the official website of the Moscow Mayor's office. A flint cutter has been dated to the Neolithic era (3,000-5,000 BC), and a fragment of a flint scraper dates to the Mesolithic era (7,000 BC). These items are the most ancient tools ever found in Russia's capital.
Flint cutters were every-day items used by Stone Age people, and the one found is in excellent condition, complete with lateral symmetrical recesses for fastening a handle made of bone, horn or wood.
"This discovery is very important for archaeologists, and confirms our theory that this area was developed by humans long before streets and houses were built here," said Alexey Yemelianov, the head of Moscow's Cultural Heritage Department.
Fragment of a flint scraper. / Mos.ru
Both the flint cutter and scrapper were found in a cultural layer that dates to the 16th and 17th centuries of our era, and experts surmise that these Stone Age tools came to the surface from deeper and more ancient cultural layers during building of Moscow's earthen fortifications about 400 to 500 years ago.
Yemelianov said the flint tools might be handed over to a local museum, or put on temporary display in an exhibition devoted to Moscow archeology.
If using any of Russia Beyond's content, partly or in full, always provide an active hyperlink to the original material.