At Anzhi, Guus Hiddink faces tough Caucasus challenge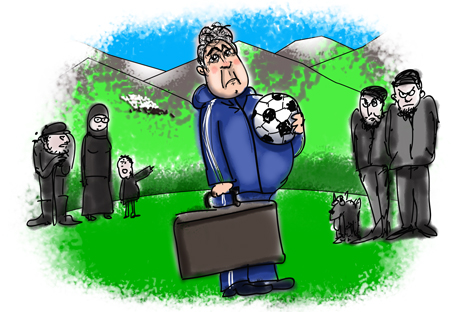 Racism, terrorism and poverty - the Dagestani city of Makhachkala struggles in its bid to become the football capital of Russia.
Click to enlarge the image. Drawing by Niyaz Karim
This summer's football managerial merry-go-round with its attendant politicking and rumours is already well under way. Manchester United, Chelsea and Real Madrid have all either appointed new managers or will do soon. Each will send ripples down the league standings: David Moyes's move to United creates a vacancy at Everton – which could lead to one at Wigan, and so on. It's a chain reaction likely to hit the Anglian Combination Division 5 sometime in 2017.
Widely regarded as one of the world's best coaches, affable Dutchman Guus Hiddink is often mentioned as a possible hire for top English clubs. Hiddink has been at Russia's Anzhi Makhachkala in the North Caucasus, for the past 18 months, but if he does come back to the Premiership it may be in a slightly different form. No longer the "Lucky Guus" fondly remembered by Chelsea fans for his successful spell at Stamford Bridge in 2009, he has now started to look all of his 66 years as the Anzhi project turns sour.
When he arrived at Anzhi a year ago, many assumed it would be one final, well-paid glory gig before retirement, with Russian billionaire owner Suleiman Kerimov, a Dagestani boy who made a fortune in Moscow, set to buy a dream team. That hasn't happened. Failure to land the Russian league title and qualify for the Champions League has sparked a protest against the Dutch master. A banner in the stands showed Hiddink tumbling downstairs with the inscription "Step by step" (his standard answer to questions about why the team wasn't achieving more).
The real answer is simple – Anzhi are finding that there are some things money just can't buy. Few of the world's best players seem keen to move there, given the region's associations with terrorist violence. Original star signings Samuel Eto'o and Roberto Carlos have not been followed by more household names, even though Anzhi billets the players in Moscow, 1,500 miles from their "home" stadium. Meanwhile, UEFA refuses to allow European games in Makhachkala.
The reputational damage of playing their Europa League games in half-empty stadiums in Moscow may be bad, but fate has thrown another spanner in the works: the Boston bombings have made Dagestan a household name in a way Anzhi has not.
Racist taunts against Anzhi's black players from opposing Russian fans have also caused problems for the club, as has a match-fixing investigation into a win – even though Anzhi are not suspected of wrongdoing.
All this has obscured the fact that Mr. Kerimov's investment has created much-needed jobs in the impoverished region. One stadium is built, another planned and a new youth academy will give local youngsters fresh options. Since Mr Kerimov has never publicly spoken of having a passion for football, perhaps Anzhi is just a campaign to improve his home town's fortunes. It has certainly given a poor region some pride.
Dagestanis in Moscow are often shunned by ethnic Russians because of their appearance or a wrongheaded stereotype that they are all Islamist extremists. But Anzhi's games in the capital still attract thousands who wear the club's yellow, green and purple colours with pride. And while Anzhi's wage bill may be crippling, that morale boost is immeasurable.
James Ellingworth is a Moscow-based sports writer.
All rights reserved by Rossiyskaya Gazeta.