Challenges and cooperation for Sochi 2014 security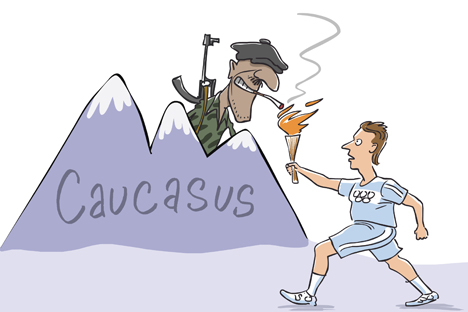 Russia's reputation at stake in ensuring safe Winter Games.
Click to enlarge th infographics. Drawing by Sergei Yolkin
In February 2014, the famous Russian Black Sea resort of Sochi takes on the XXII Winter Olympic Games. For Russia, the forthcoming games will be not only a test of sporting achievement but also a testament of the country's return to the premiere league of global politics, following a complex transition from the Soviet system to new realities. If this return is to be successful, it will be necessary to meet a whole series of complicated challenges in Sochi.
The most important of these are considered to be improvement in transport infrastructure (the issue of congestion in the famous resort is entirely comparable to the situation in Moscow and other metropolitan cities), ecology (large scale construction has disturbed the environment for people as well as animals), retaining the traditions of tourism (Sochi's Olympic status has meant that the cost of services has risen significantly and has created many problems for small and medium businesses working in this field), and, of course, security.
In contrast to the last few Olympic cities (London, Vancouver, Beijing and Turin), Sochi is in close proximity to a troubled region—Russia's Northern Caucasus. It is only 62 miles from the Karachai-Cherkess Republic (KCR) and around 124 miles from the Kabardino-Balkarian Republic (KBR).
If a few decades ago the KBR was known as the "sleeping beauty" of the Caucasus, today this republic is frequently featured in news reports linked to terrorism and sabotage. In connection with this, it is worth noting that threats from Northern Caucasus jihadists to disrupt the course of the Winter Games on the Black Sea coast appeared almost immediately after the International Olympic Committee decided in Guatemala that Sochi would host the 2014 Winter Olympics.
In addition to this, the Greater Sochi region extends to the border with Abkhazia. For Tbilisi, this is the Russian-Georgian border, while, for Moscow, this is an interstate boundary between Russia and Abkhazia, whose independence it recognized in August 2008. In contrast to the republics of the Northern Caucasus, this state subdivision retains a higher level of stability; yet even here there is no basis for complacency.
Such factors as criminal activity cannot be discarded completely, and one simply has to recall the assassination attempt last year on the Abkhazian leader Alexander Ankvab. Although radical Islam does not have strong roots or influence in Abkhazia, a cell of the so-called Abkhaz Jamaat was discovered on its territory in May 2012. Their members were suspected of planning a terrorist attack during preparations for the Sochi Olympics.
Relations today between Russia and Georgia are at a stage of slow normalization, as opposed to two or three years of remoteness. The Georgian National Olympic Committee voted unanimously to take part in the forthcoming Winter Games. Georgian Prime Minister Bidzina Ivanishvili announced that sports have to be separated from politics—but mutual suspicions remain. The level of trust between the two sides leaves something to be desired, not to mention the diametrically opposed ideas on the status of Abkhazia and South Ossetia.
Against this background, it is not by chance that the Russian authorities are paying attention to security at Sochi. In December 2007, the specifically passed, federal law On the Organization and Realization of the Olympic and Paralympic Games gave the president wide-ranging authority to introduce supervised and prohibited zones, strengthen security measures and restrict access. Significant sums of money have been and will be spent on using a defensive aids suite (DAS) for coastal and mountainous areas.
However, as thorough as the actions of the Russian special forces may be, it is clear that, without broad consultation both with colleagues from different nations (with the U.S. in particular, as the Americans traditionally send one of the largest delegations) and with private organizations that were engaged in security at the London or Vancouver games, it will be difficult to achieve the desired effect. This is the most important issue—understanding the strategic value of such cooperation over and above the prevailing tactical disagreements.
Any breakdown of the games in Sochi or a repeat of the Munich scenario in 1972 would not only be a blow to Russia and her reputation: It would be a challenge for international security as a whole, and a testimony to its extreme vulnerability and ineffectiveness.
Sergei Markedonov is a visiting Fellow at the Center for Strategic and International Studies in Washington D.C.
All rights reserved by Rossiyskaya Gazeta.