The party's only just begun: January festivities in Russia
The festivities continue: Our expat returnee walks us through how Russians will be making use of their long winter holidays this January.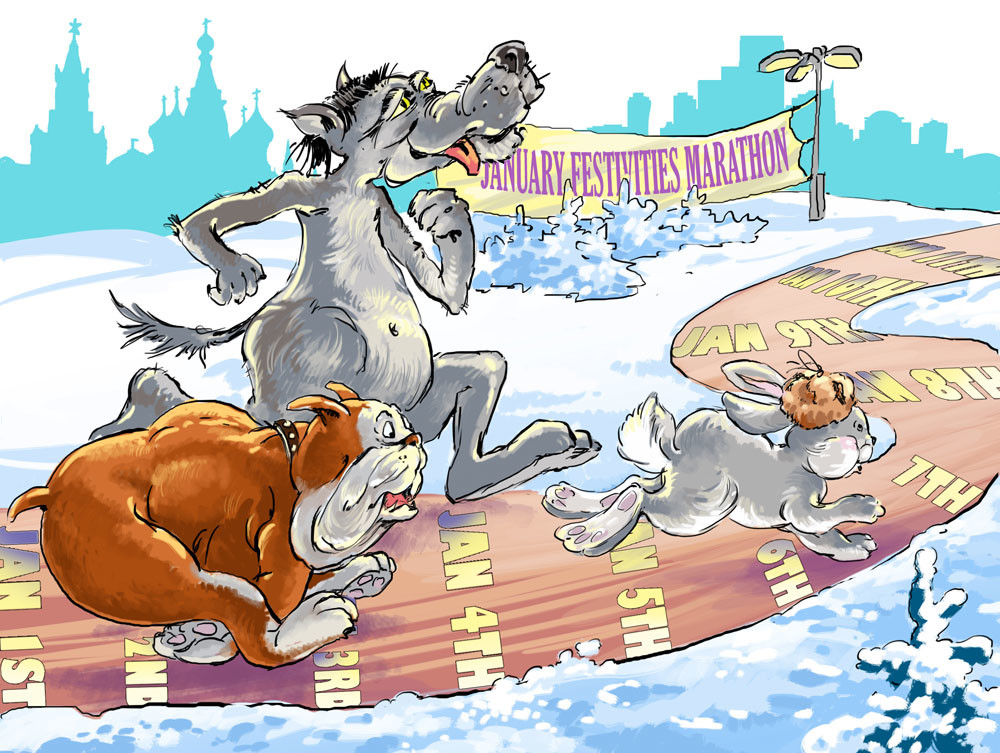 The new year is here at last and, after a week of stuffing myself with turkey, pigs in blankets and more mince pies than I care to remember and drunkenly blaring out "Auld Lang Syne" to the chimes of Big Ben, it's time for me to get back to the daily grind and get on with 2015.
This year, however, it seems so much harder than the last eight to get back to business. Despite all the festive fun of the last week or so, I still crave more. This, I guess, isn't helped by my Vkontakte (Russian Facebook) page, which is full of friends and ex-colleagues from across the vast country, out and about, enjoying the January holiday fun.
Long holiday
The novogodniye prazdniki (winter holidays) are the most anticipated and longest of the year in Russia. Schools and most businesses are closed from December 31 until January 11, turning the country into one huge party, complete with never-ending feasts and gallons of Sovetskoye Shampanskoye. Moving from relative to relative, friend to friend, Russians do the rounds to make sure they see in the year with just about everybody they know.
Between these binges, and to work off a few calories, many Russians take to outdoor skating rinks, which can be found everywhere. Some are little more than iced-over basketball courts, now used for impromptu games of ice hockey, but the best can be found in municipal parks. My favourite in Moscow is at Park Kulturi (Park of Culture, or Gorki Park), where concrete walkways are flooded and allowed to freeze over, creating a huge skating area. It is complete with little kiosks, where you can stop off to top up your alcohol level with a hot cup of glintveyn (mulled wine). Judging by the ice-rink behaviour of some of the bold local lads, a bottle (or two) of vodka may also be imbibed.
Orthodox Christmas
December 25is not recognised by the vast majority of Russians because the Gregorian calendar (which the Russian Orthodox Church follows) places Christmas on January 7. No sign of Santa, (Ded Moroz) or gifts on this family-orientated religious holiday, marked by long church services. Officially banned during Soviet times, along with most religious activity, the holiday was revived following the collapse of the USSR in 1991. Since then, more and more Russians have taken to going to church on Orthodox Christmas. That does not stop them drinking themselves silly for the rest of the holiday, of course, but January 7 is really the only 'serious' day during the entire two week Bacchanalian break.
Any excuse
If you haven't gathered by now, Russians love celebrating New Year. They love it so much, in fact, that they do it twice. Well, if you're going to mark Christmas by the Gregorian calendar, why not mark New Year too? With this logic in mind, Stariy Noviy God (Old New Year) is marked on the night of January 13/14 each year.
Falling just after the end of the novogodniyeprazdniki, this is not the boozed-fuelled, firework-accompanied eating marathon that regular New Year is. As it falls on a weekday night this year, your average Russian will have to go to work the next day, so nursing a crashing hangover is not the best idea. You can be sure, however, that people across the country will still be digging out that last bottle of bottle of Stolichnaya vodka or the ubiquitous Sovetskoye Shampanskoye.
It would be rude not to, right?
Counting Sheep
For some inexplicable reason, Russians are obsessed with Chinese New Year and gifting one another with cheap, gaudy trinkets in the form of the animal of the forthcoming year. This year, Russian-based friends tell me, kiosks and shops across Russia are crammed with sheep. The popularity of these pieces of tat is shown by the whole box of dragons, oxen, snakes, rabbits and tigers that have "kindly" been given to me by students or their parents over my years in the country.
Most bizarrely, despite all knowing what animal represents the year they were born in, Russians seem either not to care, or to be bothered by the fact Chinese New Year, in fact, falls in February. As one friend told me, "Who cares? Best not to think. We have enough New Years; I can't survive a third one!"
Yes, it's going to be tough to get back to work here in the UK knowing I'm missing out on all that. My only hope, I guess, is to find some friendly Russians here in London to pop a cork with on the eve of the 13th and wish them s Starim Novim Godom (Happy Old New Year)!
All rights reserved by Rossiyskaya Gazeta.