Champagne, salad and fireworks: December festivities in Russia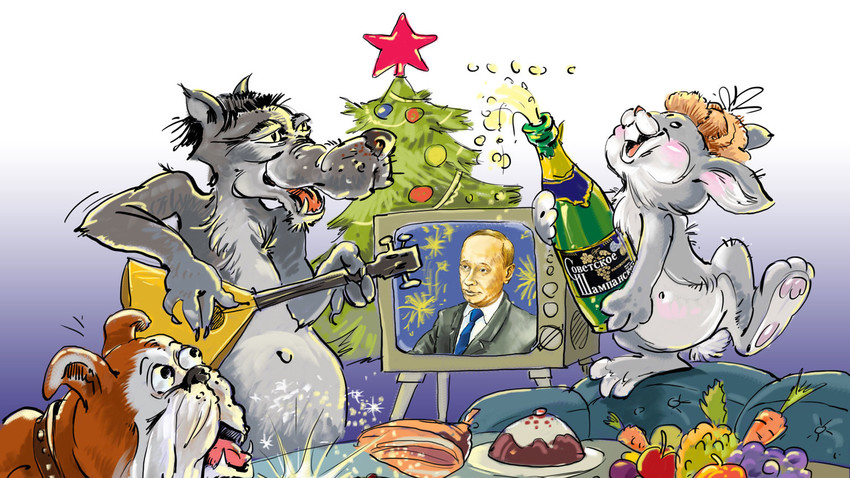 Comparing festivities: marking his first Christmas back home, our recently returned expat compares festive seasons in the UK and Russia.
I see holly, mistletoe, fairy lights, fir trees and tinsel everywhere as I prepare for my first Christmas in the UK for years. Taking all of this in and bracing for the coming festivities, I can't help but compare what I'm seeing with what I was used to while away.
Let's get down to brass tacks: 25th of December means nothing to most Russians. Unless it's a weekend, it's just a normal working day for your average Ivan. Last year I spent the day teaching English to 300 coach drivers in preparation for the Winter Games in Sochi.
I wore a suitably festive hat the entire day, but no one twigged until the very last slide of the presentation, on which I had written "Thanks for coming… and Merry Christmas." A few grunts and a lame "Happy Christmas" was all I got in return, which is more than I had expected from people who simply don't get what Christmas for us is all about.
For Russians, the winter holidays are all about New Year's Eve. In fact, this is the holiday of holidays for the nation. Forget Hogmanay; Noviy God (New Year) is where it's at.
Foreign fathers
Though now often found in red, Ded Moroz (Grandfather Frost), Father Christmas' Russian counterpart, traditionally wears a blue fur-trimmed coat. Despite this, Russian children rarely confuse the pair of wintry geriatrics, not least as Ded Moroz is taller, slimmer, more demanding and wields a big stick.
Not the type to surreptitiously slide down chimneys, of which there are few in apartment-dominated Russian cities, Ded Moroz brazenly knocks at your door with his wooden staff, interrupting parties to demand that you sing or recite a poem in order to earn a gift. You won't find him anywhere near any elf helpers, either.
Instead, he drafts in blonde, blue-eyed Snegurochka (The Snow Maiden), apparently his granddaughter (though what happened to the rest of the family seems a taboo topic). You can forget flying reindeer too, there's no need for all that sort of nonsense when a troika (three-horse sleigh) will do the job just as well.
Kremlin bells
Russians also include televised speeches in their festivities, though nothing so sedate at the early afternoon Queen's Speech we know. Interrupting the New Year's musical extravaganzas (think less Hootenanny and more Eurovision), dutiful Russians, a glass of something alcoholic in hand, switch channels to watch the president make his speech just before midnight strikes on the Kremlin clock.
Russia's nine time zones mean you can celebrate New Year more than once. In Novosibirsk, for example, a group of friends and I celebrated both the local New Year and then, three hours later, once more for Moscow.
You won't find turkey on a traditional festive spread in Russia, not unless it's been included in the evening's star dish, Olivier (Russian Salad). Though recipes vary, the salad is made from diced carrots, potatoes, cucumber, egg and meat, mixed together in overwhelming amounts of mayonnaise and topped with dill.
This takes pride of place amongst a huge number of cold dishes, salads and pickles, which are picked at from midnight on.
This is all washed down with a vast amount of fiercely bubbly Sovetskoye Shampanskoye (Soviet Champagne), the plastic corks of which are ejected with considerable velocity. Very painful if get you one on the chin, as an unfortunate friend once told me.
Musical Fireworks
Salyuti (fireworks) are as essential to Russian New Year as carols are to Christmas. In Moscow, my favourite spot to watch them on New Year's Eve was Vorobevi Gori (Sparrow Hills), in front of MGU (Moscow State University). From there you can see much of the city below and more firework displays than you can imagine.
Plus, you can enjoy the spectacle of drunken reckless revellers around you letting off their own pyrotechnics. We're not talking bengalskieogni (sparklers) here; I've more than once had to leap out of the way as a whole barrel of fireworks explodes behind me. Dangerous, but fun.
There is, however, much the two countries have in common. Yolki (Christmas trees) are decorated much as they are at home, festive cards share many of the same images, though sometimes with a Russian twist (it's hard for Russians to relate to twee English churches in snow) and the shops are just as crammed.
All rights reserved by Rossiyskaya Gazeta.