Russia-ASEAN relationship needs more substance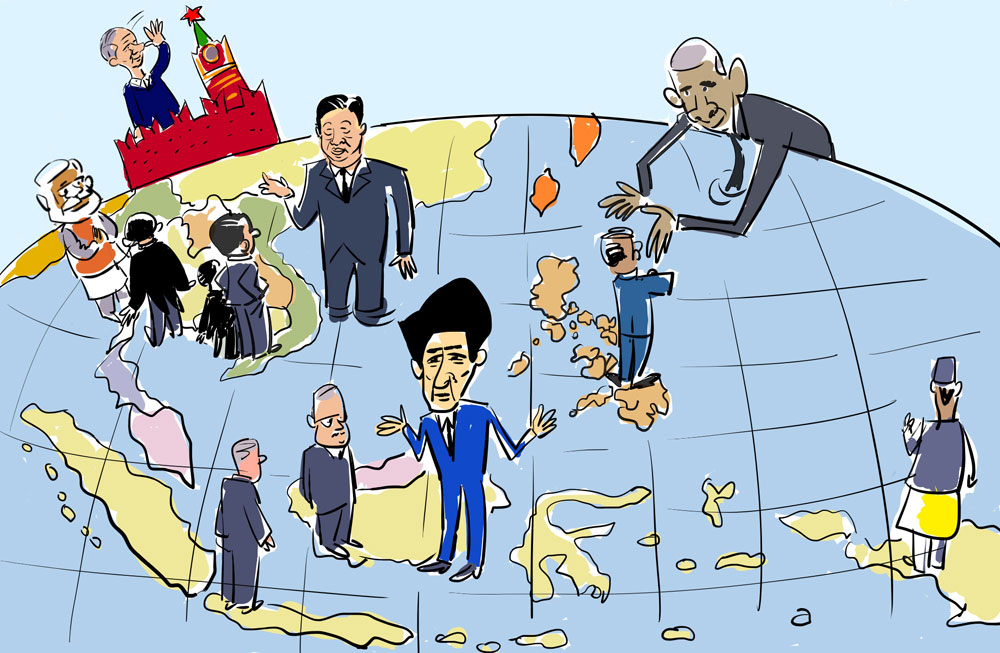 The Kremlin seems to be distant from ASEAN leaders. Drawing by Iorsh
If Russia is to be taken seriously by ASEAN, first of all Vladimir Putin needs to get to know the grouping's leaders personally. Otherwise it would be hard to add substance to their relationships.
ASEAN's overall ties with the U.S., China, Japan and India have been stronger and healthier because their leaders pushed hard and boosted mutual cooperation in bringing about tangible outcomes. It was no fluke. In the past few years, they have personally engaged with the ASEAN leaders to move forward their friendship. Last month, U.S. President Barack Obama hosted a special summit in California and further deepened cooperation with ASEAN. As a reward, the ASEAN leaders agreed to sign up to the Sunnylands Declaration, which contained 17 principles - a good testimony of new confidence of shared visions and commitments between US and the association.
In a similar vein, both Chinese President Xi Jinping and Premier Li Keqiang have travelled throughout the region with specific joint programs and activities for ASEAN and individual members. Their far-reaching infrastructural projects and region-wide connectivity are limited in number so far. These days, China moves quickly to implement whatever it has committed at a speed that ASEAN has to catch up. When ASEAN-China leaders meet for the 19th time in early September in Vientiane to commemorate their 25th anniversary, there will be more surprises on the offing.
In the case of Japan, under the leadership of Prime Minister Shinzo Abe, ASEAN-Japan ties have been on Shinkansen-like speeds. Their cooperation was strengthened widely, reflecting Tokyo's priority and the grouping's growing strategic significance. Abe travelled and consulted with the ASEAN leaders as never before. The ASEAN leaders responded in kind, adding new dimension to their otherwise heavily economic-oriented agenda.
Even India has pumped up its multi-faceted cooperation with Asean. Indian Prime Minister Narendra Modi wants more ASEAN investment and trade. Of late, New Delhi is softer and more willing to give and take in the negotiation of a Regional Comprehensive Economic Partnership, which is the ASEAN-led regional free trade framework. Modi is also pushing the bureaucrats and private sectors to "Act East" rather than just "Look East" as advocated by the previous government.
Both Australia and New Zealand have impressive records in dealing with ASEAN. They are medium-size powers but with dynamic cooperative programs. They enjoy working with ASEAN at all levels. New Zealand was given strategic partnership status at the same time as the US last November. Among the core dialogue partners, Russia is still not a strategic partner of ASEAN.
Looking ahead to the upcoming Sochi summit, Russian President Vladimir Putin has personally fired up the tepid relations. He has already written a letter of invitation to the ASEAN leaders to come to Sochi. This time Putin wants to make sure the 10 leaders are there so he can exchange views with them for the first time. So far, Putin, even on his third-term presidency, has never met with all ASEAN leaders or attended any ASEAN-led mechanisms.
When Dmitry Medvedev served as the Russian president from 2008-10, he attended a special summit with ASEAN leaders in Hanoi in 2010.
Back in 2005, Putin was a guest of the ASEAN chair, Malaysia, and was invited to attend the opening session of the inaugural East Asia Summit in Kuala Lumpur. He made a strong presence and was enthusiastic to join the EAS as a founding member, which received support from the chair and some ASEAN members. However, there was no consensus. Since then Putin's interest in ASEAN has worn thin. When he hosted the Asia Pacific Economic Cooperation leaders meeting in Vladivostok back in 2012, ASEAN expected him to attend the EAS in Phnom Penh, Cambodia. He did not show up.
Only Foreign Minister Sergey Lavrov was present at most of the meetings while Medvedev, as prime minister, attended the past two EAS in Myanmar and Malaysia respectively. In contrast, Obama missed the EAS in Brunei in 2013 due to the American government shutdown. Through his personal endeavors, Obama has met all ASEAN leaders seven times, including at the just-concluded Sunnylands summit. Furthermore, he has travelled to the region on seven separate occasions during his tenure. He is scheduled to visit Vietnam in May and the possibility is high that the itinerary would include Myanmar - the country his administration often cites as its diplomatic achievement in this part of the world. He also has confirmed attendance at the EAS in Vientiane in September.
After the annexation of Crimea and sanctions imposed by the West, Russia has refocused on the region for alternative sources of import and export markets. Vietnam was the first ASEAN member to sign the Eurasian Union free trade agreement. Thailand could be next. In other words, Russia has its own pivot to Asia, in particular ASEAN. Putin dispatched Medvedev to Vietnam and Thailand early last year and later on to Cambodia. Vietnam, Laos and Cambodia were old friends, not to mention Myanmar.
Obviously, sensing the slowdown of Thai relations with the US after the coup and its eagerness to strengthen old ties and find new friends, Russia is moving full throttle to deepen the 120-year old friendship with Thailand. Deputy Prime Minister and Defense Minister Prawit Wongsuwan and Deputy Prime Minister Somkid Jaktusripitak visited Moscow with a large delegation in February. Prime Minister Prayut Chan-o-cha is planning an official visit to Russia back to back with the Sochi summit in May.
Therefore, if Russia is to be taken seriously by ASEAN, first of all Putin needs to get to know the ASEAN leaders personally. Otherwise it would be hard to add substance to their relationships. After all, like Putin, most ASEAN leaders are in power for the long haul, with the exception of Thailand. Putin can easily befriend the ASEAN leaders if he really wants to. Moreover, Russia has yet to set up a mission dedicated to the ASEAN Secretariat, like all other dialogue partners have done, before its status is upgraded to a strategic partnership. Failing to do so, the Sochi summit will merely be just another photo opportunity and symbolic event.
Kavi Chongkittavorn is a senior fellow at the Institute of Strategic and International Studies, Chulalongkorn University and assistant group editor of Nation Media Group in Thailand.
This article was first published by The Nation. RBTH republished the article with permission from the writer.
All rights reserved by Rossiyskaya Gazeta.