Robots in Russia not bound by the law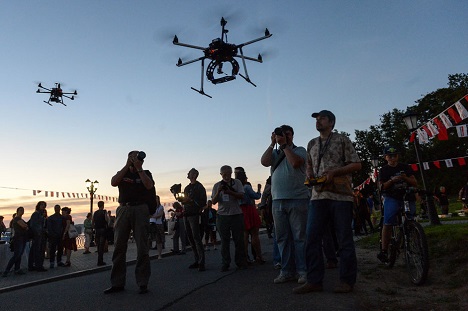 Many people in Russia use UAVs.
RIA Novosti/Evgenya Novojenina
Is it possible to launch a quadcopter over Red Square, and why does the law still not apply to Russian robots?
Russia is becoming an active part of the global unmanned aerial vehicles (UAV) market and is rapidly moving to develop national legislation in this field. With a huge number of domestic drones available without any regulation, the government is facing up to the reality of not being able to control their movement. Many incidents of these "toys" being found near airports or in areas where fire aviation is used bear witness to the phenomenon.
The situation has become worse in the last two years after the advent of inexpensive 'Made in China' quadcopters in the market. "The majority of countries with areas where such technology can be used are facing this problem, including technologically advanced nations such as the US and the EU countries," said leading Russian UAV expert Denis Fedutinov.
The restraining factor
In Russia the issue of using UAVs has been reflected in "The Federal Rules on Using Aerial Space." According to this document, to use a normal remote control copter, one needs a flight diagram and a permit for using aerial space. These are impossible to obtain without a certificate of airworthiness and a certificate of admission to management. To take photos using a drone, permission is required from the FSB and the Defence Ministry. So a private individual who chooses to launch a copter, for example to photograph the Red Square, may be fined.
Nevertheless, many people in Russia still use UAVs. An entire industry of aerial photography has taken root in the country and hobby drones are selling very well. Such a contradiction between reality and law restrains the development of the whole industry, from production to the use of UAVs.
The process to outline the legalities of UAV usage is proceeding, though slowly, Fedutinov remarked. A range of factors is helping it along. First, there is the awareness that there are many situations in which using drone technology is more advantageous economically than manned technology. Second, the world civilian UAV market is estimated at several billion dollars. Finally, development of the civilian UAV market is capable of making existing systems cheaper and creating new technologies for unmanned systems, which would be interesting and useful for both civilian and military users.
At the beginning of June this year, the State Duma examined and adopted a bill on introducing changes to the Russian Air Code, which forms the legislative foundation for the use of UAVs in Russia. According to the document, all apparatuses weighing over 30 kilograms must be registered, and use of such UAVs would require a certificate of airworthiness. The law is still being reviewed.
Unmanned cars on Russian roads
While UAVs are becoming a part of our lives, unmanned cars are still on their way. In Russia the most promising project is the unmanned truck being developed by KAMAZ.
Representatives of the Russian company say that already in 2019 the unmanned trucks will replace 300 transportation units on intra-factory itineraries.
Currently, experts believe that unmanned cars correspond neither to Russian legislature nor to the condition of Russian roads, which often do not have any markings or signs. In order to legalize such cars changes will have to be introduced in the entire legislative system regulating street traffic.
The pace of technological progress does not permit lawmakers to interpret it correctly and reflect it on paper. According to Fedutinov, this is mainly because of the novelty of unmanned systems, since the existing regulatory and legal framework concerning the use of technology was created for technology managed by man.
Source: YouTube
All rights reserved by Rossiyskaya Gazeta.