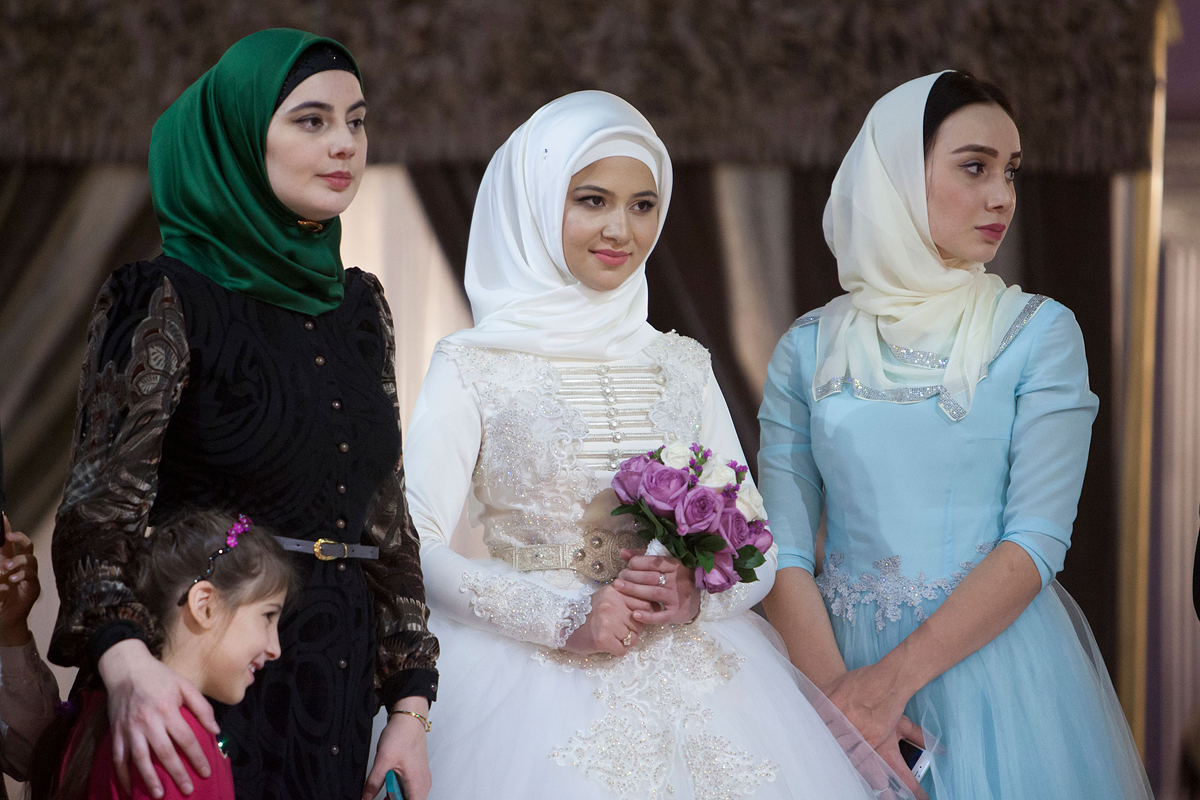 All images used in this article are for illustrative purposes only. Source: AP
Every weekend there are one or two weddings in the Chechen village of Achkhoy-Martan (central part of Checnya - RBTH). People dance before an open fire, but the bride is conspicuous by her absence. She quietly waits all day in one of the corners of the groom's house. Her mother before her also waited in a similar corner, as did her grandmother, as will her daughter and granddaughter will after her. But maybe not!
We have come to the house of Amina, a Chechen woman. She tells us about modern Chechen youth. "They wear make up… in moderation in my opinion. They wear short skirts, a bit above their knees, and if you can believe it, in Grozny, the bride even dances at her own wedding."
Amina's daughter-in-law has baked cakes from corn flour, and is setting the table. Amina's son had taken a liking to her, and so she went "to check her out." Amina did not care whether the girl was tall or short, fat or thin. The most important things were whether the potential bride was modest or not, and who her parents were.
Amina herself had married late by Chechen standards - she was 18. Her husband's relatives had come and arranged it. And Amina's father gave his consent.
"Did you like your fiancé," I ask Amina. "Well, how should I put this? Probably not. But I was forced. I had finished school and dreamt of continuing my studies. I wanted to become a seamstress. No one ever wants to get married. It's a difficult job. When I was taken away I cried. It took me two years to adapt. I ironed, cleaned, prepared the table for them, and cursed everything in silence. I told myself: 'you're not the first and not the last. Be firm. So it must be…'"
Amina believes that her heart is now the strongest muscle in her body. It has hardened and almost turned to stone.
We walk out into the courtyard and stand by the barn. The grass is covered with manure pancakes.
"You can't imagine how we lived our lives," she says calmly, without complaining. "Every day there were bombings, airplanes. I was asking myself why did I have children - they don't see anything positive anyway. Children…. When our children were killed, we stood by with stone faces.
You can't scream. Everything must be held inside. That's the custom."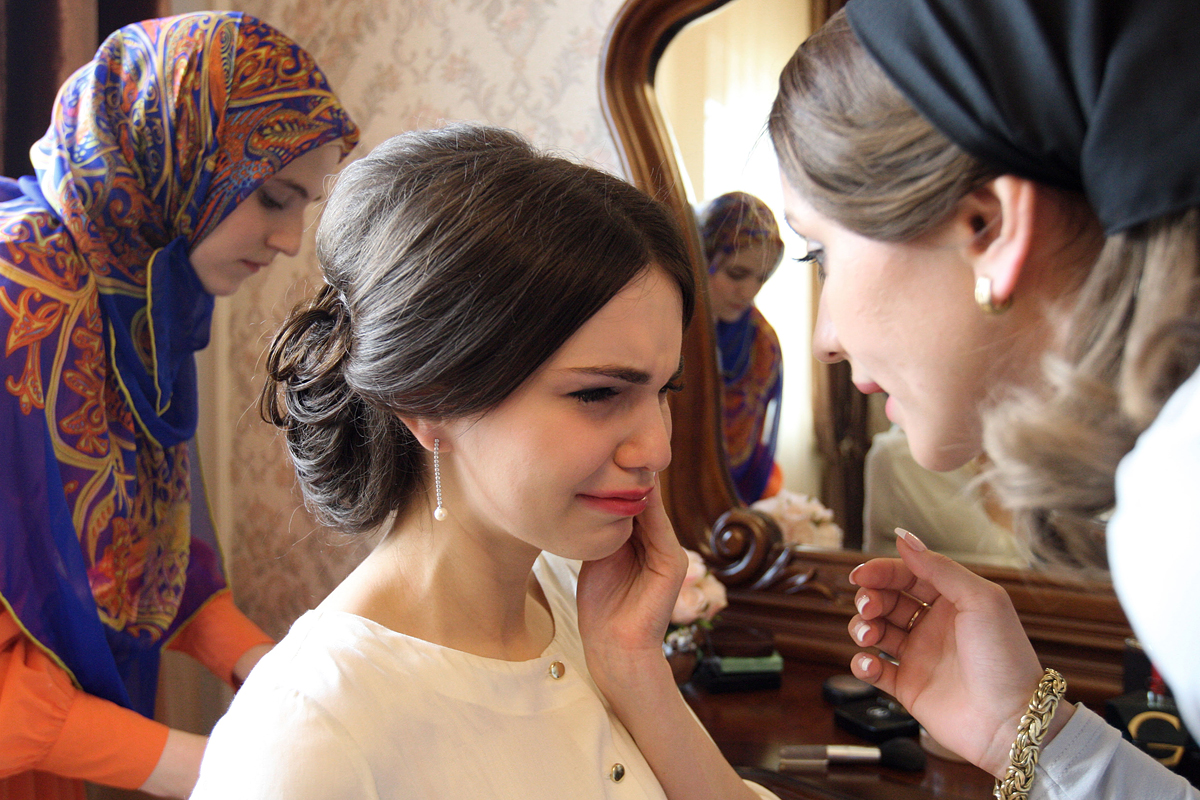 Source: RIAN
Friday
Tomorrow is the wedding. I don't know the bride, groom or the family. I'll go there without an invitation. Today the bride can be found in the beauty parlor.
At Golden Scissors in the center of Grozny you can hear women laughing. The hair dryers are rattling.
Mostly widows work here. The parlor is owned by a widow, a tall woman in black. Her name is Nurbika. The shelves in her cabinet are filled with cosmetics. Nurbika is a rare businesswoman in Chechnya.
For 25 years Nurbika worked as a head teacher in a school. Before the war, her husband, also a teacher, died in a car accident. When the war broke out Nurbika moved her five children to Rostov and returned to Chechnya to work in a market, since no one would hire her in Rostov. When she saw some acquaintances at the market she hid under the counter in shame, but then she told herself: "Don't be ashamed in front of people. People won't feed your children. Who'll pay you?"
A working woman is a disgrace for a man. It means he was not able to feed her. But the war, as they say in Chechnya, turned everything upside down. Men, who were humiliated at the checkpoints in the presence of women and children, could no longer find work. After the war, women began to view work differently.
In Rostov, Nurbika's daughter started distributing cosmetics. Nurbika decided to help her, and on New Year's Eve in 1999, she started selling cosmetics in Grozny. It was incredible - war was raging but the women bought everything. In one week Nurbika earned 20,000 rubles, and as soon as the war ended she opened a salon and a billiards club. All her children went to university. She built a new house to replace the destroyed one. Men respect her.
One, two, three, four…
Biberd has a high-ranking job at the Interior Ministry. I'm at his home in Urus-Martan. At the table are his mother, wife and two daughters, who have already finished school. His mother seems to be a very old woman - heavy work and many children make Chechen women age faster.
A Chechen woman has it best when she is old. This is when her daughter-in-law does all the work. Biberd's wife Luisa sits quietly - she still has a long way to go before she gets old.
In 1999 Biberd, wearing a white shirt and a white sheepskin coat, left home, saying, "I'll be back tomorrow." He did not return, neither the next day,
nor the day after. And for many months his old mother waited for him in front of the house on a bench. Sometimes she would go to town and ask everyone if they had seen her son. "Yes, we did," she heard many times. "He was lying bleeding on the snow."
"He said he'd return," says Luisa, a woman who is faithful to Chechen traditions: it is forbidden to call your husband by his name.
"One, two, three, four to the right, one, two, three, four to the left, one, two, three…" one day Biberd was running away from an Arab sniper. He was running on the snow towards a Grozny school that was an outpost for Russian soldiers. He was running with a Russian flag in his hands.
"In the army they taught us that even the best sniper aims for six seconds," says Biberd. "You count to four then turn right, again to four and turn left…"
Biberd reached the school and the sniper missed. He managed to get to the roof and crawled till he hoisted the Russian flag. The flag was shot down, but Biberd again raised it over his head.
"It would be incorrect to say I was afraid," he continues. "When you take on such a mission, they say that you think of your life, your family… No, it's not true. You have only one goal - reach the place and put up the flag. It is Chechen pride."
When Biberd finally did return, there were no embraces, no "extra talk." Luisa only looked at him, suppressed a sigh in her chest and went to set the table. In this Chechen family, as in the others, emotions are under lock and key.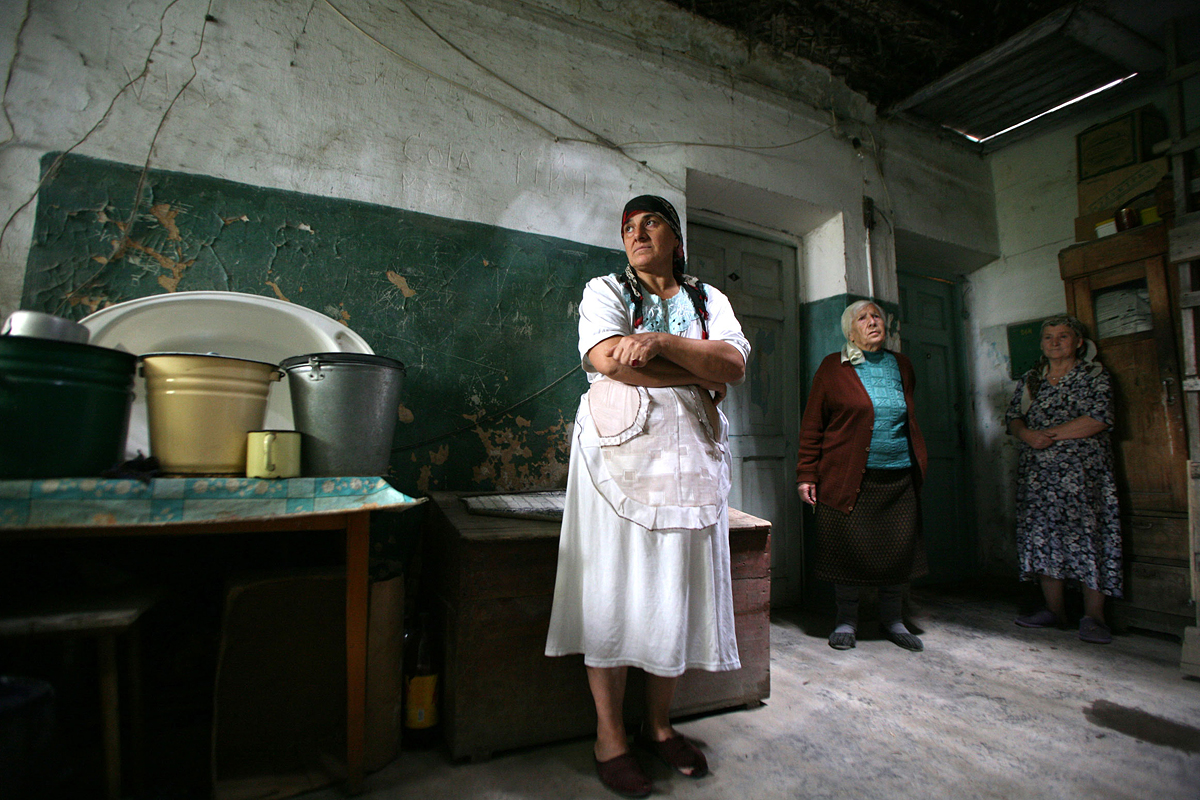 Source: Reuters
The root
Edilbek Magomadov is an ethnographer from the Culture Ministry and a connoisseur of Chechen traditions. During the war he would be stopped at the checkpoints and asked to remove his pants - to show his knees. Knees that are intact are proof that the man did not crawl on the ground with a rifle in his hands. For a Chechen man being stopped alone is insulting.
"The modern Chechen nation was formed after the sun set on the Golden Horde," Magomadov explains with erudition. "Sometime in the 15th century the Chechens returned to the plains from the mountainous areas. The plains then belonged to the Kumyk and the Kabardinian tribes. This is why the colonization of the area until the 17th century led to a never-ending war, in which every family participated. Family relations were built on the indisputable authority of the elders. And in order to preserve this authority family members of various generations maintained a big distance from each other. Especially with the father. The woman became the decision-maker in the family. To preserve his authority the father had to maintain a distance with his children. Chechen children never call him "father." They give him a home name."
Magomadov adds, "Many Chechen customs are derived from these old times. They can't be explained today. There is a taboo on the name. The woman is not allowed to call her husband by his name. The bride cannot call her husband's close relatives by their names. This is from the tribal system. But all this is compensated: for example, for a young bride to start speaking with you, you must first give her a gift."
"But with all these burdensome formalities can a Chechen woman really be happy," I ask. "Oh and how! You only see the formal side. But the wife, for example, invents funny names for her husband. And the distance among relatives exists not only between husband and wife. When I come to my father-in-law's I must stand until he invites me to sit down. If there is a stranger in his house, I will not sit down even if my father-in-law invites me to. These traditions exist not only among Chechens, but also among other peoples. Don't believe everything you see. We have a whole system of compensation for women - if she concedes something, she will receive a privilege in something else."
"Tell me, is the Chechen woman belligerent?"
"In a traditional Chechen society, men would feel humiliated if their womenfolk used weapons. If a woman's close relatives were all killed, her neighbors will stand up for her. If the neighbors are also killed, villagers will take over. She does not take part in the blood feud. If she kills someone, revenge will be taken not on her but on her husband, brother or father."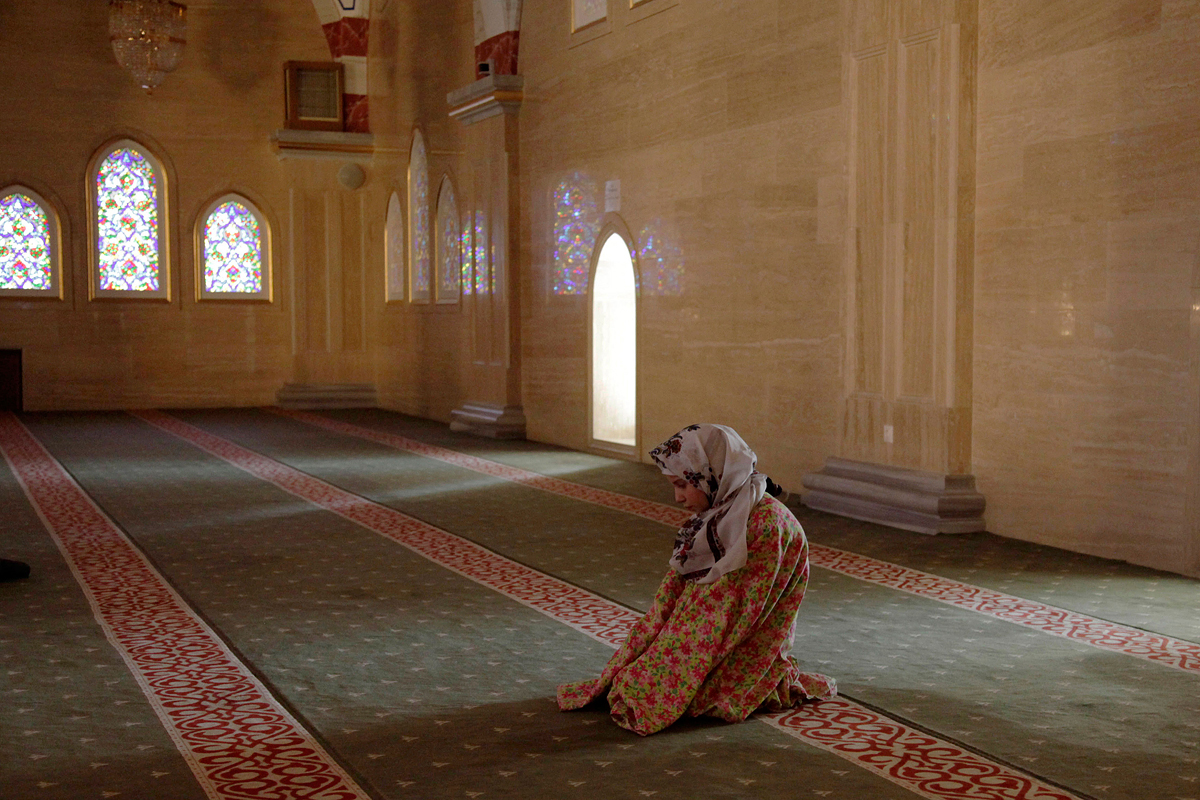 Source: Reuters
The Chechen circle
A concrete floor. A high fence. Dim electric lighting. Men form a compact circle - there are 50 or 100 of them, I can't tell. A loud male moan is heard above them and the circle comes to life - it starts walking clockwise, slowly. The men lean on their right leg. Heads hang limply. Hands clap. Shouts. The pace accelerates. The men are running along the circle. A din of male voices rises above it. "La illhi, il Allah!" Legs, arms flicker. A rhythmical song resembling an echo forces your heart to pulsate. The men are in a trance. The audience is in a trance. It seems that Chechen traditions will never die as long as boys are taught to dance the Zikr, a form of Sufi devotion.
An old woman died in this house. Earlier, she was wrapped in a rug and buried. Hundreds of relatives came. The men are dancing their farewell dance for her.
"Yesterday a grandmother left this house," says a Mullah. "She had maintained peace within the house. She was more important than everyone, more important than the men. She departed but many of her good deeds remain. She hasn't taken anything with her, on the contrary, she left a lot… And do you know why she was more important than everyone? Because she got up even when he entered," the mullah points to a six-year-old boy, "her great-grandson. Such is the tradition."
The original text was published in Russian in the Ogonek Magazine
All rights reserved by Rossiyskaya Gazeta.