Policeman puts life at risk saving others, but never gives up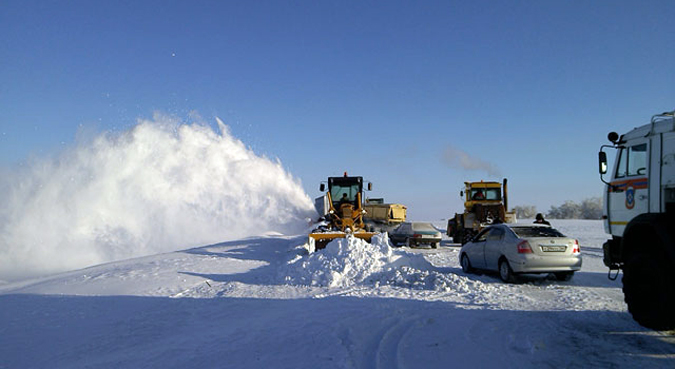 The incident occurred on January 2, 2016 on the Orenburg-Orsk highway.
Russian Emergency Ministry
Russian law enforcement officer Danil Maksudov, put himself in harm's way in order to help save people during a particularly bad snowstorm. Now he is a real hero in the eyes of many Russians.
In the film "Armageddon" protagonist Bruce Willis remains on a meteor to blow it up and prevent it from colliding with Earth. In "Star Trek" Capitan Spock sacrifices himself in order to save an interplanetary spaceship. But sometimes in order to save someone's life it is enough to do something as ordinary as giving your warm clothes to a person at risk of freezing to death. This is exactly what a 25-year-old patrol officer did.
The incident occurred on January 2, 2016 on the Orenburg-Orsk highway in the southern Urals region of Russia. That particular area is famous for its horrible snowdrifts and snowstorms.
Video by Car Girl / YouTube
On that day hundreds of people found themselves in a long traffic jam lasting several miles. Over the course of 15 hours drivers could not move due to the 150-kph wind (about 93 mph), heavy snowfall and -30 degree Celsius (-22 Fahrenheit) temperatures. Workers from the Ministry of Emergency Situations and policemen carried out the rescue operation: 84 people were rescued and 14 were hospitalized. One person was found frozen to death and one woman died at the hospital.
Danil Maksudov. Photo by Russian Emergency Ministry.
"The wind and the snow that day were so strong that you couldn't see anything," according to a statement by the Orenburg Region Ministry of Internal Affairs press office. "That is why people were leaving the place of the traffic jam holding hands, but the wind blew with such force that people couldn't stand on their feet. The chain of hands was broken up and people were blown to the side and were no longer distinguishable in the blizzard. Maksudov together with his colleagues, having reached the most distant passengers caught in the storm, started bringing out nine hopelessly freezing people, among whom were women and children. Maksudov gave his jacket to a young lady and his gloves to a child."
Maksudov managed to save another young man and hand him over to doctors. All of these people are currently being treated in a hospital.
"Of course, I immediately thought that he would freeze," said the young lady that he gave his jacket to. "Then we came across each other a day later in the hospital. I didn't know what had happened to him. I thanked him for saving me with words, but that's not enough. If it hadn't been for his jacket, I don't know what would have happened to me."
The policeman himself had severely frostbitten hands. Right away doctors considered amputating them, but promised to do everything possible to save his left hand.
In the end surgical intervention was necessary and Maksudov's little finger and part of his ring finger on the left hand were amputated.
According to the local media, Director of the local Ministry of Interior Division Police General Mikhail Davydov has ordered the preparation of documents so that Maksudov would receive a medal.
Dozens of Russians have left words of support on Maksudov's VKontakte page, a popular Russian social media site.
According to his colleague Vladimir Firyulin, Maksudov has refused financial assistance and sees nothing extraordinary about his deed. He is very modest, does not speak with the press and does not consider himself a hero.
First published in Russian in Gazeta.ru.
All rights reserved by Rossiyskaya Gazeta.