The story of the Soviet "Hannibal Lector," Andrei Chikatilo, and atrocities of the Russian mafia of the 1990s are still remembered in Russia and abroad. But what do you know about crimes that happened in Russia over the past decade?
The Russian Ministry of Internal Affairs claims that the number of crimes in Russia is decreasing: 845,800 crimes were registered from January to May 2017, a 13.9 percent decrease over the same period in 2016. While the majority of these crimes were robberies and frauds, some were also shocking violent cases.
To give insight into Russia's world of crime we've compiled different cases, all sensational in their particular way, which happened in Russia over the past decade.
Criminal gang in Krasnodar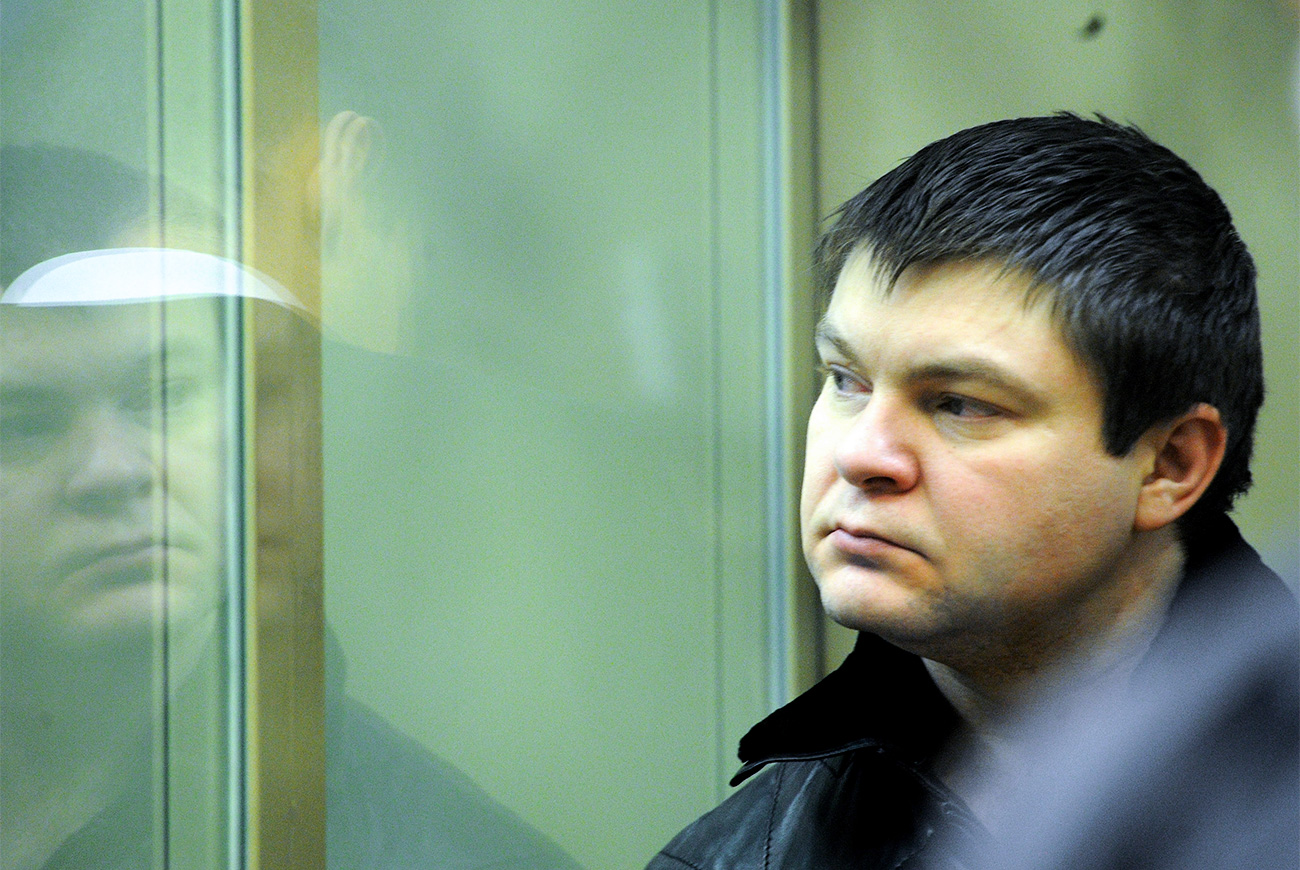 Sergei Tsapok. / Valery Matytsin/TASS
On Nov. 4, 2010, the rural town of Kushevskaya in Russia's Krasnodar Region witnessed a ruthless mass murder that shocked the nation. A local gang killed 12 people, including four children, and then attempted to burn the bodies. The key victim was Server Ametov, a local farmer who crossed the path of the gang's agricultural business.
The gang killed his family, guests and two neighbors. As later revealed by federal investigators, this was not the only killing committed by the Tsapki gang. Active since 1998, the Tsapki in fact controlled the town, threatening and killing competitors (at least 19 murders), randomly kidnapping and raping young women (at least 220 cases), as well as buying off local police and state officials.
After federal investigators took over the case from local police, dozens of witnesses stepped forward to testify against the gang. In 2013, the leader of the group, Sergei Tsapok, and his two main lieutenants were sentenced to life in prison. Other individuals involved in the massacre received 19-20 years in jail. In 2014, Tsapok was found dead in his cell.
Fraud in the Moscow Region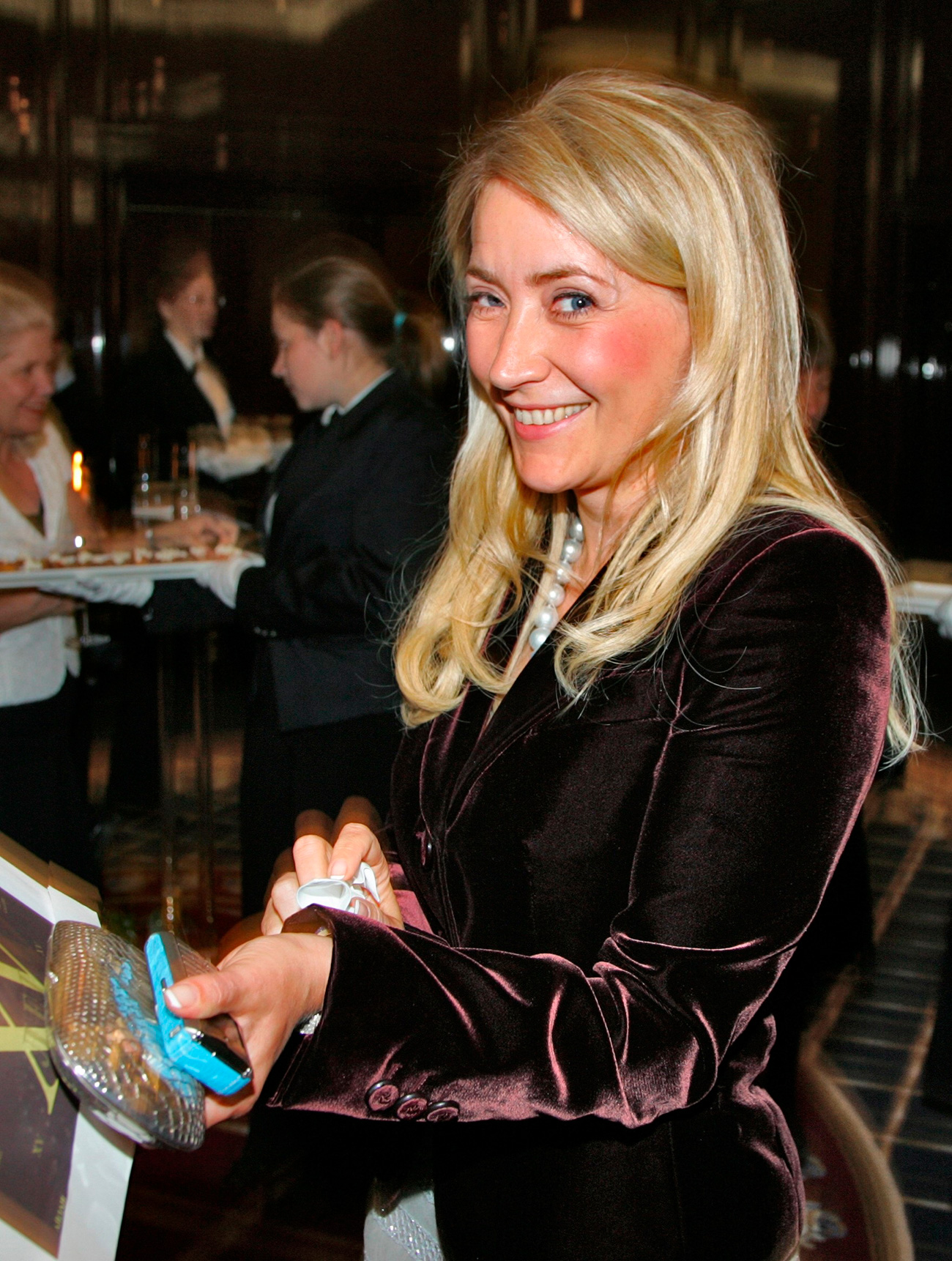 Janna Bullock in Ritz-Carlton Moscow. / Kommersant
In 2007, a group of government officials of the Moscow Region used their position to steal around 12 billion rubles ($203 million) from the state. Former Moscow Region Finance Minister, Aleksei Kuznetsov, his wife Janna Bullock, and former deputy Finance Minister Valery Nosov laundered budget money and wired the funds to a company registered in Cyprus.
With this money the partners in crime bought luxury real estate in Switzerland and France, two hotels in France, 10 expensive cars, a yacht registered on the Cayman Islands, and much more. Some properties have already been confiscated by authorities, together with antique artworks that Bullock tried to take to Finland. These valuable objects included books, paintings, vintage weapons and pistols, coins and furniture.
Currently, only one of the suspects has been prosecuted: in 2016 Nosov was sentenced to 14 years and 9 months in jail. The authorities are doing their best to extradite Kuznetsov and Bullock, who currently reside in France and the U.S., respectively.
The Bitsa Park Maniac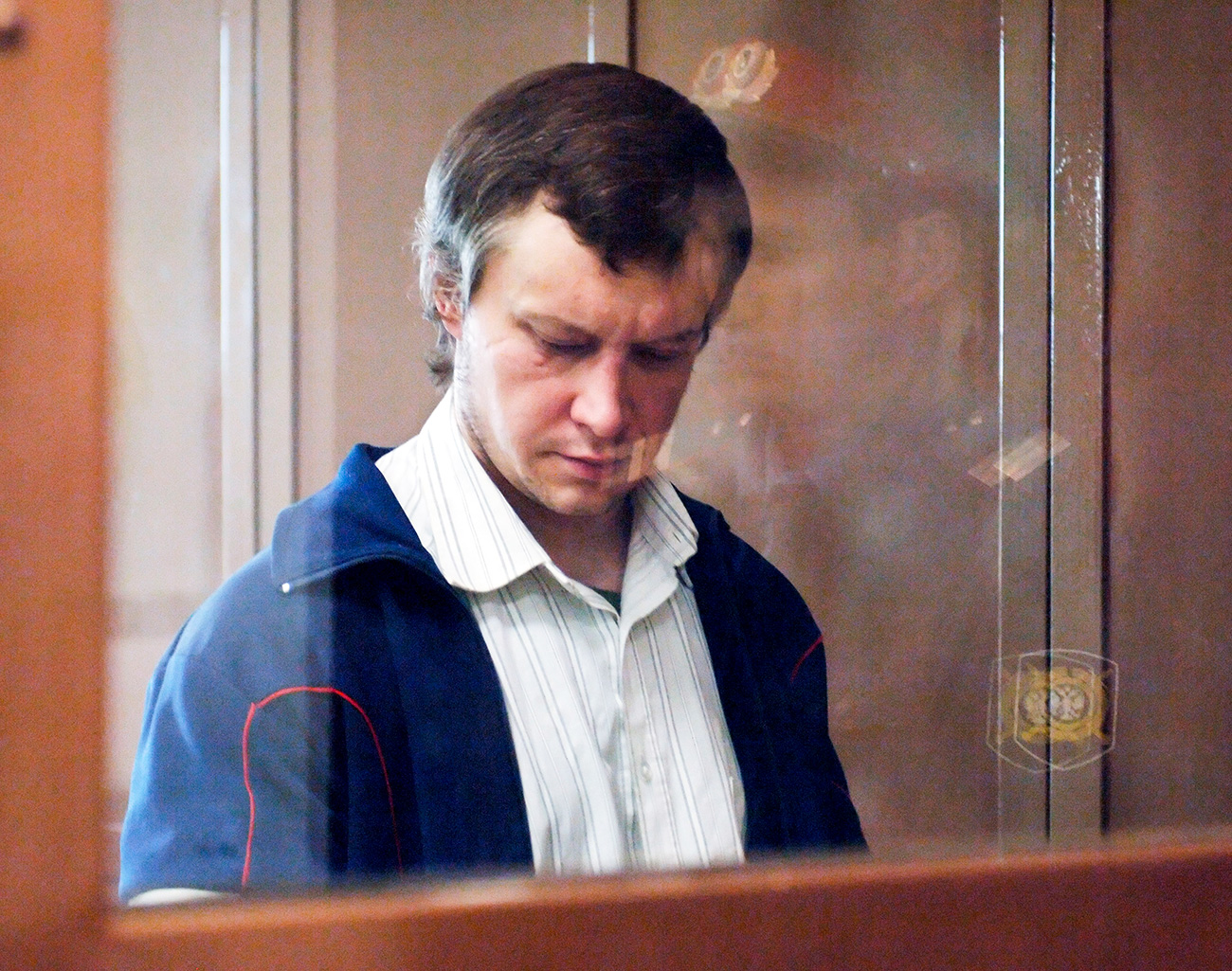 Serial killer Aleksandr Pichushkin in the defendant's cage. / Yuri Mashkov/TASS
From 1992 till 2007 residents of southwestern Moscow were frightened by killings taking place in the local Bitsa Park. The victims were mainly elderly and homeless men but sometimes they were also women, and at least one child, a 9-year-old boy.
The murderer was arrested in 2006 – 42-year-old Alexander Pichushkin, a man with psychological problems who admired the Soviet "Red Ripper," Andrei Chikatilo. Since Pichushkin's first victim in 1992 he took the lives of at least 49 people and planned to kill more.
"For me, life without killing is like life without food for you" he once said. "I felt like the father of all these people, since it was I who opened the door for them to another world." He often offered his victims to split a bottle of vodka and spent an hour or more talking. Pichushkin recalled that it was "interesting to talk to those destined to die." In 2007, he was sentenced to life in prison.
Theft in the State Russian Museum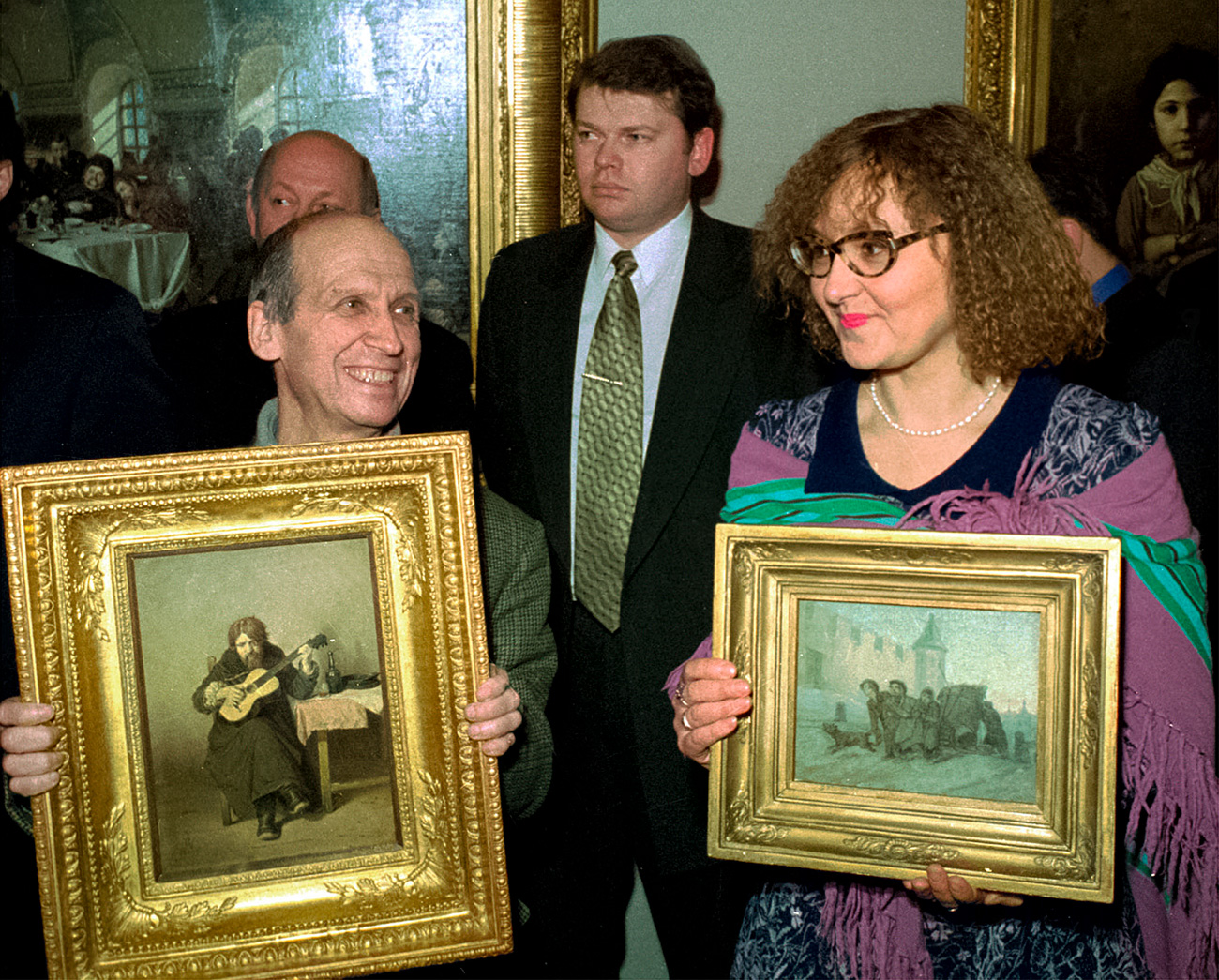 The stolen paintings were returned to the exposition of the Russian State Museum. / Sergei Smolsky/TASS
One of the most significant criminal cases in the art world happened in St. Petersburg in 1999. Two armed thieves broke into the State Russian Museum and stole two artworks by the 19th cenutyr Russian realist painter Vasily Perov – "Guitarist-bobyl," and the sketch, "Troyka," both worth $700,000.
Even though the museum's alarm went off, the robbers managed to get away. Later, the suspects were identified: Zakir Asadullaev and Dmitry Rukavitsin, members of a criminal group specializing in robberies on watch and jewelry shops.
Asadullaev, who took the paintings off the walls and tried to shoot the security guard, was sentenced to 14 years in jail. Rukavitsin, who stood watch, got eight years.
Smuggling in Moscow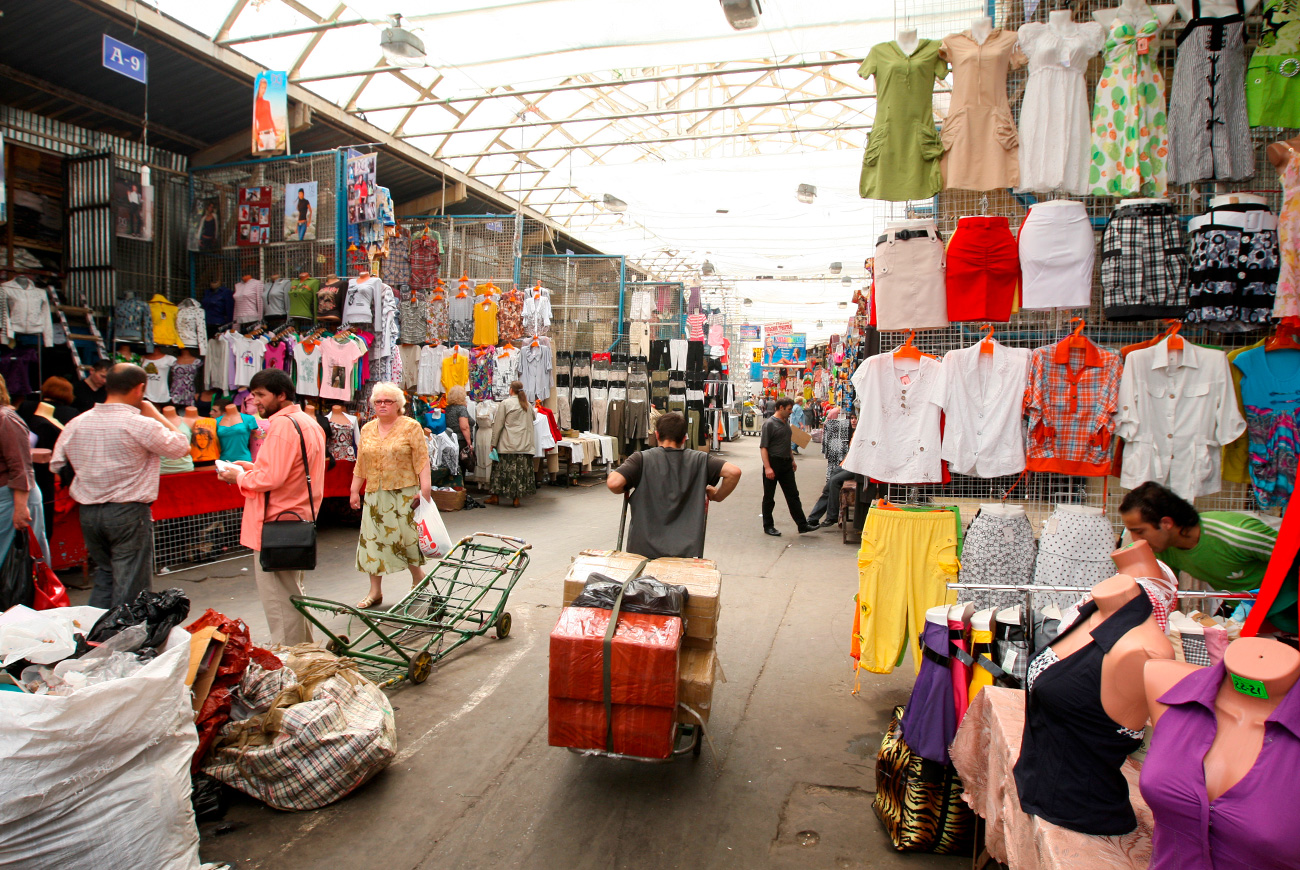 The Cherkizovsky market in Moscow in 2009. / Iliya Pitalev/RIA Novosti
The Cherkizovsky Market, known simply as "Cherkizon," was for many years the main cheap clothing market in Moscow. Founded in early 1990s, it employed more than 100,000 migrant workers from the countries of the Commonwealth of Independent States (CIS), China and South-East Asia.
Some called it "a state within a state" because it had its own infrastructure, and people who lived and worked there didn't need to leave. Every service that a person might need was available – from shops and hostels to currency exchanges and medical help.
It was also a center of criminal activity: drugs, kidnapping, robbery, racketeering, and even murder. Massive trade in bootleg goods and unregistered migrant workers finally provoked the government's wrath ­in 2009, and the market was closed and a thorough criminal investigation followed. According to police, 6,000 containers of contraband cargo (worth $2 billion) were found there.
If using any of Russia Beyond's content, partly or in full, always provide an active hyperlink to the original material.