Sheregesh is a huge ski region, which sprang up in the Kemerovo region (300 kilometers, or 186 miles, from the Mongolia-Kazakhstan borders) in just 15 years. For a long time, the Siberian resort even had more visitors than Krasnaya Polyana, which was a venue for the Sochi 2014 Olympics. Yet it has never welcomed the Olympics, nor benefited from multi-billion dollar government investments. What it does have is snow — so unique and of such quality that it cannot be found even in the Alps.
Reviving old mining towns is an acute problem for many countries, even developed ones. A depressive atmosphere and poverty reign there. Former miners are considered to be inert and rigid, finding it difficult to change.
In this context, when Russian miners — who started skiing down artificial hills of spent ore, then turned them in a real ski resort — it broke all stereotypes.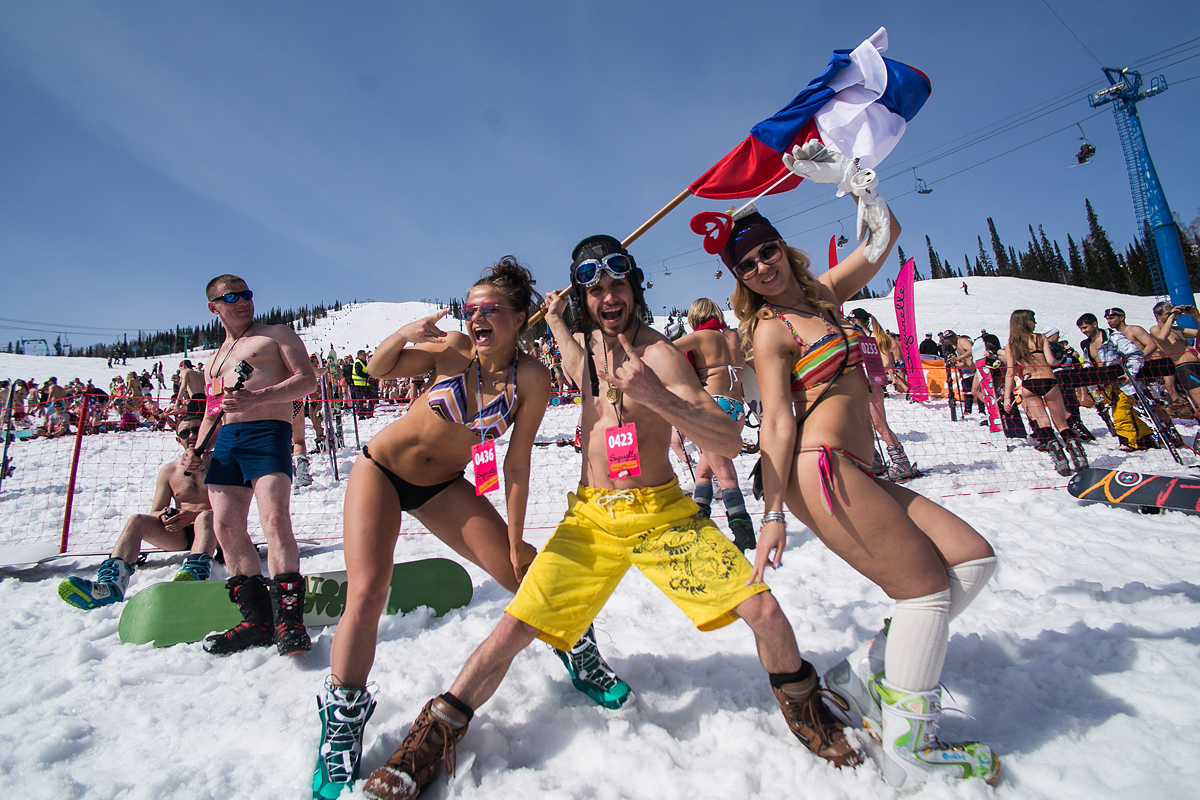 Tass
Skimpy suits on balmy slopes
Three beautiful bikini-clad girls slide down the slope to Shakira's song "Loca," while tough-looking Siberian men capture them on camera. The video went viral on the Internet.
It was a typical amateur video. It was April 16, the temperature was plus 25 Celsius (77 Fahrenheit) and the snow depth, 1 meter. Yes, it happens here.
The video stars are a cheerful bunch from Novosibirsk: businessman Alexei Kamerzanov, his friend Vadim, his daughter Karina and her two friends, both named Tatyana. After a day, there were 1,000 hits, after a month 100,000. As of today, together with all cover versions, it has been viewed by more than 10 million people.
"We called this video 'A Very Hot Day in Sheregesh'," says Kamerzanov.
"But no one believed that it was a really hot day at that time. Everyone Googled it and saw that the average winter temperature was -40, and decided that we were ordinary Russian madmen."
After all the media attention, the resort caught interest in Moscow, St. Petersburg and abroad.
The video was shown by every national TV channel, the British tabloid Daily Mail devoted an entire spread to it, and American bloggers went hysterical.
One viewer wrote, "Damned NATO! Damned Pentagon! Why did you lie to us all these years that we won the Cold War?"
Even when Prime Minister Dmitry Medvedev arrived in Sheregesh on an official visit, he realized the potential and immediately ordered to transfer ownership of the adjacent area from the federal government to the municipality to enhance further development in the town.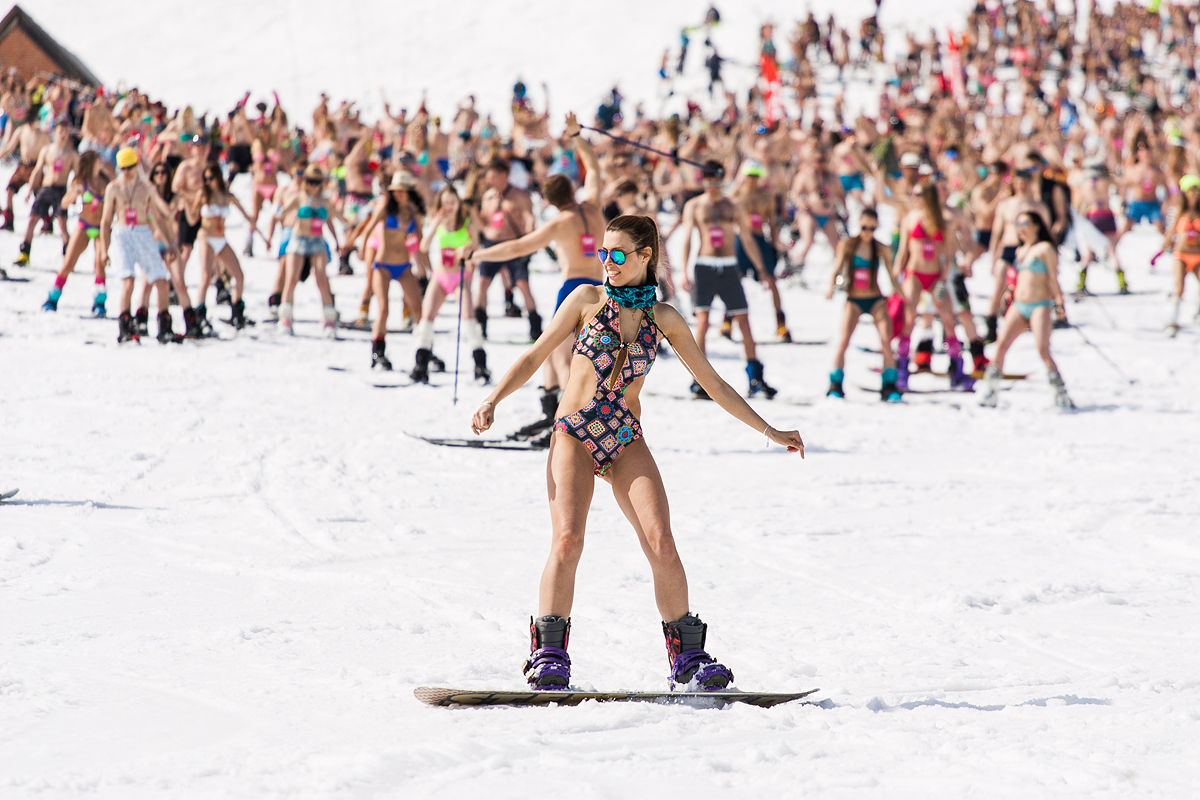 Tass
Authorities see potential
The region produces 60 percent of Russia's coal and 14 percent of its steel and rolled products, while Sheregesh is one of three fields where local steel giants mined ore.
In Soviet times, local miners' relations with the outside world were based on the following principle: Your business is steel and coal – the Motherland will take care of the rest. A ski resort? There wasn't even a properly paved road to get here. The resort was the result of a quirky chain of events.
"It all started with Valentin Melnikov. There was nothing to do after the shift, and so he began to ski from the hill. He put on his skis, trampled down the track — and here we go," said a former miner.
The said Melnikov and a dozen of the other Sheregesh founders belonged to the Soviet generation of local investors. They approached the mine's director and convinced him that the conditions for skiing from artificial hills should be improved. There were real mountains around, they said, but there wasn't a single ski lift in their village.
"In 1978, after that meeting, Sheregesh got its first ski lift," recalls Artur, the son of a former miner. "We used ordinary cross-country skis, but, later, managed to get Elan mountain skis from Yugoslavia – they were fantastic! The shoes alone cost 150 rubles (more than an average monthly salary in the USSR at that time)." Miners earned a lot then; it was only they who could afford such expensive shoes.
The mine's director became enthusiastic about holding the Spartakiad games of the peoples of the Russian Soviet Federative Socialist Republic (one of the 15 Soviet republics that constituted the U.S.S.R.) in Sheregesh.
His competition preparations consisted of two parts.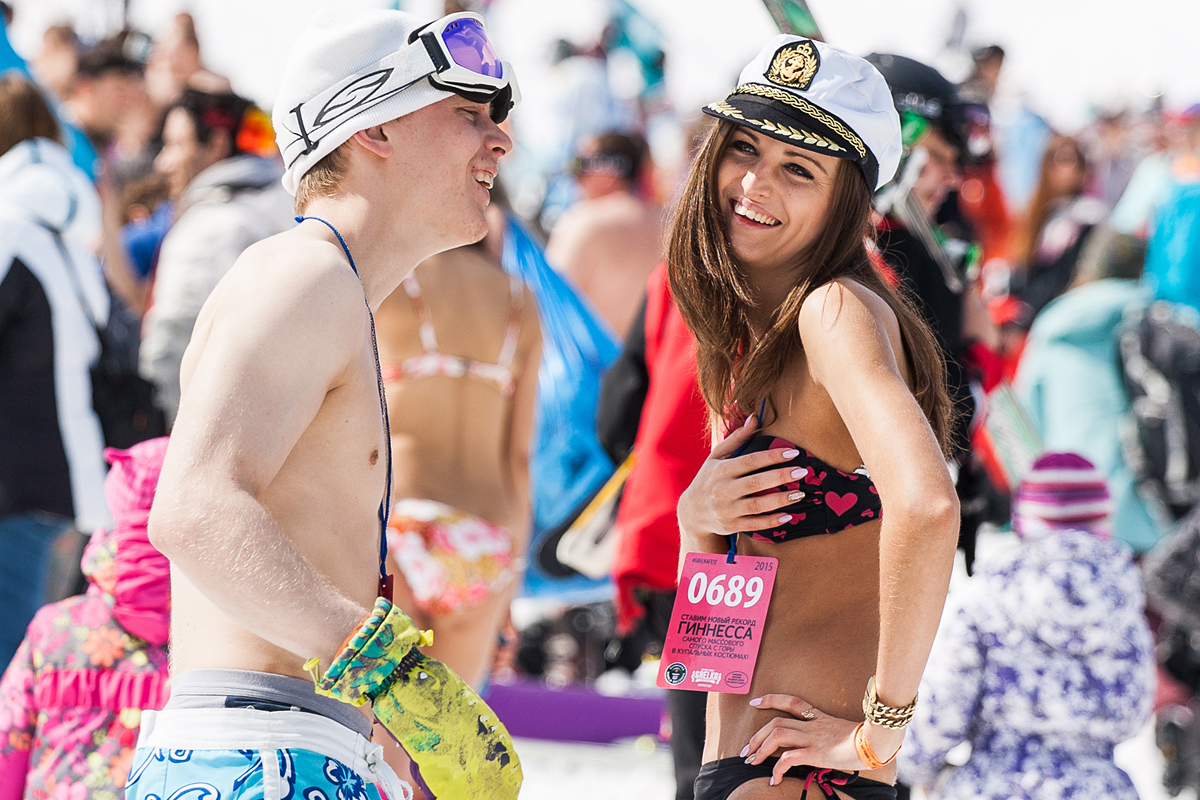 Tass
The first was to form a construction crew from the miners and build two ski lifts on the mountain of Zelyonaya. The second part was to trample the track. To do this, just before Spartakiad, all students, doctors, teachers, even prisoners from the local prison were sent to the slope. Those who had skis had to trample the track with them, those who had not had to do it with their valenki (traditional Russian felt boots).
"It is now that we have lots of snowcats here, but then we had a better idea of a moon rover than of a snowcat," says one of the founders of the resort, Adam Adamych.
Unique puffy snow
Speed records are broken easily in Sheregesh. Even for someone who has skied in the Alps, the Balkans and the Caucasus, Sheregesh's snow is a discovery.
The first feeling is as if you swapped your cheap Russian Lada for an Audi. Low humidity makes the sliding soft and your moves are impetuous.
In addition, dry snow does not roll into heaps quickly. The track remains flat until the evening, even if the ski crowd is large. Even if you fall frequently, your clothes will remain dry. Dry snow rolls away like water off a duck's back.
Sheregesh's puffy snow is so unique that it is not even suitable for professional athletes. You get used to good things quickly — but records are set in different conditions. Eventually, the authorities had to allocate a separate hill for professionals and bombard it with snow cannons to make the snow worse.
Mantra: Change to survive
Few locals from Sheregesh became famous. They include two-time world snowboarding champion Yekaterina Tudegesheva and 10-time world boxing champion, Yuri Arbachakov.
In school, Arbachakov had a classmate, Marina Kazulina. Wen he won his first title, Kazulina was fired from the mine because of the onset of "the greatest geopolitical catastrophe (as Vladimir Putin described the collapse of the U.S.S.R.)." People like Kazulina began to work in whatever way they could, simply out of despair.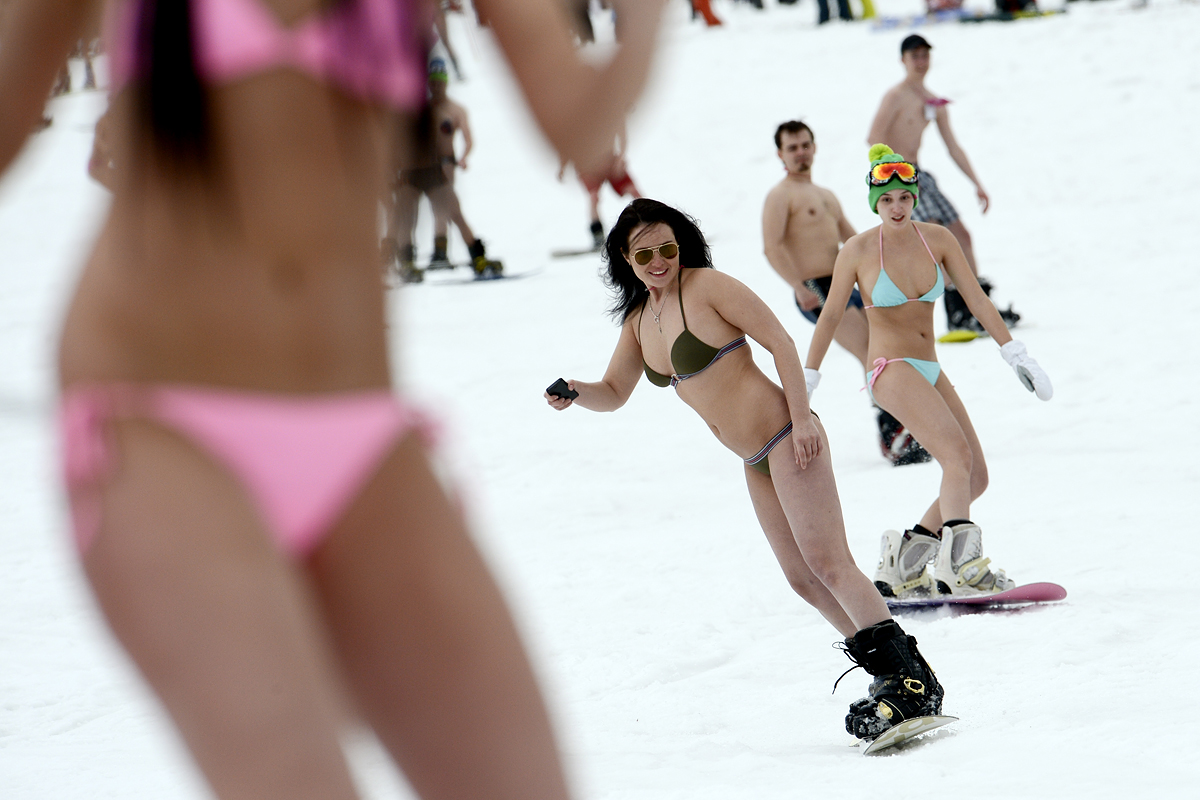 RIA Novosti"Two ski lifts, which had remained from the times of Spartakiad, a two-story cabin – that's what the resort was like then," says Kazulina. "Well, I took a wooden box and began to sell everything that came my way. Honey, pine nuts, hearts made of hare fur, wooden plates. I have this characteristic — when the situation is hopeless, I start to advance on all fronts just out of fear."
Today, Kazulina no longer has a wooden box. She has a big cedar yurt, 70 square meters (754 square feet) of retail space selling hundreds of items. At first, when her competitors continued to hang around in the cold, the local authorities drove them behind similar counters to sell their wares. Local souvenirs gradually began to take shape as a cottage industry.
Struggling artists suddenly remembered they were artists, and the endangered Shors (a local ethnic group) suddenly realized the worth of their traditional Shor goods. They showered traders with taiga forest products — fish, game, herbs, honey and jam. Sheregesh remains one of the world's few places where nearly all the souvenirs are locally made, Kazulina's next dream is to build a workshop and pay the artists to work there, so that it develops into a small souvenir factory. The competition is so high among the sellers that the women have quit smoking, because a cigarette break could mean a few missed buyers.
First published in Russian by Russky Reporter
All rights reserved by Rossiyskaya Gazeta.