MariVanna – New York and London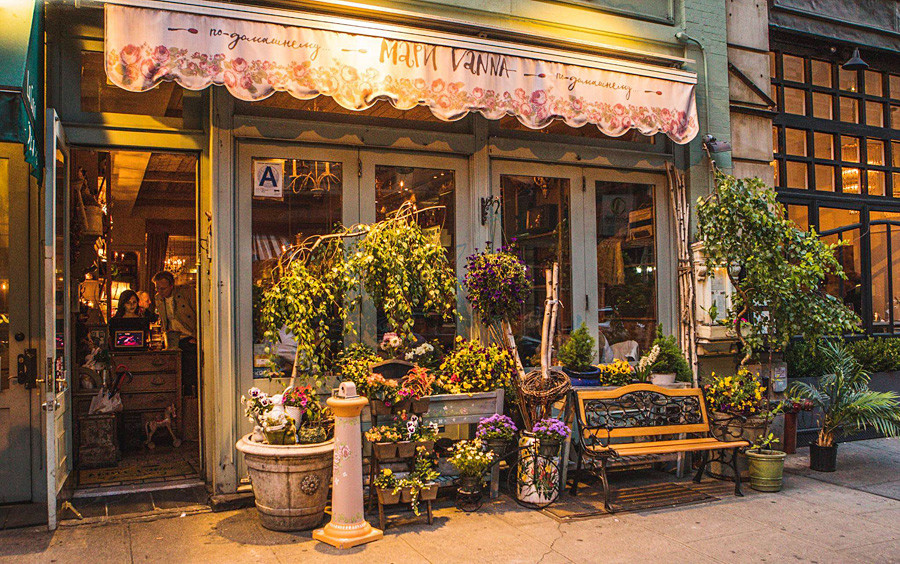 "Maria Ivanovna" (shortened to "MariVanna") is the common name of a Russian babushka, and is associated with delicious homemade food – freshly baked bliny, pirozhki and various salads made with mayonnaise. These are just some of the items you'll find at MariVanna! With restaurants in London, Los Angeles, Washington D.C. and New York, MariVanna is one of the most popular and well-known Russian cuisine chains in the world. It's a place where you can meet Russian celebrities living abroad, (we once met hockey player Alexander Ovechkin there in D.C.), and in addition to the great food you can relax in authentic Russian atmosphere with the interior decorated as if you're visiting the home of a Russian granny.
Russian Samovar – New York
This legendary restaurant was featured in Sex and the City thanks to its co-owner, Russian dancer Mikhail Baryshnikov, who played the role of Alexander Petrovsky, an artist and Carrie's lover. In the TV show the couple drank vodka, ate potato with dill, herring, meat salad and aspic (or kholodets in Russian) – everything that is truly on Russian Samovar's menu. The interior has lots of red, as Petrovsky said, "sadly that's what people expect from Russia," and of course, there are many samovars.
The restaurant has long been a favorite place for Russian émigrés, and was opened by Roman Kaplan as a way to welcome and treat his numerous friends. When he faced financial difficulties, he asked fellow Russians, the Nobel Prize winning writer Joseph Brodsky, as well as Baryshnikov, for help. And that's how they became his business partners.
ZIMA and Stolle – London
There used to be dozens of Russian restaurants in London, but many have closed recently. Still, you can find a wide variety of Russian food, from ordinary borsch to luxurious black caviar in restaurants throughout the city. These include NOVIKOV, MariVanna and many others.
A couple of years ago a new place appeared in Camden, offering pirozhki with all types of fillings: meat, chicken, cabbage, fish, mushrooms, spring onion and assorted sweet fillings. You can also try traditional Olivier salad, Chicken Kiev, golubtsy (stuffed cabbage rolls) and other exciting items.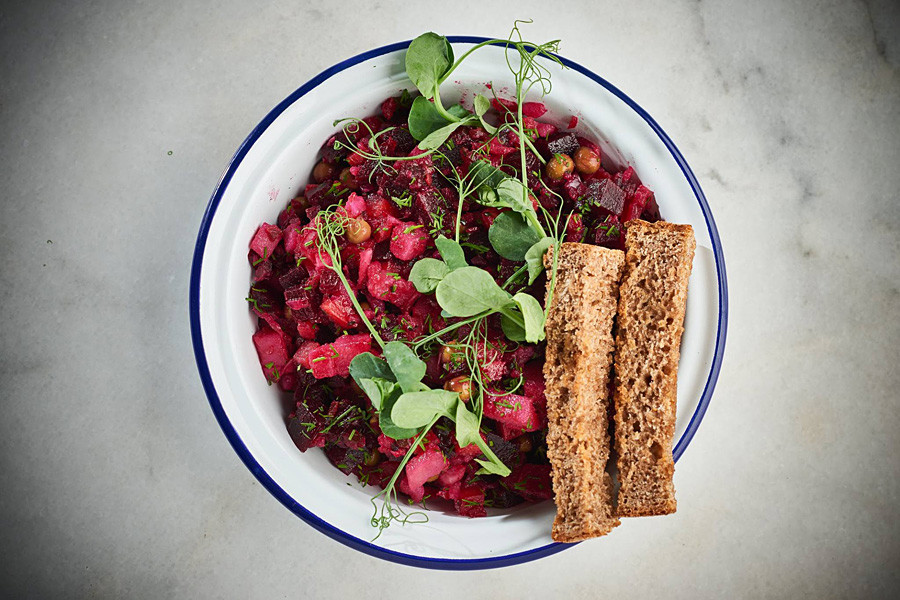 The once popular Russian restaurant with French allure, Jean-Jacques, is now closed. But its cellar in Soho, ZIMA Russian Street Food and Bar, has a strong following. Owned by the successful restaurateur, Alexei Zimin, it offers various dishes including marinades, pickles, herring tartare with pears, and more.
The interior is reminiscent of a Soviet-era ryumochnaya, a place where people would go to have a quick shot of vodka and eat a snack. In addition to the 10 types of vodka, Londoners can also to try liqueurs made from unusual flavor combinations including fennel and tarragon, horseradish and apple, cranberry and curry leaves, as well as strawberry and basil.
Café Pouchkine – Paris
Andrey Dellos, owner and founder of Café Pushkin, a successful restaurant that offers exquisite aristocratic Russian cuisine in Moscow, opened a brasserie in Paris under the same name, as well as the patisserie, Pouchkinette. This place teleports you to the 19th century and makes you feel like a member of high society in a French-Russian atmosphere. All the desserts are delicious and look incredible. In addition to the pirozhki and medovik, the café menu features thematic desserts, for example, at Eastertime you can find chocolate Fabergé eggs.
Roppongi Baikal and Rogovsky – Tokyo
Beef cheeks, bliny, okroshka, 'herring under the fur,' pelmeni, and a masterpiece of Russian cuisine - potatoes with chicken and mushrooms baked in a pot… Did you ever expect to find this rich selection of Russian food in Tokyo?
Named after one of Russia's most famous places, Lake Baikal, this restaurant offers the chance to spend thematic evenings and holidays à la russe, especially on New Year's, Easter (with true Easter cakes and eggs), and Maslenitsa (featuring a pancake explosion).
www.facebook.com/Roppongi-Baikal
Another Russian restaurant in Tokyo was founded in 1951 by local Japanese, and Russians who visit say the food and service is superb. The interior is richly decorated and includes traditional Russian handicrafts: Zhostovo painted trays, matryoshka dolls and more.
Pasternak and Datscha – Berlin
Berlin has a variety of Russian restaurants. This place is named after Boris Pasternak, Russia's Nobel Prize winner for literature, and author of the great novel, Doctor Zhivago. The concept is interesting, offering dishes called 'Proletariat,' 'Intelligence,' pelmeni 'Leningrad' and vareniki 'Siberia,' as well as other great dishes from Russia and the former Soviet states, and even some fine Jewish specialities. Another reason why we recommend visiting is the exotic interior stylized after a Soviet apartment.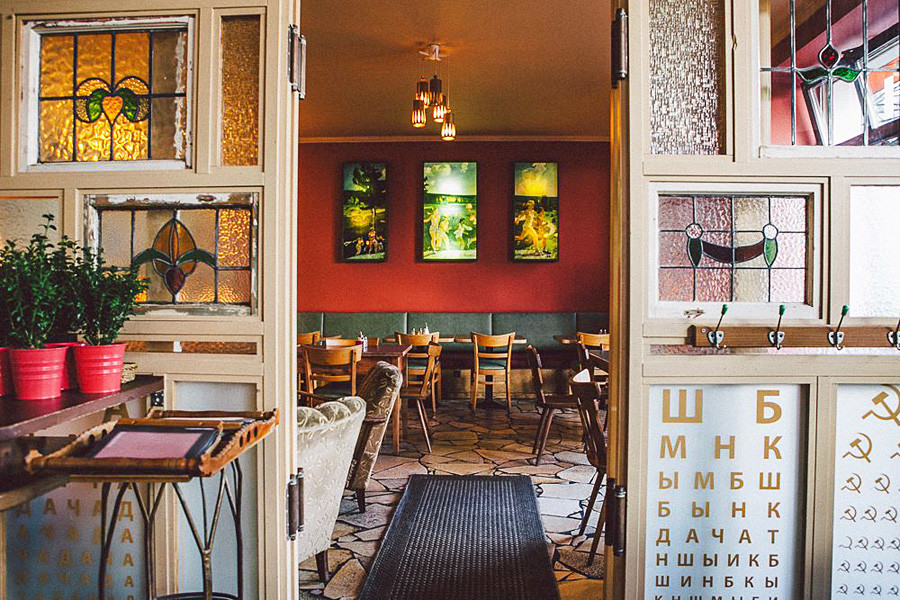 Other restaurants include Café Gorki Park, and Datscha (the German spelling of "dacha"). Of course, a dacha is a country house where city folk go to rest on weekends, and it's often associated with a happy childhood when you run around the yard and maybe steal apples from a neighbor's garden. We don't recommend stealing anything from Datscha, but don't leave without trying the solyanka soup or beef stroganoff.
Sibiriaki Bugianen – Turin
We're not sure vegetarians will like this place, but there probably aren't any vegetarians in Siberia! So, if you relish a meat extravaganza, check out Sibiriaki Bugianen. The portion sizes are huge, which doubles the pleasure, but take note that the restaurant only opens at 7:30 p.m.
Lobster Russian Corner – Forte dei Marmi, Italy
If you find yourself on holiday in Tuscany, don't miss the chance to see just how luxurious Russians can dine. The menu includes the usual Russian dishes – bliny, pelmeni, and borsch - but since it's a seaside restaurant definitely try the fish, lobster and caviar. The view is fantastic! Don't forget that the great Russian writer, Nikolai Gogol, loved Italy and wrote his finest works here.
www.tripadvisor.ru/Lobster_Russian_Corner
El Cosaco and Rasputin – Madrid
Translated as "Cossack," El Cosaco is Madrid's oldest Russian restaurant, opened in 1969. Romanov snacks, Saratov salmon and Chekhov duck – one clearly gets the impression that the chef was inspired by Russian history, culture and geography. Don't hesitate to order bliny, golubtsy and beef stroganoff. Try a salad that you've not eaten before, and of course don't forget the vodka – several types are offered.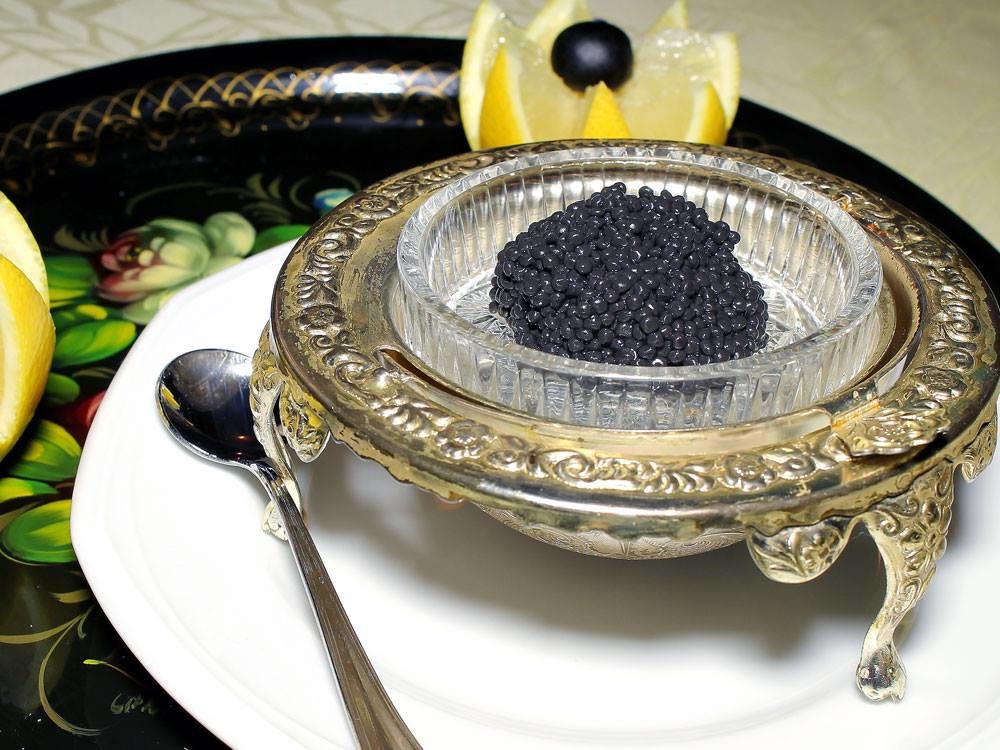 "Rasputin" is a common Russian restaurant name that you'll find in many countries, and it's obviously named after one of Russia's most notorious historical figures. Madrid's "Rasputin" is truly worth visiting. Not surprisingly, the menu has a Spanish touch (sangria is clearly not a traditional Russian drink), but the exquisite smoked salmon and old-fashioned interior will make you feel like a Russian merchant living in the late 19th and early 20th centuries.
If you're on your way to Buen Retiro Park, don't miss Gribok, which is said to be one of the best Russian restaurants.
Berezka and Russian Nights – Sydney
Where else to try Russian food if not in the restaurant at the Russian Club! First of all, in "Berezka" you'll be surrounded by native speakers and can learn how to correctly pronounce selyodka and kulebyaka. Secondly, a babushka waitress brings you pelmeni with rich sour cream on the side. In November, the restaurant reopens with a new chef, so we look forward to seeing what he or she will serve up.
www.zomato.com/sydney/berezka

Another place with mayo-heavy salads and bliny that's worth visiting in Sydney is "Russian Nights". Dare yourself to try holodets and snack on a plate of pickled vegetables – all washed down nicely with vodka.
www.zomato.com/sydney/russian-nights-bondi
Matrioshka, and Nevsky Russian Restaurant – Melbourne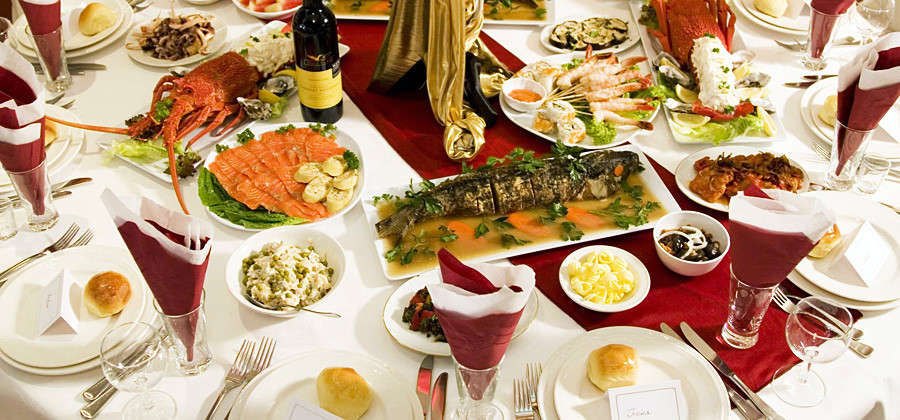 "Matrioshka" is another widely used name for Russian restaurants, and not surprisingly it specializes in the most famous Russian dish – bliny with caviar. Other things to try are pickled cabbage and chebureki (the latter are Uzbek and are deep fried). Oysters are not something that most Russians have tried, but they're on this menu, and so it might be worth having them after the famous salad, 'herring under the fur.'
"Nevsky" is named afer St. Petersburg's main street and offers an impressive drinking list. It can also host your Russian-themed banquet. For starters, don't miss the pickled mushrooms with onion and beetroot salad, which are an essential part of any Russian feast.
Red Square and Pravda Vodka bar – Toronto
There are many Russian-speaking people in Canada, and this restaurant is popular among them. For starters, try the herring and forshmak (chopped herring spread), and for your main dish, the crispy Kiev chicken cutlet is highly recommended.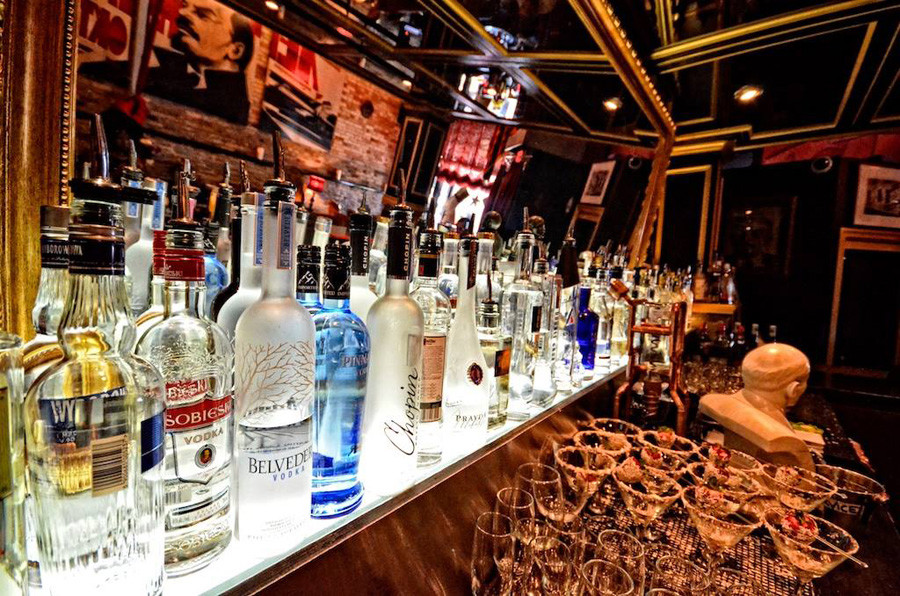 Want to do "Russian Czar" or "Red Army" vodka shots? Or maybe try the 'Perestroika' cocktail? Then check out this bar. Named after the first communist newspaper, Pravda, this bar offers Bolshevik era chic – house specialty drinks named Trotsky, Karl [Marx] and Friedrich [Engels]. The menu will also give you a couple of history lessons. Enjoy, but don't get drunk as a bear. Even better, read our guide how to drink vodka the right way.
Nikolay – Vienna
Nikolay is a popular male name in Russia and the name of the last emperor. Now, it's also a restaurant chain in Moscow that specializes in pirozhki with different fillings, and thanks to entrepreneurial Russian businessmen, you can also find Nikolay in the Austrian capital. Try culinary delights that a Russian babushka usually cooks: cabbage and egg, mushrooms and potato, and sweet pies with various berries. The breakfasts are the best at Nikolay and, we recommend ordering either the fried eggs or pancakes.
If there are any Russian restaurants outside the country that you know and like, and which we didn't mention on the list, please write in the comment section below!
If using any of Russia Beyond's content, partly or in full, always provide an active hyperlink to the original material.