How to make Tatar Elesh - a juicy pie with chicken and potatoes (RECIPE)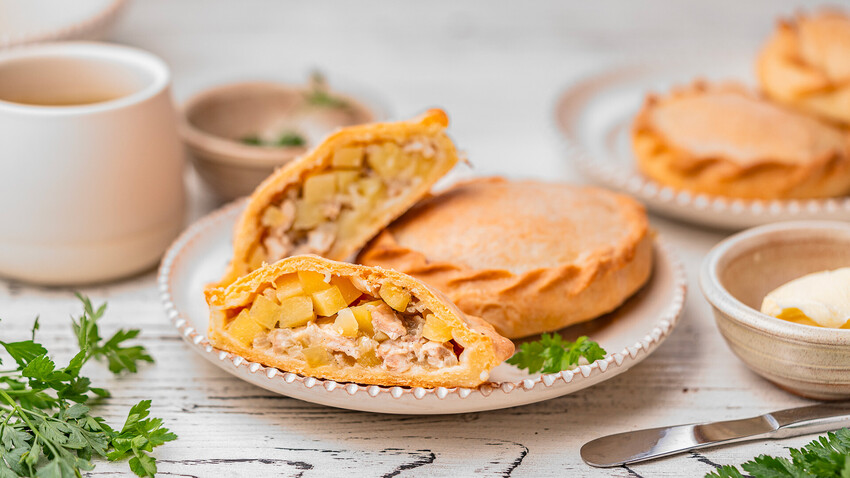 Try these hearty pies with juicy chicken & potato filling, made with thin, crispy crust.
Yulia Mulino
There's nothing super secret to this delicious dish, and you don't need special ingredients to cook it. Just do it! So with some very basic dough, chicken and potatoes you can make juicy and very tasty pies.
Genuine native Tatar cuisine can be sampled and enjoyed in the Republic of Tatarstan (situated about 500 kilometers east of Moscow), and it's particularly famous for an assortment of pies with meat. There are several types of pies with similar fillings, but their shape will tell you what's exactly inside.
Elesh is a traditional Tatar pie. The name means "part" or "serving". Unlike echpochmak, another famous type of Tatar pie with mutton or beef, the filling for elesh is diced chicken, potatoes with onions and spices. The dough is yeastless, made with sour cream and butter. Externally, these pies cannot be confused; elesh is round and closed, resembling a smaller form of another Tatar pie zur belish.
What's especially wonderful about elesh is the large amount of juicy filling and the thin crispy dough that resembles a slightly sandy puff pastry. It forms a crispy crust and it becomes the cooking vessel where the filling is baked. It will be even juicier if instead of chicken breast, you use a cut of meat that comes from chicken thighs.
Elesh pies turn out hearty and very tasty. They're usually prepared for special occasions or for the visit of important guests. Elesh is especially tasty with tea or hot meat broth, and it can be served as a solo dish or as an accompaniment to soup.
Ingredients for 4 servings: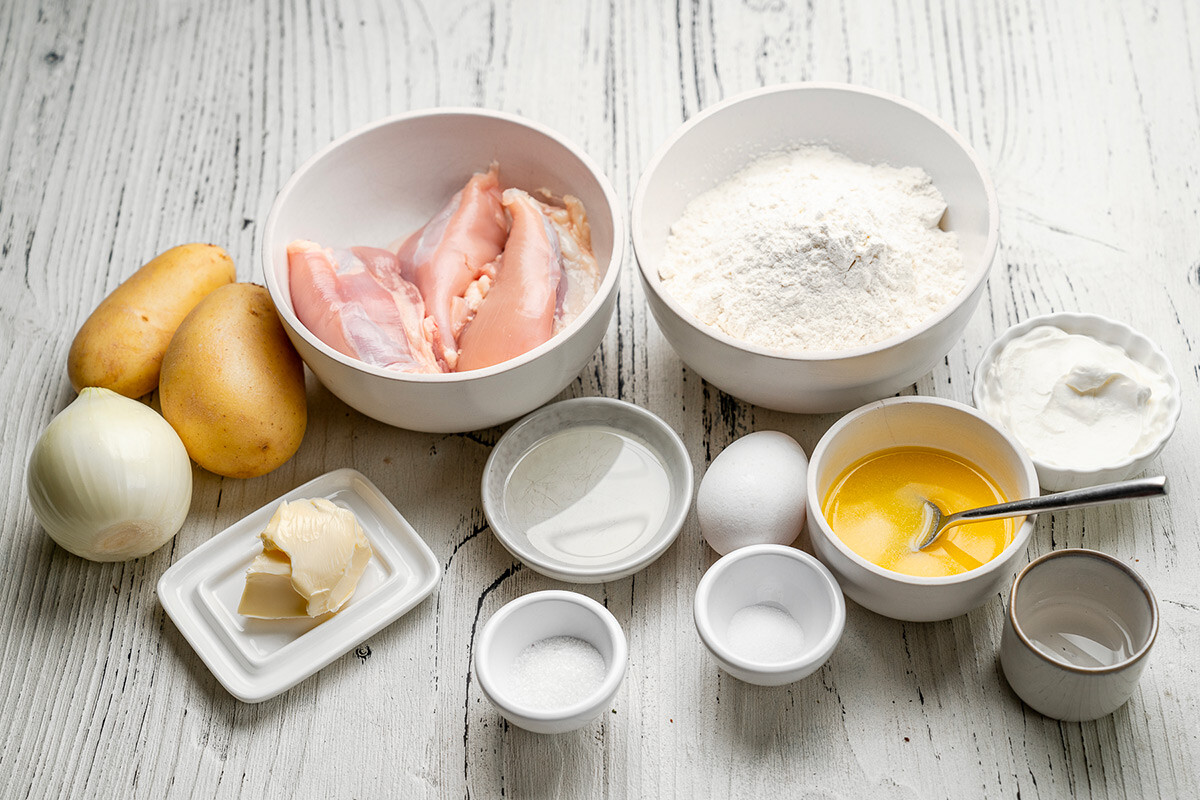 Dough:
Flour - 250 g
Egg - 1 pc
Unflavored vegetable oil - 2 tbsp
Melted butter - 3 tbsp
Sour cream (20%) - 2 tbsp
Water - 2 tbsp
Salt - 1/2 tsp
Sugar - 1/2 tsp
Filling:
Chicken (meat from thighs) - 250 g
Potatoes - 150 g
Large onion - 1 pc (80-100g)
Butter - 40 g
Salt to taste
Black pepper to taste
Melted butter for greasing - 30-50g
Preparation:
1. Combine all ingredients for the dough in a food processor with a blade attachment.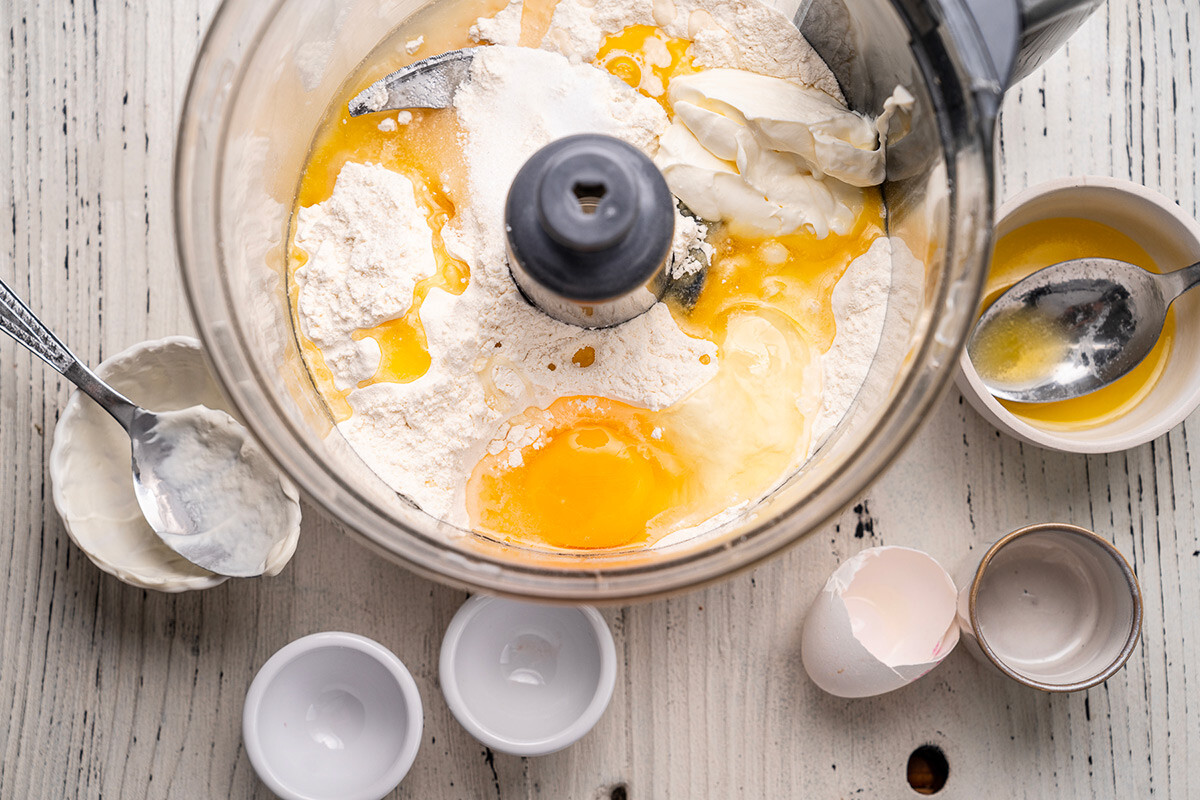 Yulia Mulino
2. Once combined, you'll get a homogeneous elastic mass.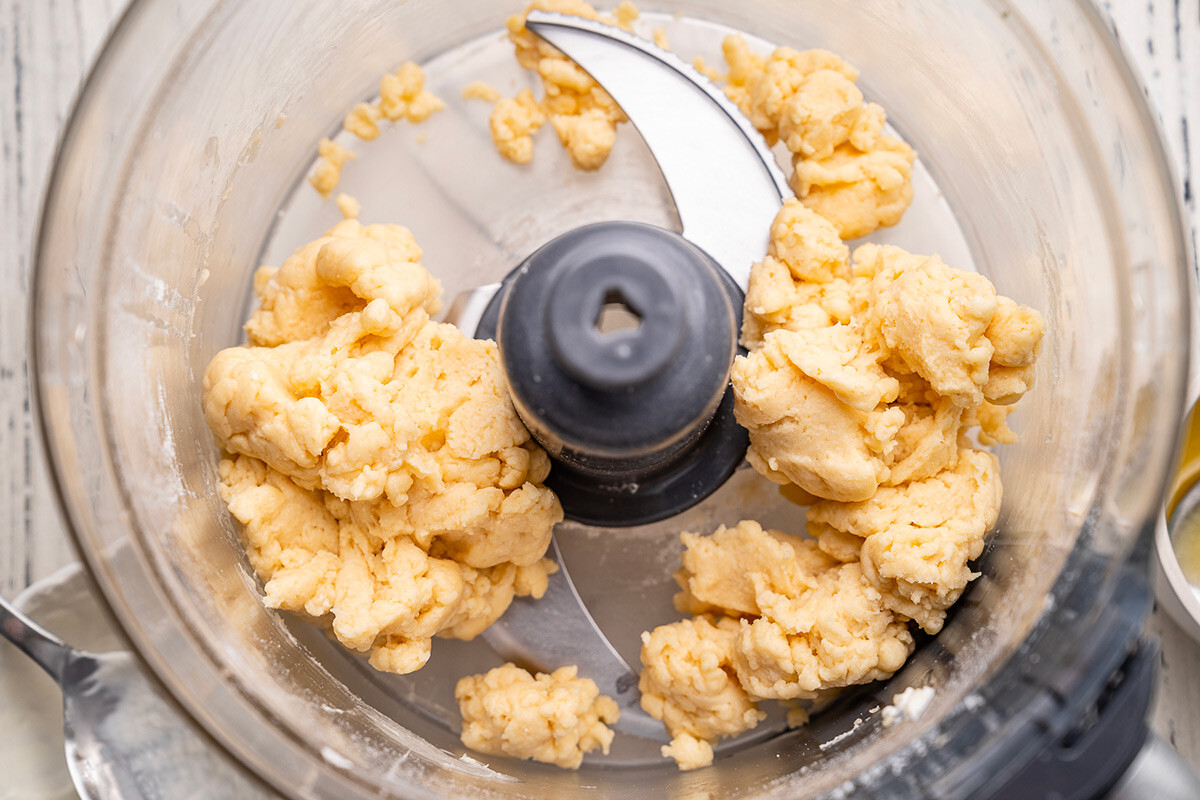 Yulia Mulino
3. Gather the dough into a ball, wrap it in a bag and put it in the refrigerator while you prepare the filling.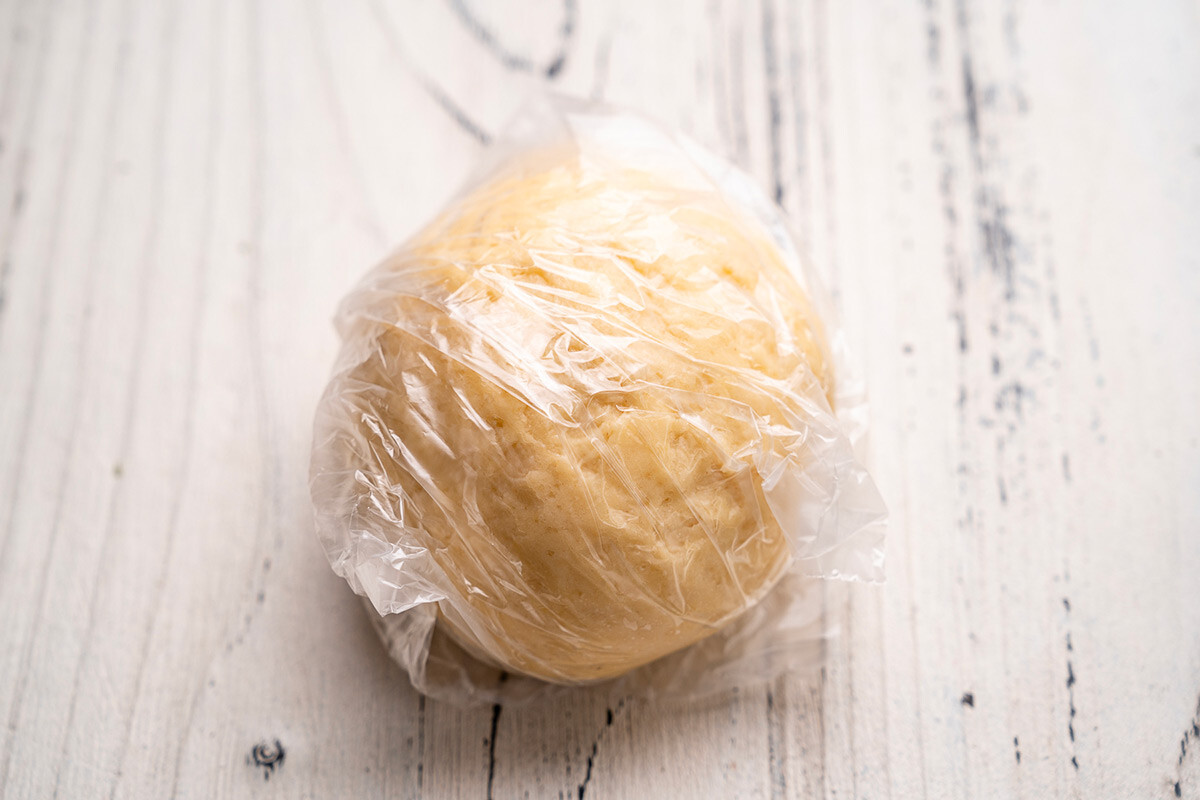 Yulia Mulino
4. Peel and dice the potatoes. The classic version of elesh is prepared with large pieces of 1.5-2 cm. But I cut them into 7mm cubes or so. This way the filling is more evenly distributed inside the pie.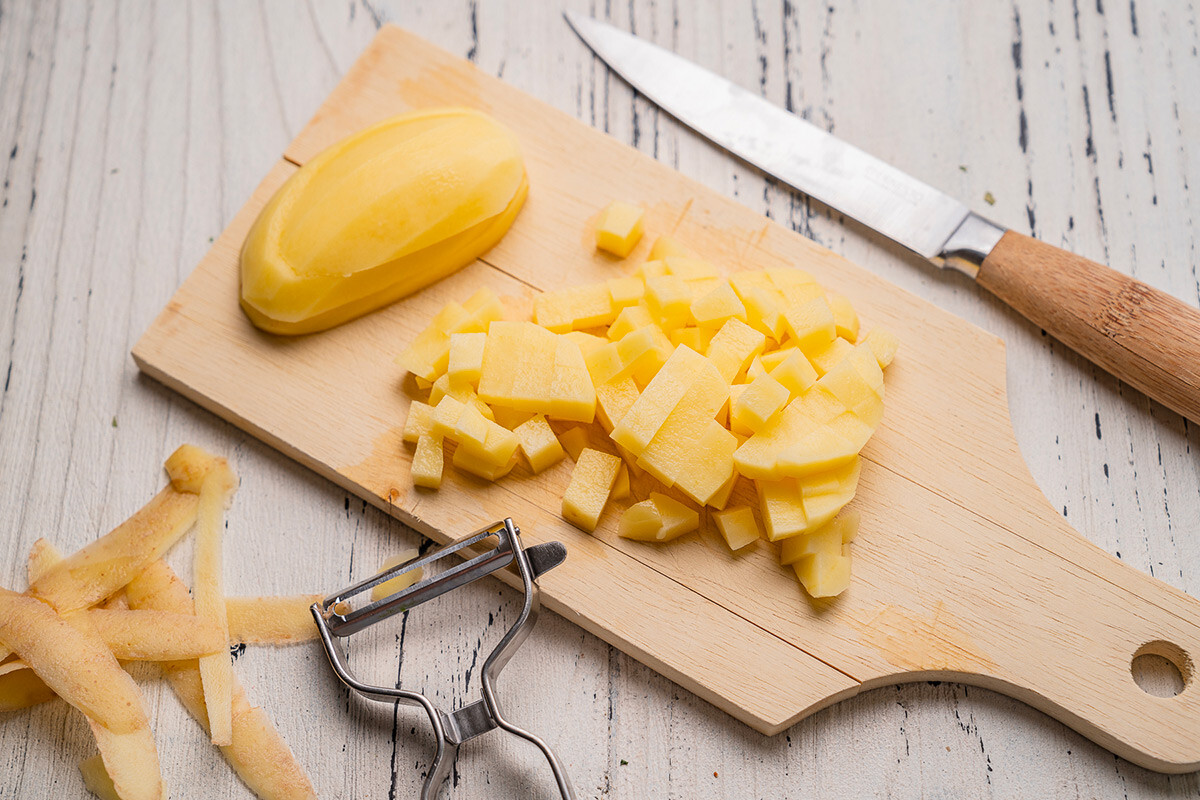 Yulia Mulino
5. Chop the onion finely.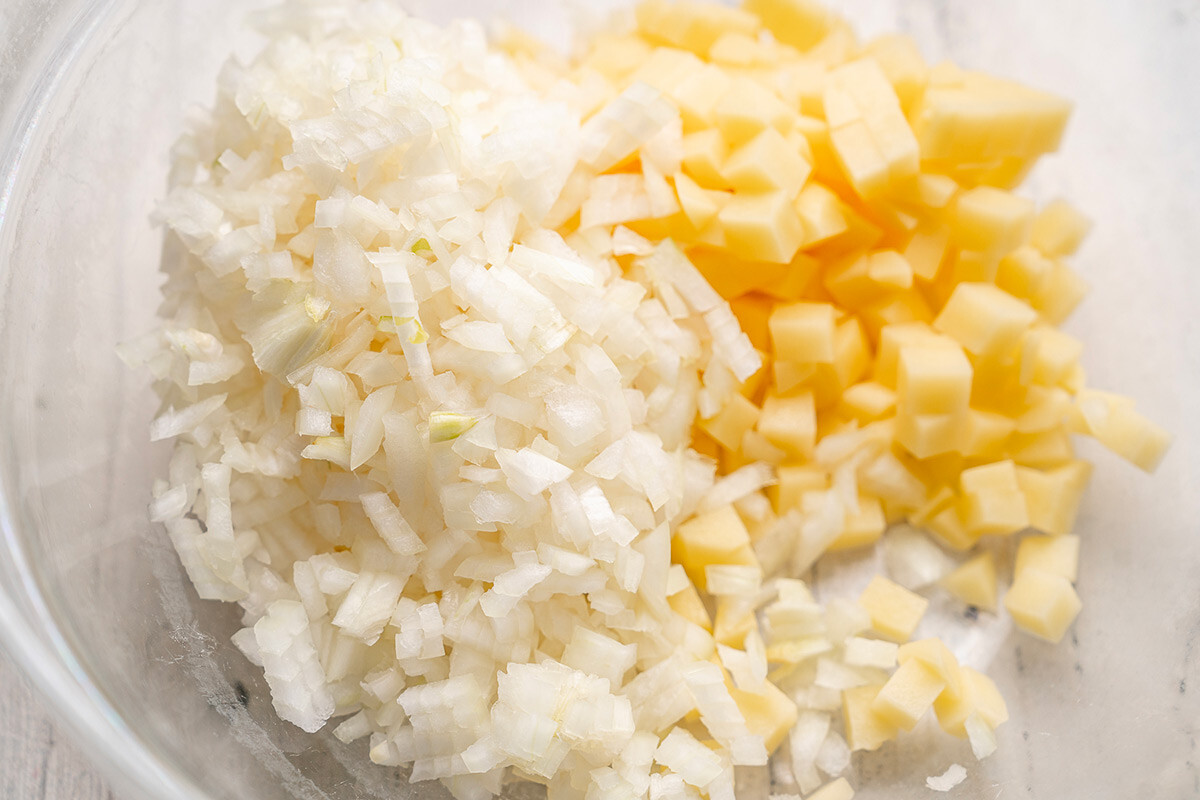 Yulia Mulino
6. Cut the meat into cubes, and add to the potatoes and onions.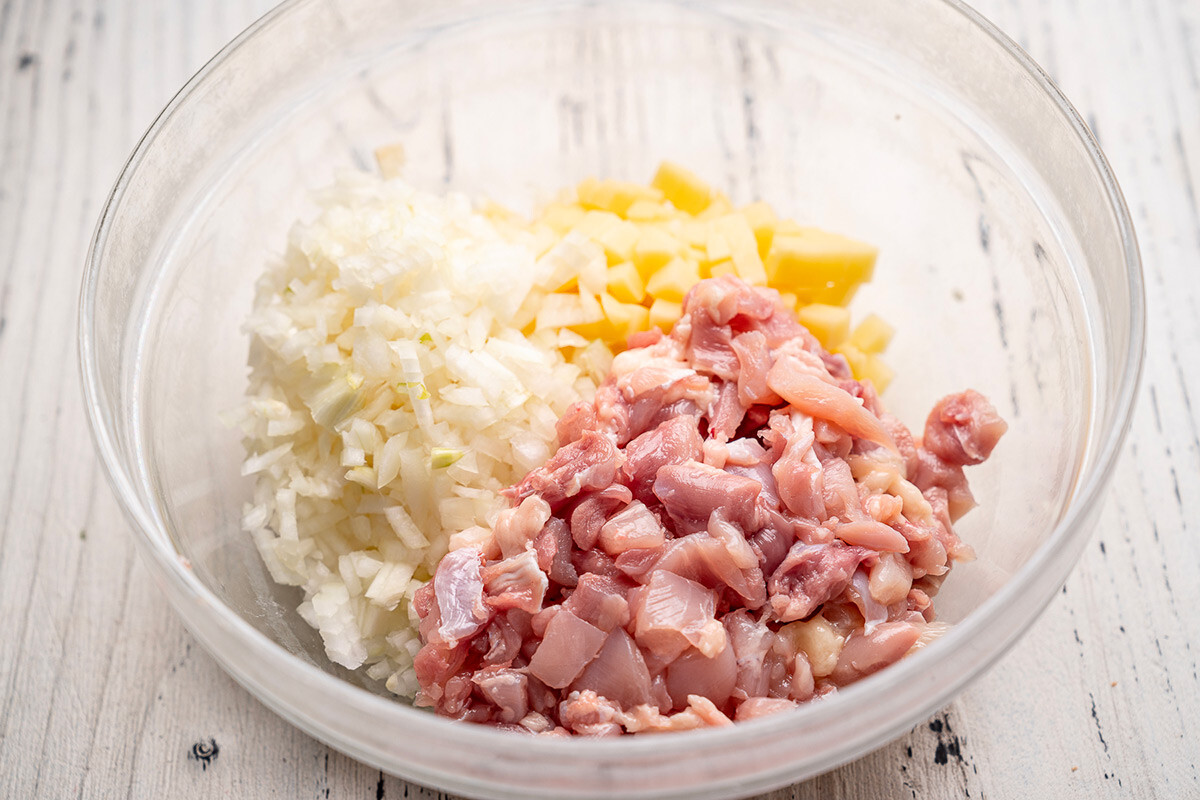 Yulia Mulino
7. Salt, pepper and mix thoroughly.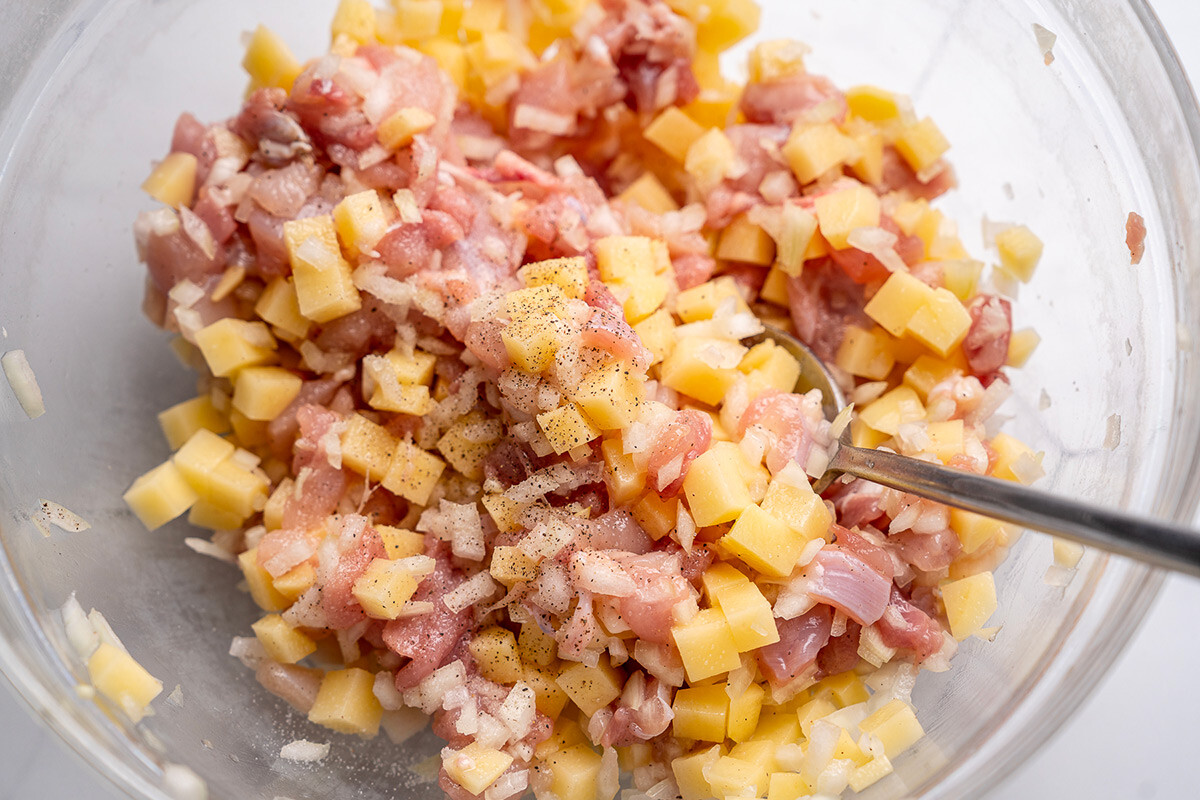 Yulia Mulino
8. Take the dough out of the refrigerator and divide it into 4 parts.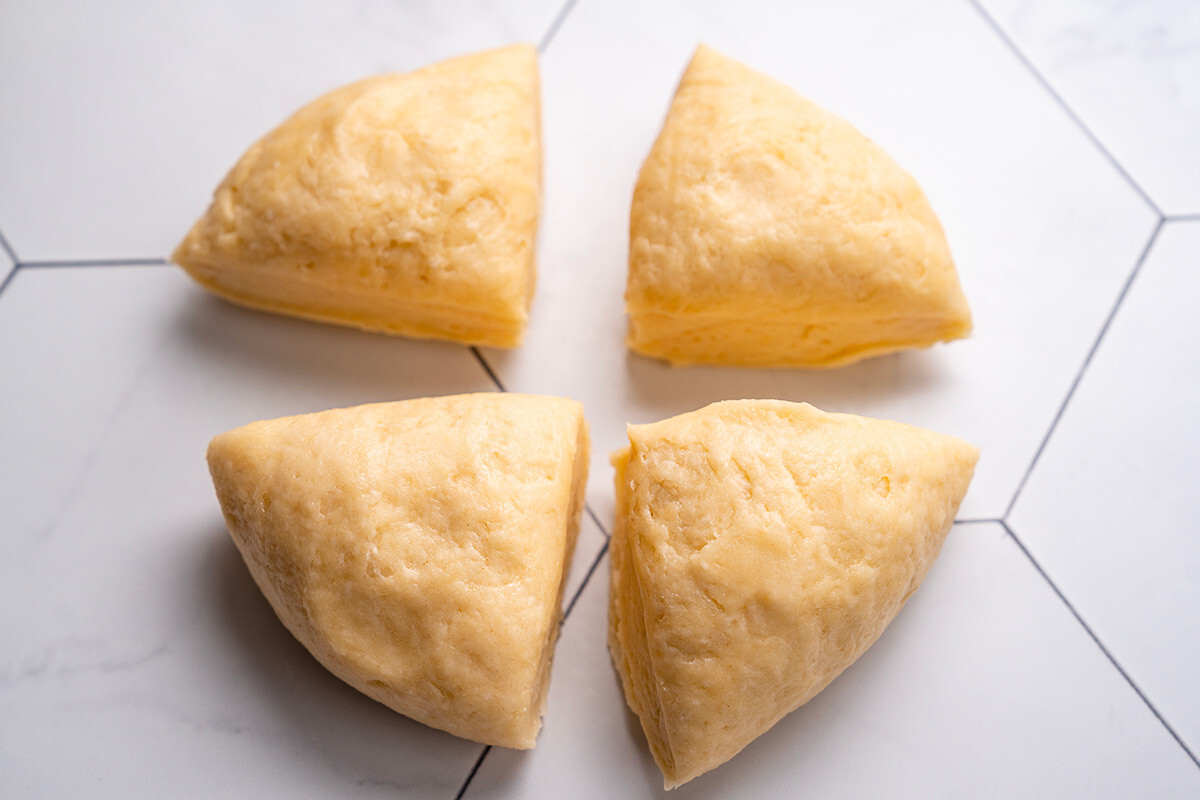 Yulia Mulino
9. Divide each portion into 2 parts, in proportions of 1/3 and 2/3.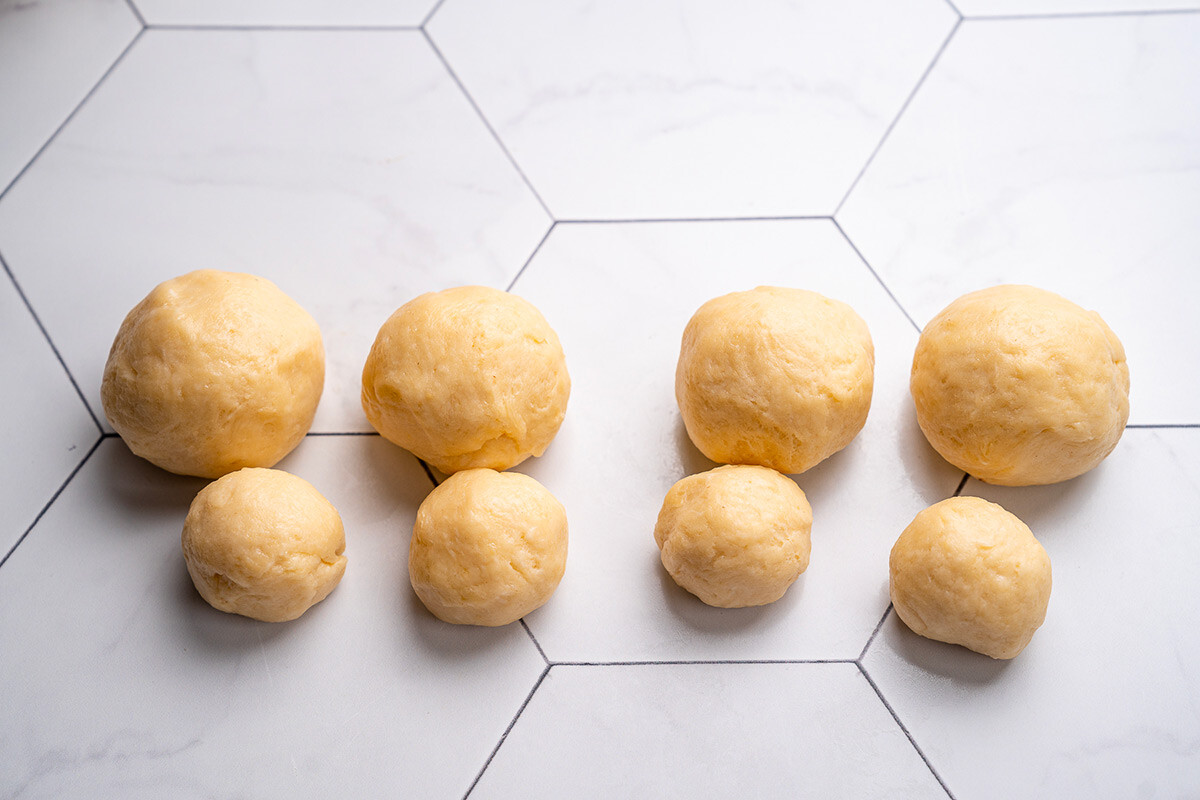 Yulia Mulino
10. Roll out the larger part into a round pancake.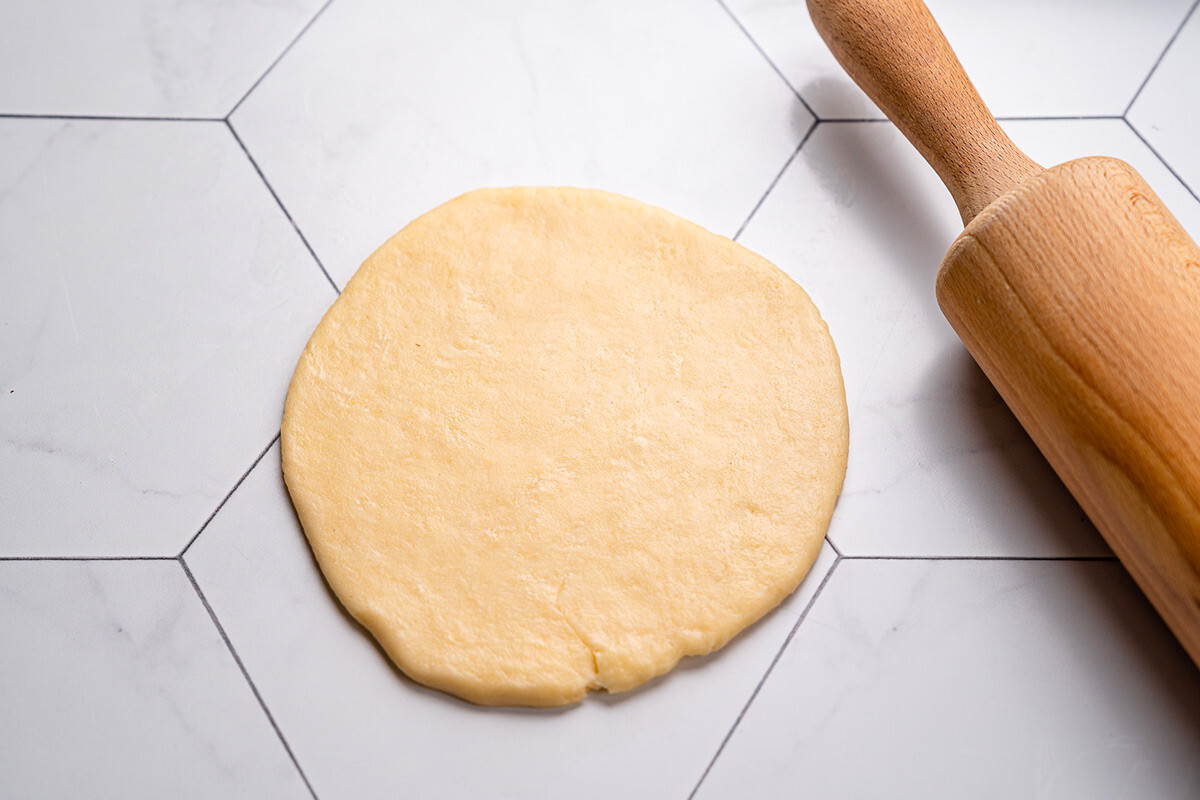 Yulia Mulino
11. Place the filling and a piece of butter on it.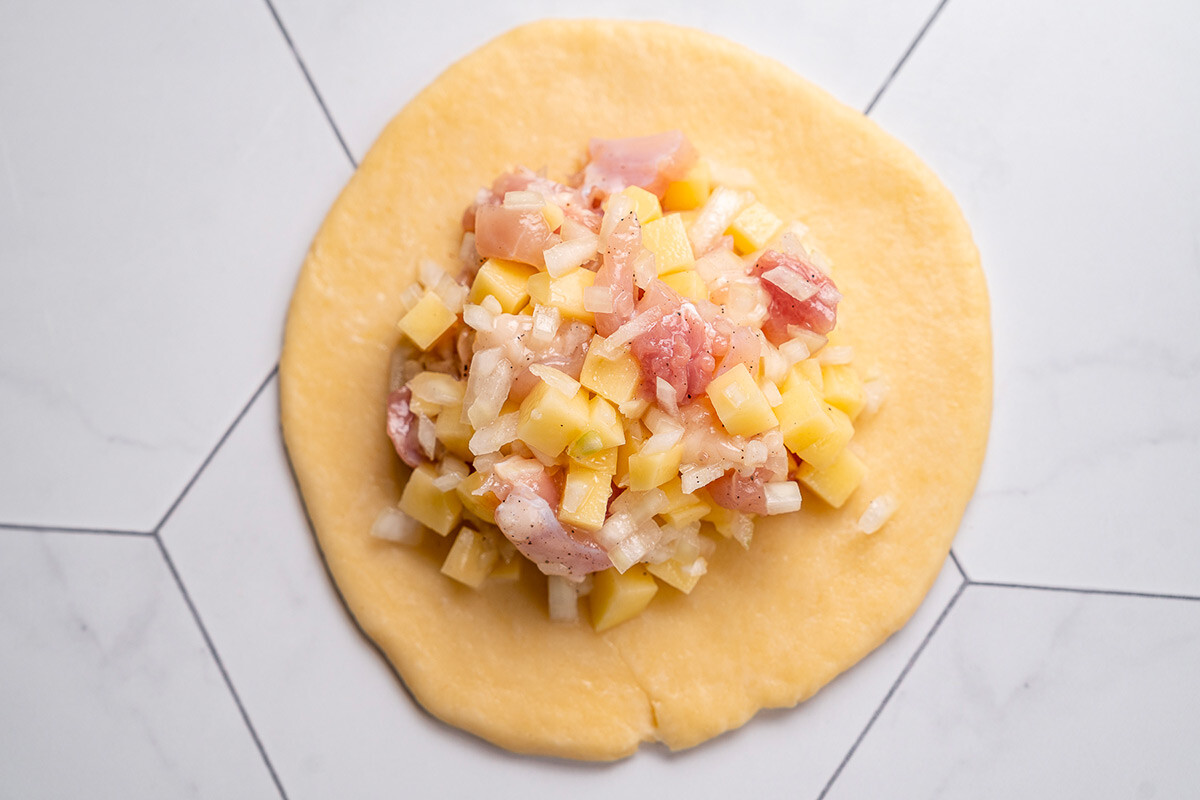 Yulia Mulino
12. Roll out the smaller part of the dough and cover the filling with it.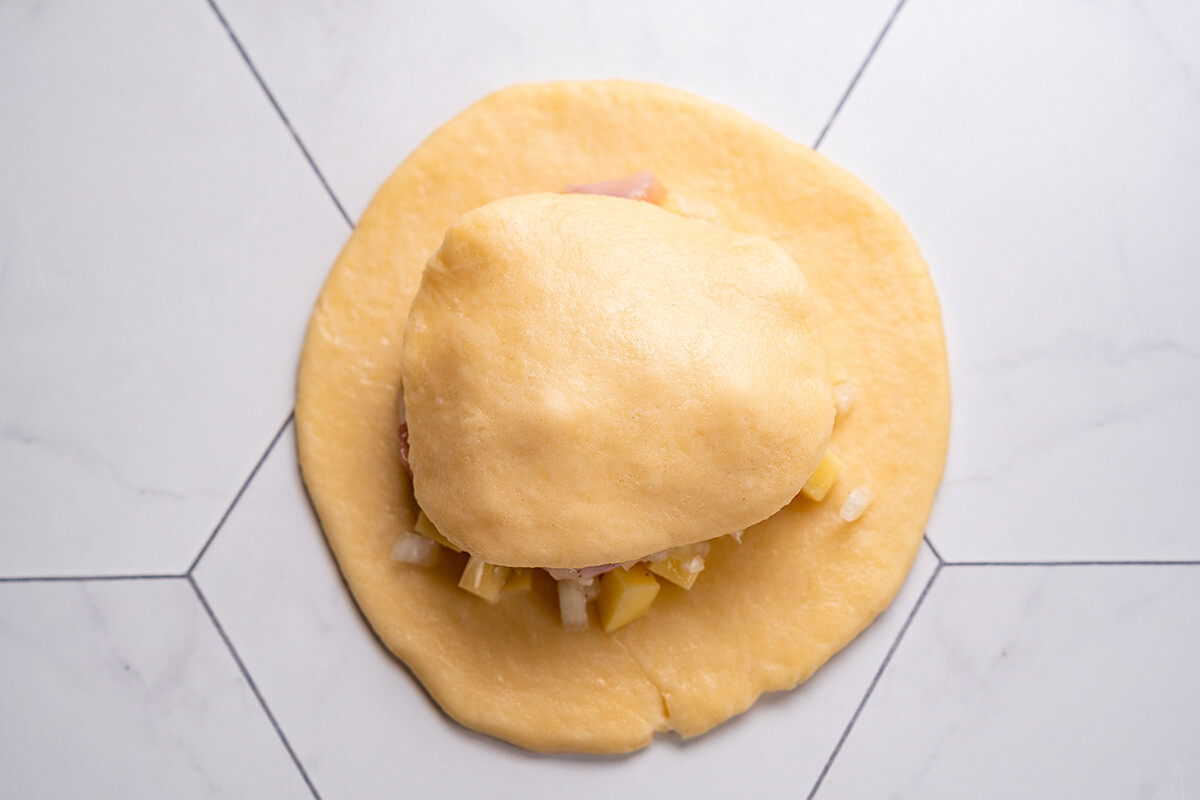 Yulia Mulino
13. Pinch the edges carefully.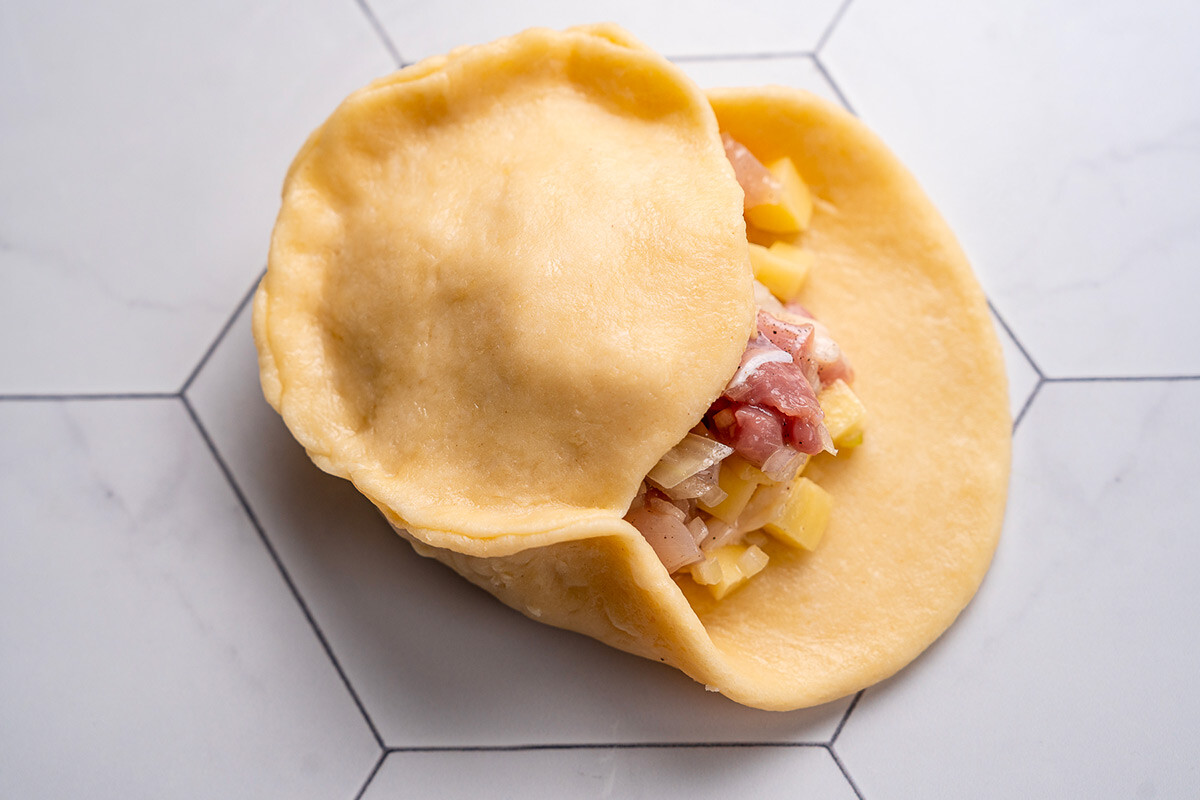 Yulia Mulino
14. Shape the pinch into a wavy shape.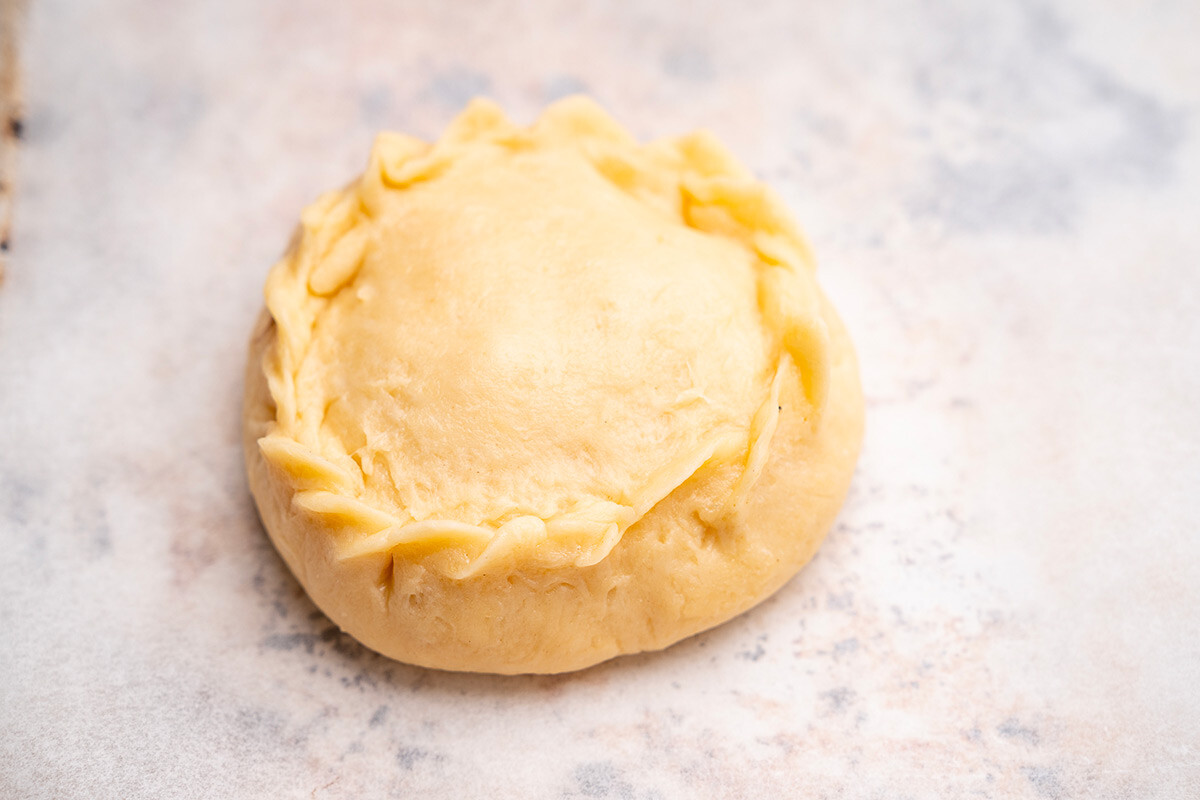 Yulia Mulino
15. Place the pies on a tray with baking paper and put them into a preheated oven at 180℃ for 45 minutes.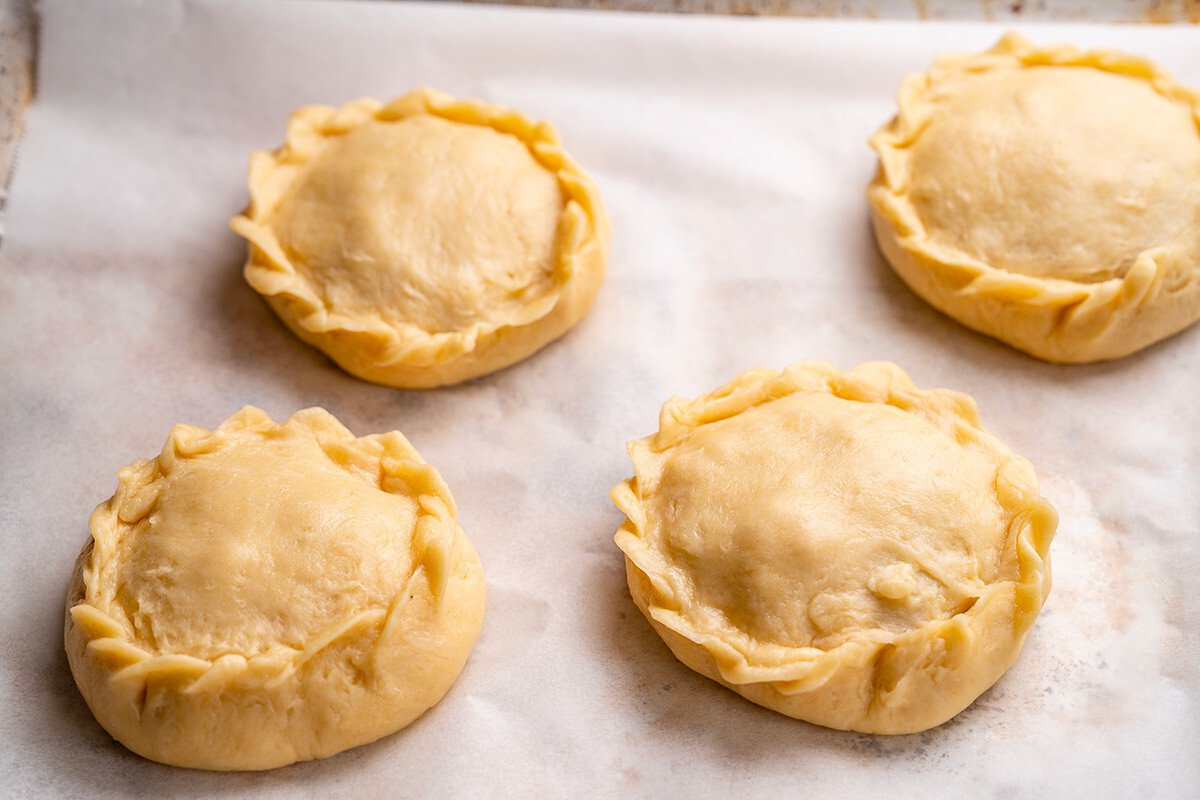 Yulia Mulino
16. The pies should become brown.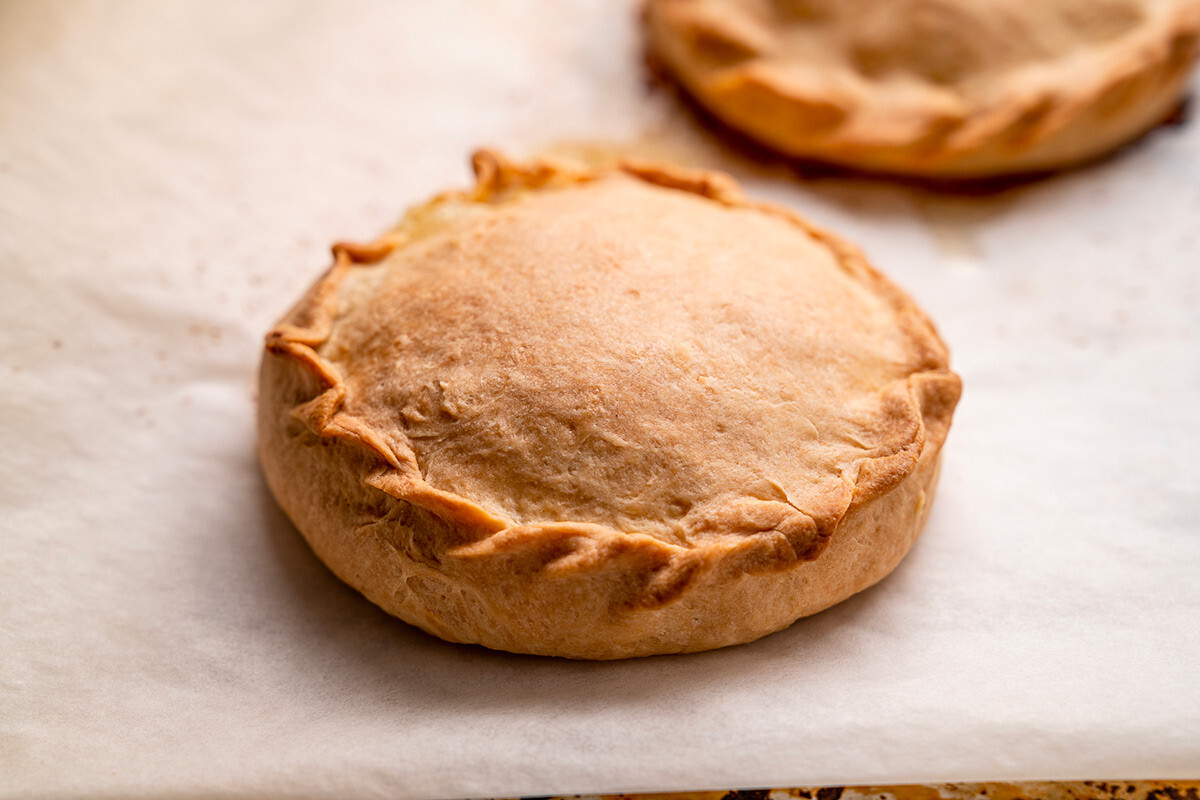 Yulia Mulino
17. Brush each pie with melted butter.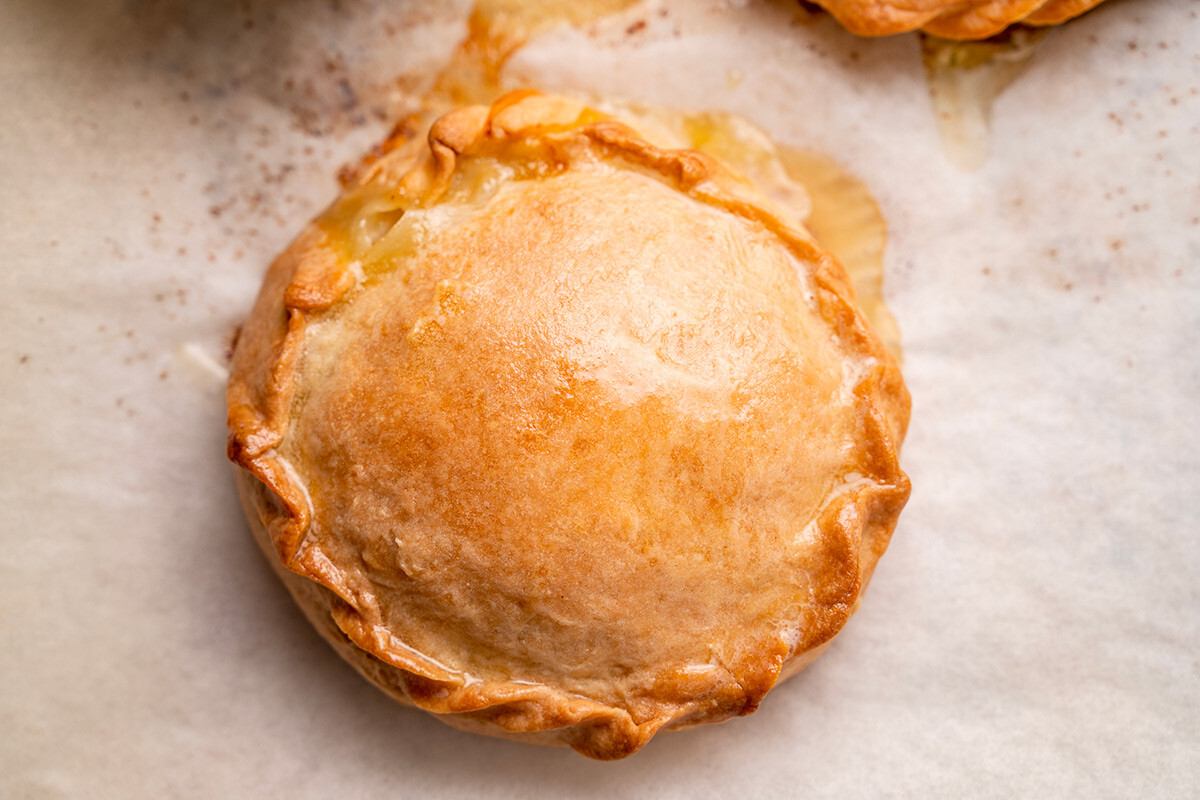 Yulia Mulino
18. The patties are ready - serve them hot.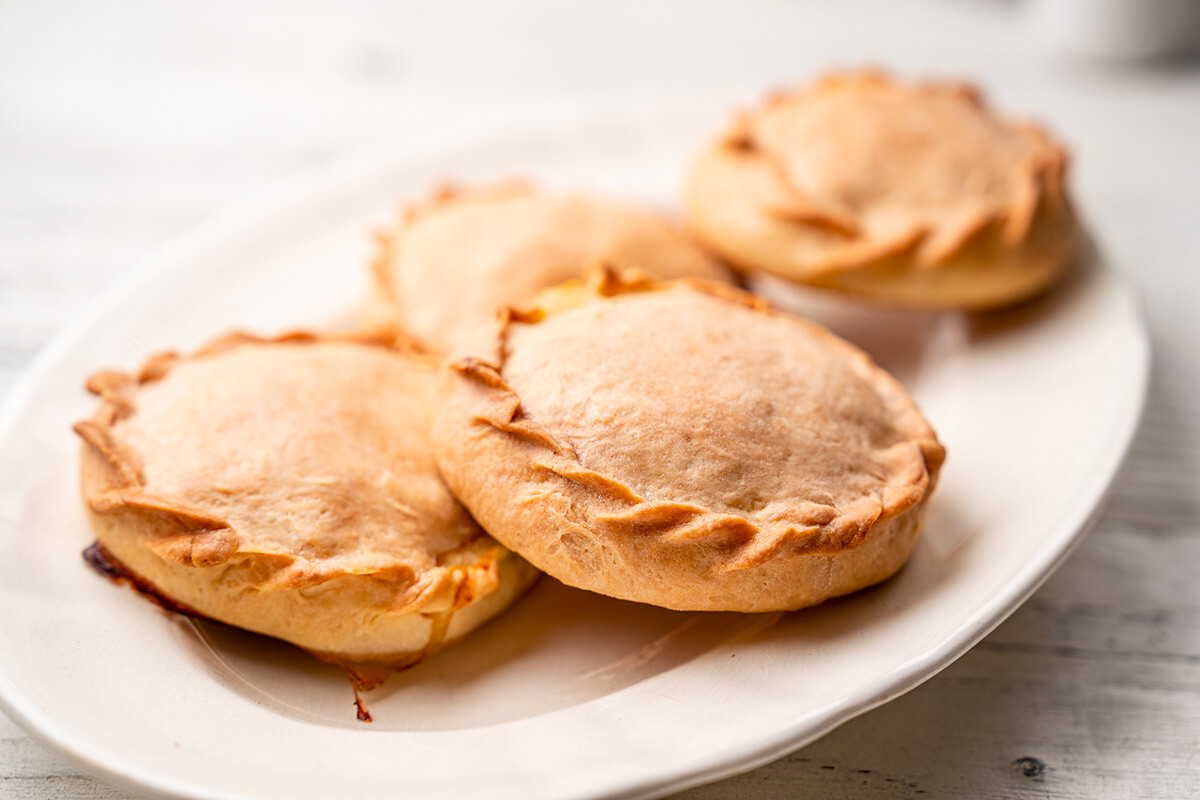 Yulia Mulino
19. Enjoy!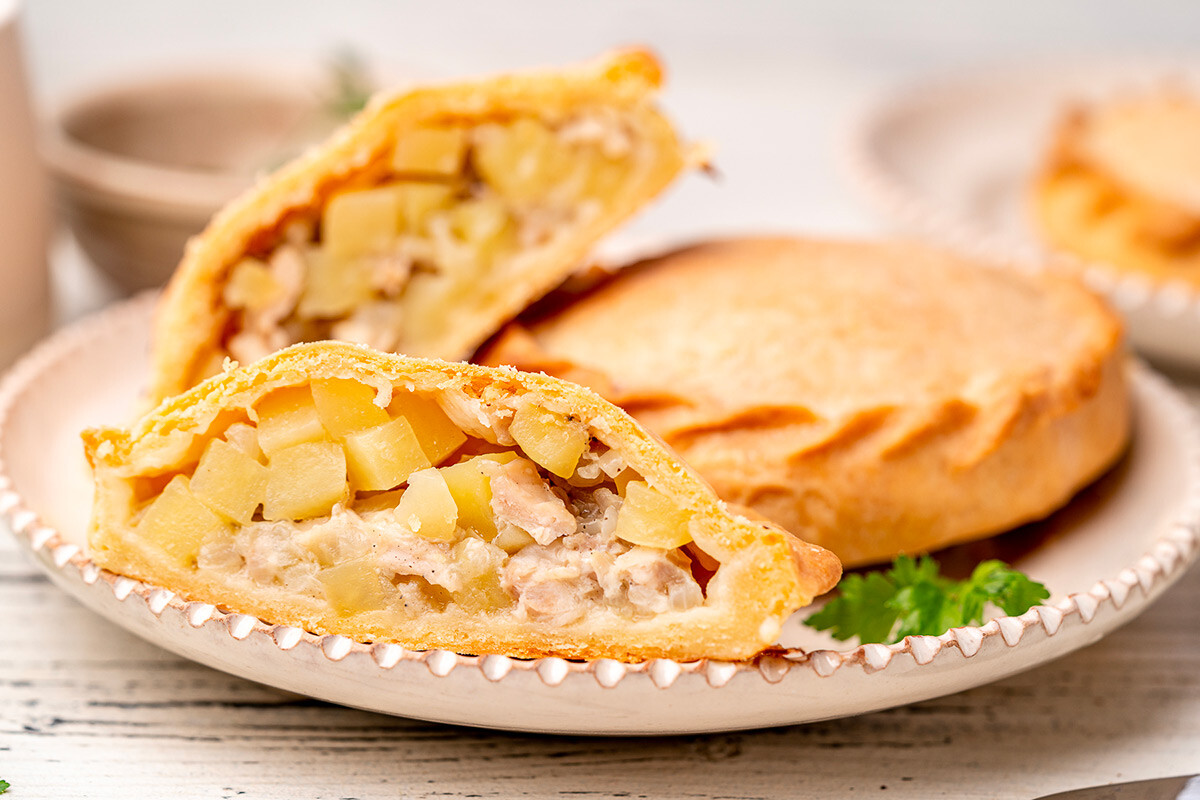 Yulia Mulino
Dear readers,
Our website and social media accounts are under threat of being restricted or banned, due to the current circumstances. So, to keep up with our latest content, simply do the following:
Subscribe to our Telegram channels: Russia Beyond and The Russian Kitchen
Subscribe to our weekly email newsletter
Enable push notifications on our website
Install a VPN service on your computer and/or phone to have access to our website, even if it is blocked in your country
If using any of Russia Beyond's content, partly or in full, always provide an active hyperlink to the original material.