SCO could help improve India-Pakistan ties - Russian expert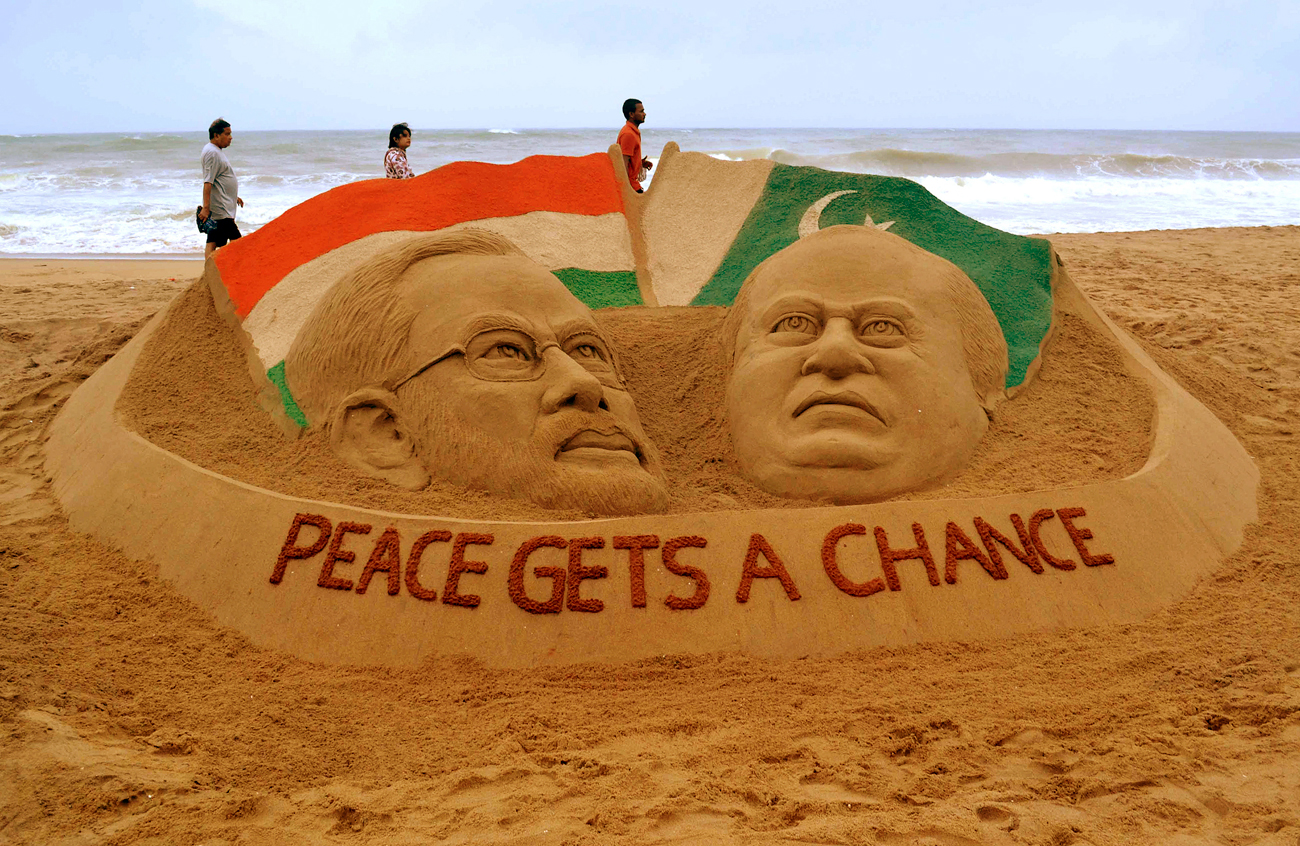 People stroll past a sand sculpture of Indian Prime Minister-designate Narendra Modi (L) and Pakistan's Prime Minister Nawaz Sharif, created by Indian sand artist Sudarshan Patnaik on a beach in Puri, in the eastern Indian state of Odisha, May 25, 2014.
Reuters
Petr Topychkanov talks to RIR about the SCO, Russian concerns on terrorism, and the relationship between Narendra Modi and Vladimir Putin.
Full membership of the Shanghai Cooperation Organization (SCO) could bring a host of benefits for India and Pakistan, Topychkanov, South Asia expert and Associate in the Carnegie Moscow Center's Nonproliferation Program told RIR in an exclusive interview.
"This organization can provide you a platform for bilateral dialogue and also to help you to understand, experience confidence building measures on borders," Topychkanov said.
He cited the example of agreements that China signed with Russia and Central Asian republics on the transparency of the deployment of conventional forces on borders.
"I believe that if India and Pakistan or China agree on such confidence building measures, it would be helpful and the SCO could help the countries enforce these agreements… and then help them achieve something more at a bilateral level."
India and Pakistan are in the process of becoming full members of the SCO. The organization presently has Russia, China, Kazakhstan, Kyrgyzstan, Tajikistan and Uzbekistan as full members.
Topychkanov added that the Indian and Pakistani armies would participate in SCO military exercises. "They should take part in drills, trainings, data sharing," he said. "This would be very helpful for the SCO as well as bilateral dialogue between India and Pakistan."
Russia's concerns on terrorism from Pakistan
While emphasizing the need for good relations between Moscow and Islamabad, Topychkanov said Russia did have genuine concerns about terrorism originating in Pakistan. "We need to have a fair conversation with this country about terrorism, about Pakistan's policy in Afghanistan and many other issues," he said.
Topychkanov said there were cases of Russian citizens, even in the Moscow region, who could have participated in terrorist activities in Pakistan and Afghanistan. He added that Russia was aware that there were more than dozens of groups of Russian citizens who were involved in terrorist activities in the Af-Pak region.
"This threat is growing," he said, adding that these concerns would be raised in the bilateral dialogue with Pakistan.
Moscow still needed a clear Pakistan policy, he said.
He added that Russia had still not articulated its goals, when it comes to Pakistan. "We need to explain to India about what we really want from Pakistan," Topychkanov said.
Putin-Modi relationship
Vladimir Putin told reporters last year that Indian Prime Minister Narendra Modi was a "personal friend" of his. However, media reports speculate that the leaders, who many consider to have similar styles of governance, don't have a personal chemistry.
While insisting that the relationship between the Russian and Indian leaders is good, Topychkanov said their approaches to diplomacy were different, since Modi was a relative newcomer to the world of international affairs and Putin was a veteran. This could be why there isn't a better personal chemistry between the leaders, Topychkanov said.
"There is a gap between them," Topychkanov added. "Culturally and politically Prime Minister Modi's diplomatic approach is popular in the West… His interaction with people, op-eds in newspapers, using social media… This is not popular with Vladimir Putin, as he prefers more traditional ways to cooperate with leaders."
Putin's annual summit with Modi is likely to be held immediately after the BRICS gathering in Goa.
Topychkanov does not place very high expectations from the visit but said he believed that there would most likely be agreements in traditional Indo-Russian niches like defense and nuclear energy.
The expert added that the way ahead for ties between the long-term allies "is to improve soft power, people-to-people, business-to-business and politician-to-politician relations."
The article is abridged. Read the full version at ASIA.RBTH.com.
All rights reserved by Rossiyskaya Gazeta.