'New Soviet' recipes offer a new twist on the classics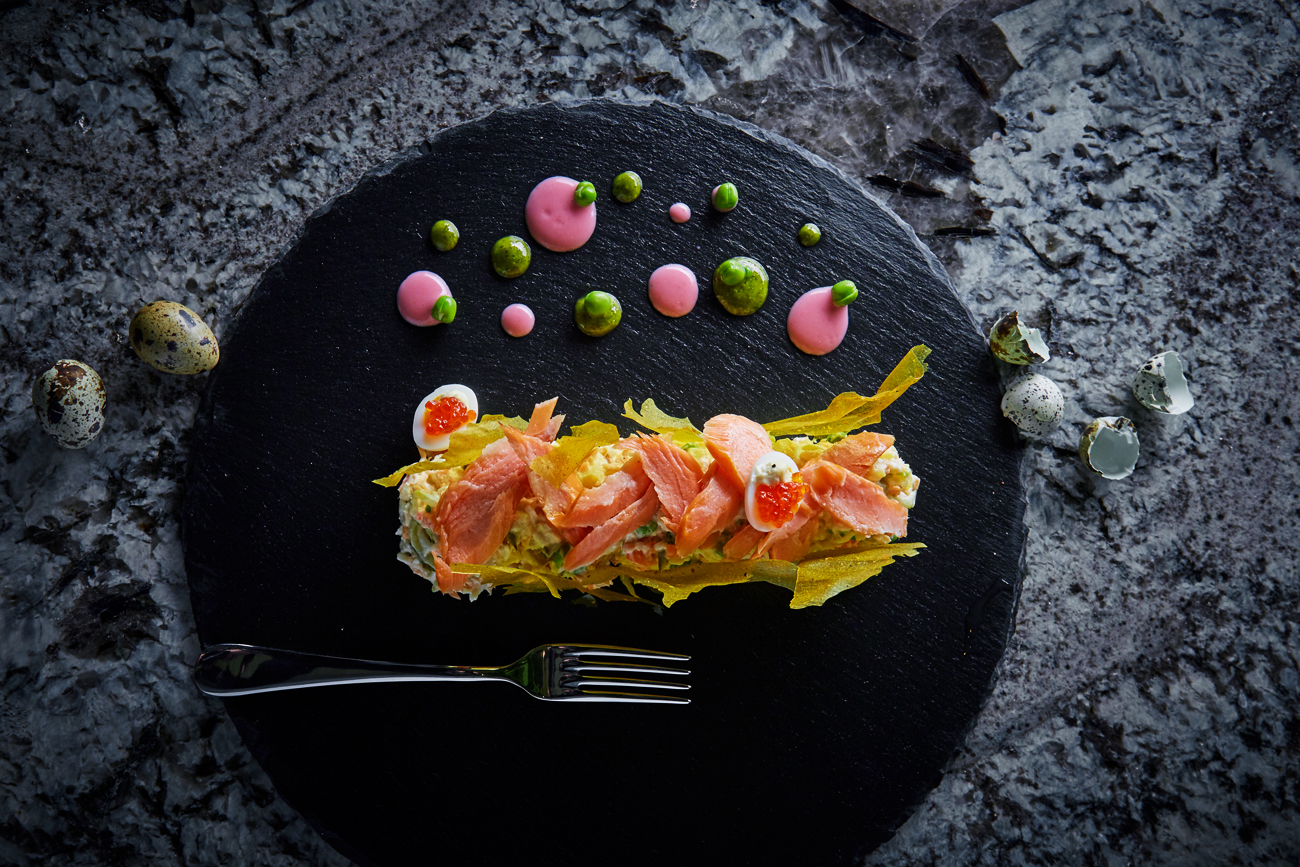 Mimosa salad got a makeover with help from the latest culinary trends.
Moscow Sky cafe
Contemporary Russian chefs are taking liberties with much-maligned Soviet classics, establishing a new trend from recipes associated with an era when creativity was born from necessity.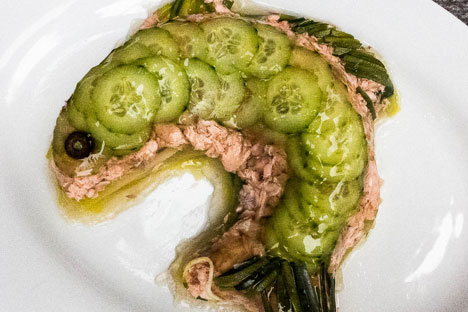 The hallmark of Soviet cuisine was its simplicity and flexibility. Home cooks could never be assured of finding the same ingredients twice, so nearly every mother and grandmother had her own take on the basic soups, salads and aspics of the Russian diet. This personalization also contributed to the nostalgia associated with Soviet food - prepared the right way, it can take you back to your grandmother's kitchen.
Today, however, modern Russian chefs are taking classic Soviet recipes and combining them with the latest culinary trends. This "new Soviet" cuisine features such dishes as herring under fur coat in maki roll form; beef stroganoff prepared in individual pots and Olivier salad with pastrami or grouse (as in its pre-Revolutionary version).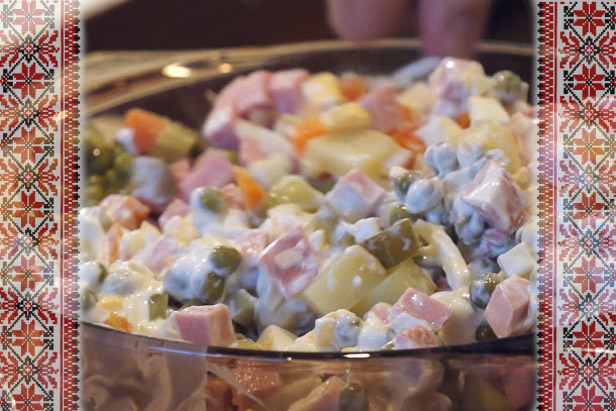 The Moscow Sky cafe, which opened in the beginning of 2016 in a refurbished historic pavilion at VDNKh is a pioneer of this "new Soviet" cuisine. Here guests can see for themselves that the Soviet culinary tradition is full of surprises that can rival those of Italian and French cuisine.
Moscow Sky's chef, Evgeny Khaleev, offers his recipe for a mimosa salad quite unlike that found on holiday tables of the past.
Mimosa salad
This recipe includes red sockeye salmon caviar, which is not so common. In Russia, the sockeye salmon is found only in the rivers of Kamchatka. Its caviar is more fine-grained and has a saturated red color and differs in taste from any other caviar of the salmon family. If you can't find red sockeye salmon caviar, any other fine-grain caviar can be used as a substitute.
To prepare each sauce, add all ingredients to a food processor or blender and mix until smooth.
The salad is originally flavored with breadcrumbs made from Borodino bread (dark Russian bread). To make them, sprinkle the bread slices with chopped garlic and salt, simmer in a pan with butter, then crush with a food processor.
How to make it:
Ingredients (for four portions)
100 g smoke-cured salmon
120 g potatoes
125 g celery
100 g carrot
40 g green peas
1 chicken egg
4 quail eggs
80 g pickled cucumbers
20 g spring onion
Salt, pepper, greens — to taste
1. Boil the carrot and dice it.
2. Bake the potatoes in a large amount of salt. Prick the skin before baking. When the potatoes are cool, peel and dice them.
3. Parboil the green peas in boiling water for 15 seconds; cool.
4. Hard-boil the chicken egg; douse the quail eggs into the boiling water for 100 seconds and cool immediately. Grate both.
For "Mimosa" sauce:
120 g cream cheese
240 g mayonnaise
8 mL soy sauce
80 g sweet chili sauce
20 g wasabi
5. Dice the celery.
6. Grate the pickled cucumber.
7. Chop the spring onion and the greens.
8. Cut the salmon into medium pieces.
For red cabbage sauce:
1.2 kg red pickled cabbage
40 g garlic
240 mL flavorful oil
120 mL red wine vinegar
60 g sugar
120 g mustard
9. Mix together all the vegetables and greens, add the chicken egg, season with 'Mimosa' sauce, salt and pepper, mix well. Put the salad into the serving dish. Lay the fish on top. Dress with the quail eggs, red sockeye salmon caviar, Borodino bread crumbs and the cabbage sauce.
All rights reserved by Rossiyskaya Gazeta.