Vodka, cognac, liquor and cedar nuts are main ingredients in many new Russian coffee drinks. St. Petersburg, however, does it without alcohol.
While coffee culture wasn't born in Russia, there are great new coffee ideas coming out of the country. Sure, we all know latte was invented by Italians, and the Wiener Melange can be found only in Austria. But it's only been about two decades that real roasted coffee has been a common daily drink for Russians, and now they're confident enough to create original recipes.
Moscow: Raf coffee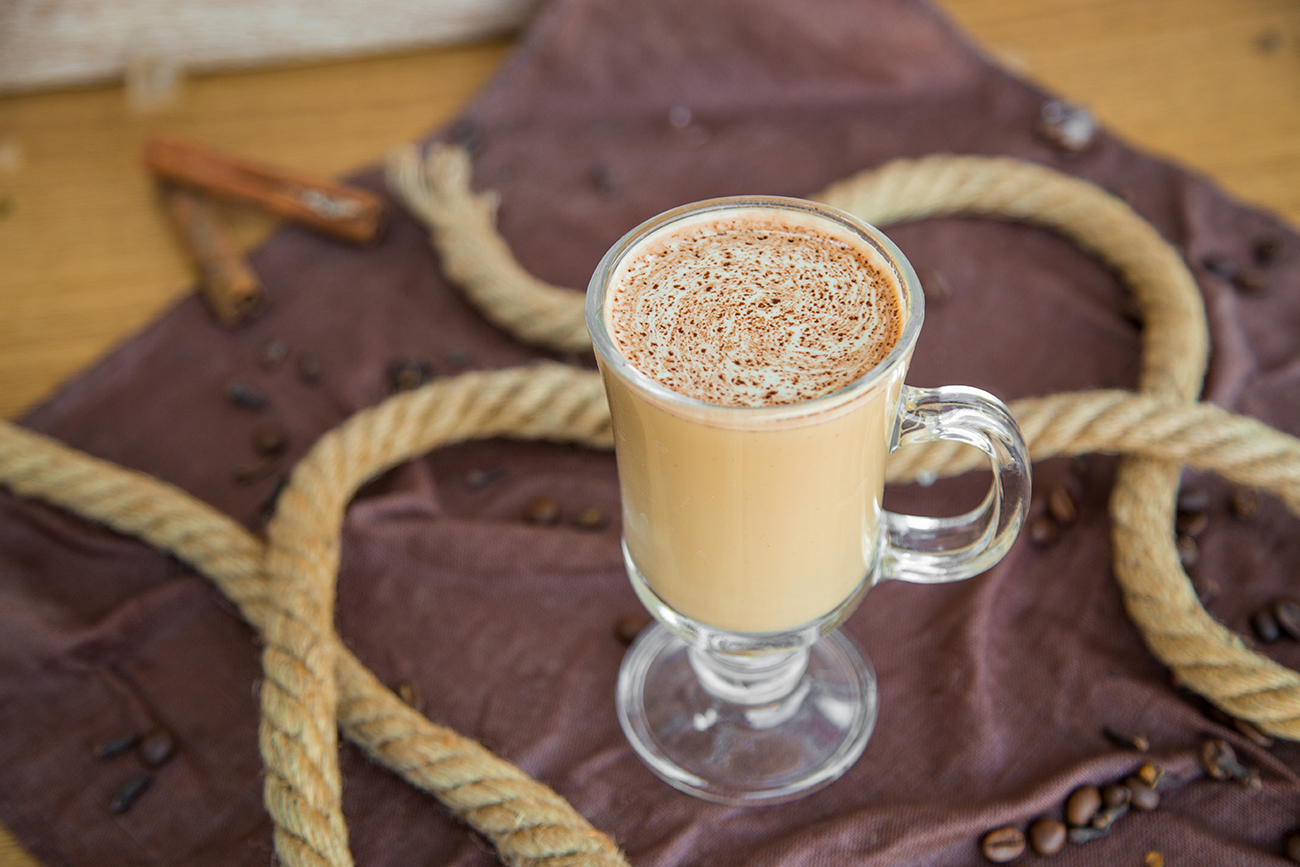 Source: Vostock Photo
Raf coffee is one of the most popular drinks in nearly every café in the Russian capital. Invented circa 1996 at one of Moscow's first cafés, Coffee Bean, the story goes that one of the regular visitors, Rafael ('Raf'), asked for something new, and so the barista came up with a coffee with cream and vanilla sugar. Soon after, other cafés opened in Moscow and they too began making Raf coffee, which differs from other milk and cream coffees because all ingredients are whipped together, not separately, as for example, when preparing latte or cappuccino.
Espresso 25 ml
Cream 10% — 100 ml
Regular sugar – 5 g
Vanilla sugar – 5 g (or a pinch of vanilla instead of vanilla sugar and usual sugar – 10 g)
Heat a cup or a glass and make regular espresso. Pour all components into a pitcher, and whisk. Pour the ready coffee into the cup and decorate with whipped cream. Also, you can top with chocolate chips.
Moscow: Coffee with cognac to improve mood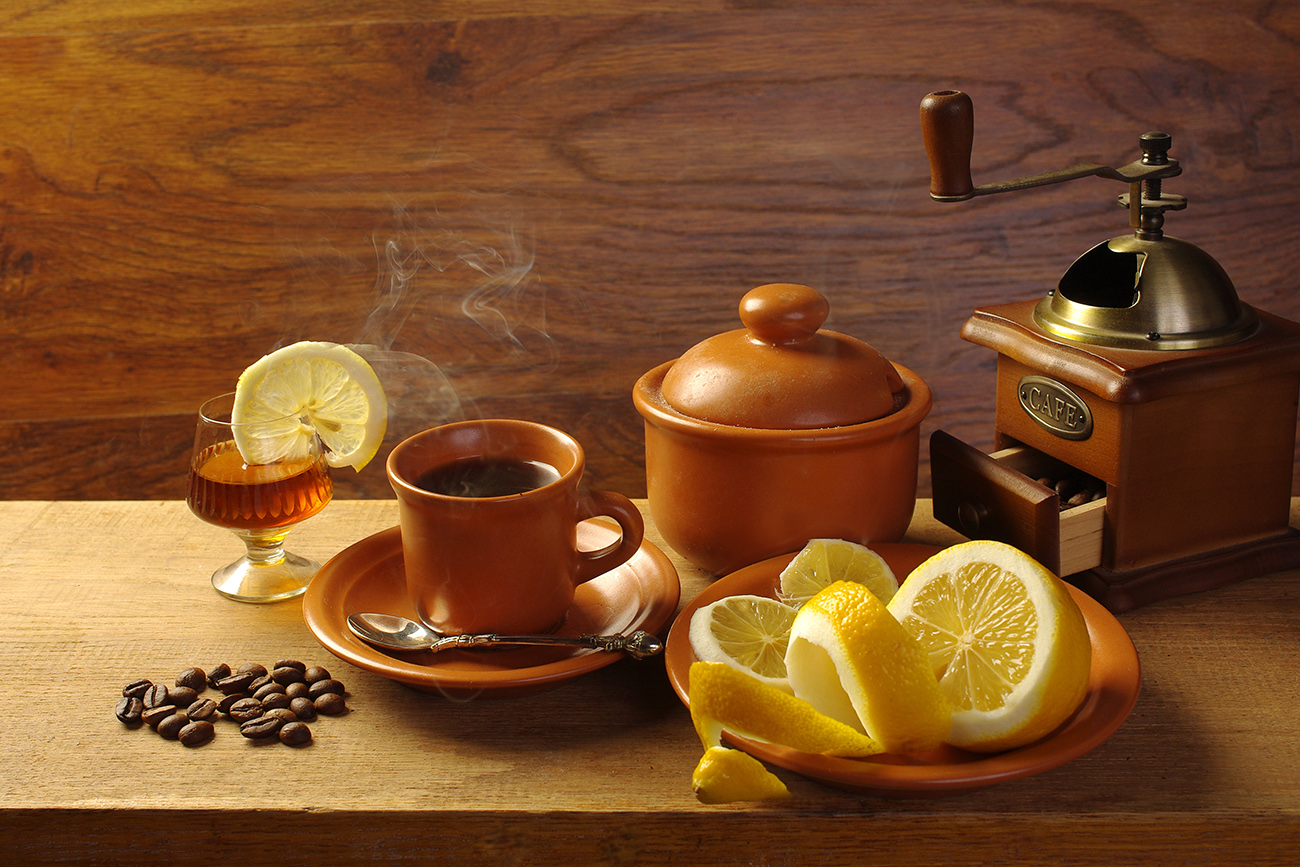 Source: Vostock Photo
To feel Moscow's warm embrace, try this toasty drink. Coffee lovers will enjoy the exquisite combination of lemon, coffee and brandy.
10 g of ground natural coffee
1 cup of water
2 tsp sugar
1-2 tbsp brandy
a slice of lemon
Two pots are need: fill one with water, and heat on the stove. In the other, fry ground coffee. As soon as you sense the slight smell of roasted coffee immediately add boiling water from the first pot and let the coffee to settle and form a crust. Then, pour the cognac and bring to a boil. Serve with lemon and sugar. If you don't like cognac, here's an alternative recipe:
10 g of ground coffee
2 g chicory; 2 tsp sugar
3 tbsp liqueur
juice from half a lemon
Prepare as in the first recipe, but when you feel a slight roasted smell, add chicory and then water. After boiling, add lemon juice. Let sit for 5-10 minutes, and then serve with liqueur and sugar to taste.
St. Petersburg: Coffee with a taste of White Nights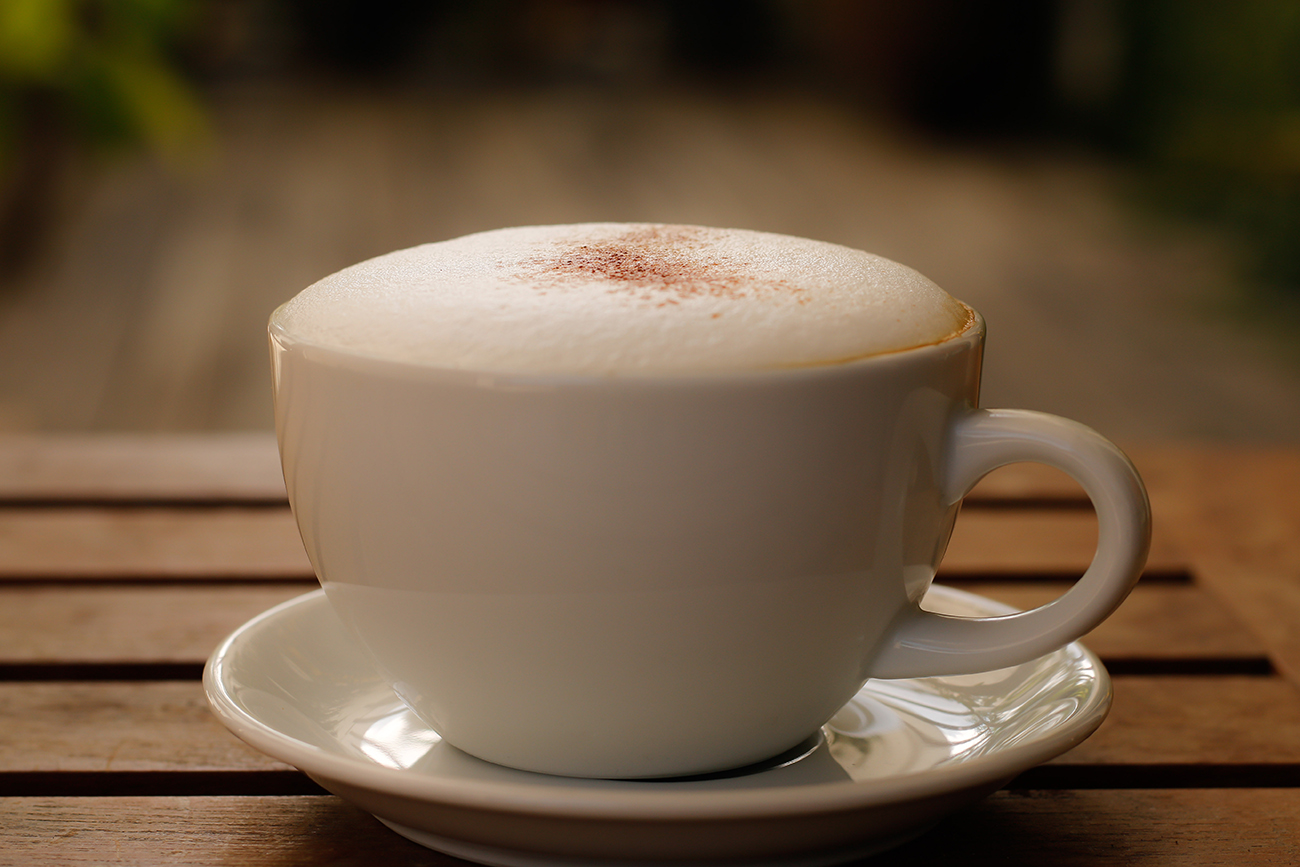 Source: Vostock Photo
This coffee is not very strong, but has a rich flavor, and the milk foam reminds one of the famous White Nights, say the creators. The recipe of this special coffee only officially appeared at the end of June 2017, and was developed by staff at the local Museum of Coffee using historical documents.
18 g of freshly roasted Arabica coffee beans
80 ml of hot water
1-2 tsp of milk foam
First, prepare a double espresso, then add hot water and milk foam, whipped with the help of cappuccino maker, and serve the coffee with a glass of water. "This recipe produces not very strong coffee, but it will have an intense and rich flavor, which is the same vivid and memorable impression that remains after a meeting with St. Petersburg," said the creators.
Siberia: Coffee with pine nuts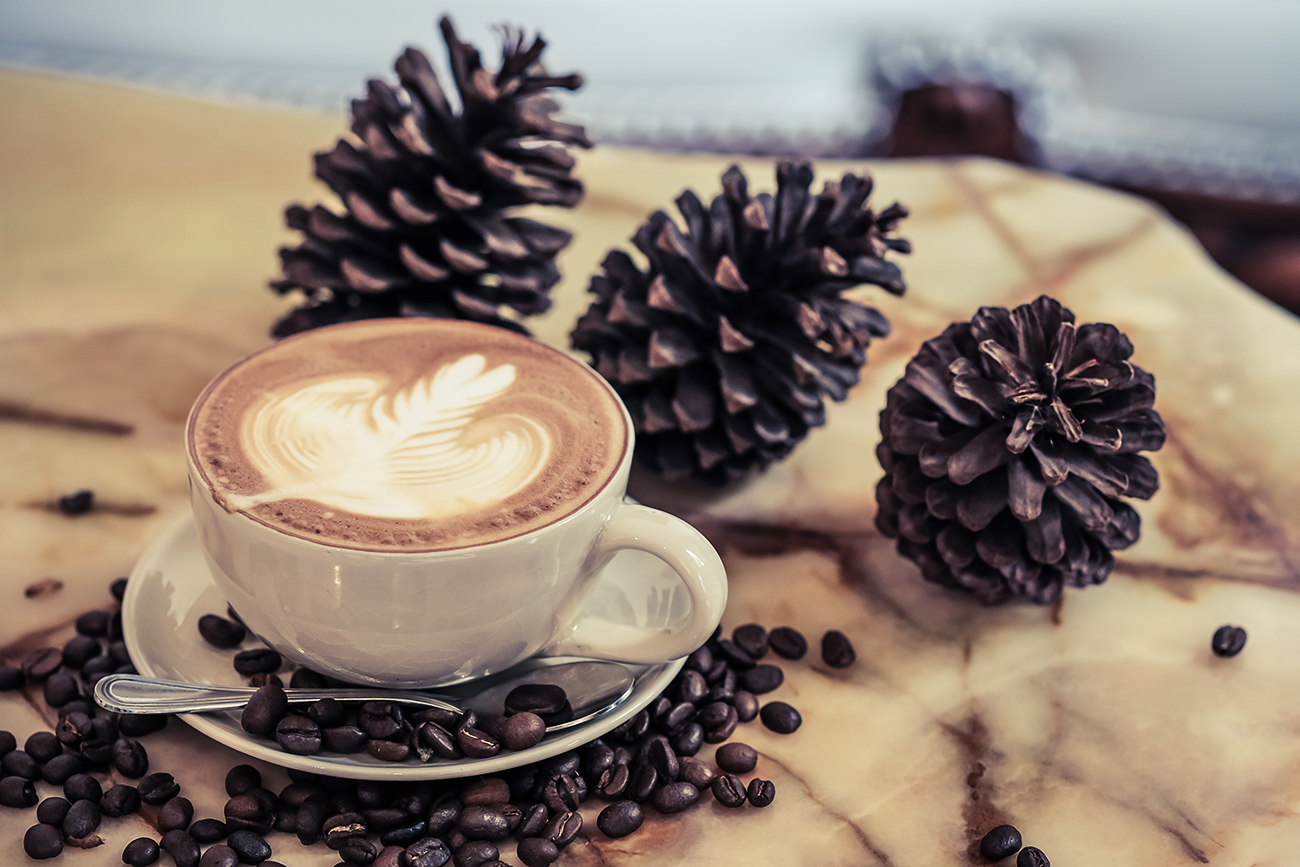 Source: Vostock Photo
Pine nuts contain the true natural power of Siberia, and locals also add them to coffee. For this recipe Arabica coffee beans are ideal.
Arabica – 30 beans
Acorns – 5 beans
5 pine nuts
Water – 200 ml
Linden honey – to taste
Dry and peel pine nuts, and fry the cores until dark in color. Also, fry the coffee beans. Then, grind the nuts and and coffee together, but do not pulverize. Peel the nuts, and mash with a fork or kitchen press. Pour water into the pot and bring to a boil. Then add coffee beans and nuts. Stir. Heat at moderate temperature and prepare for 5 minutes, but avoid boiling. Add nuts and honey, and stir. Cover the pot for a few minutes, and then pour percolated coffee with nuts into thick-walled cups.
The Caucasus: Sweet and strong coffee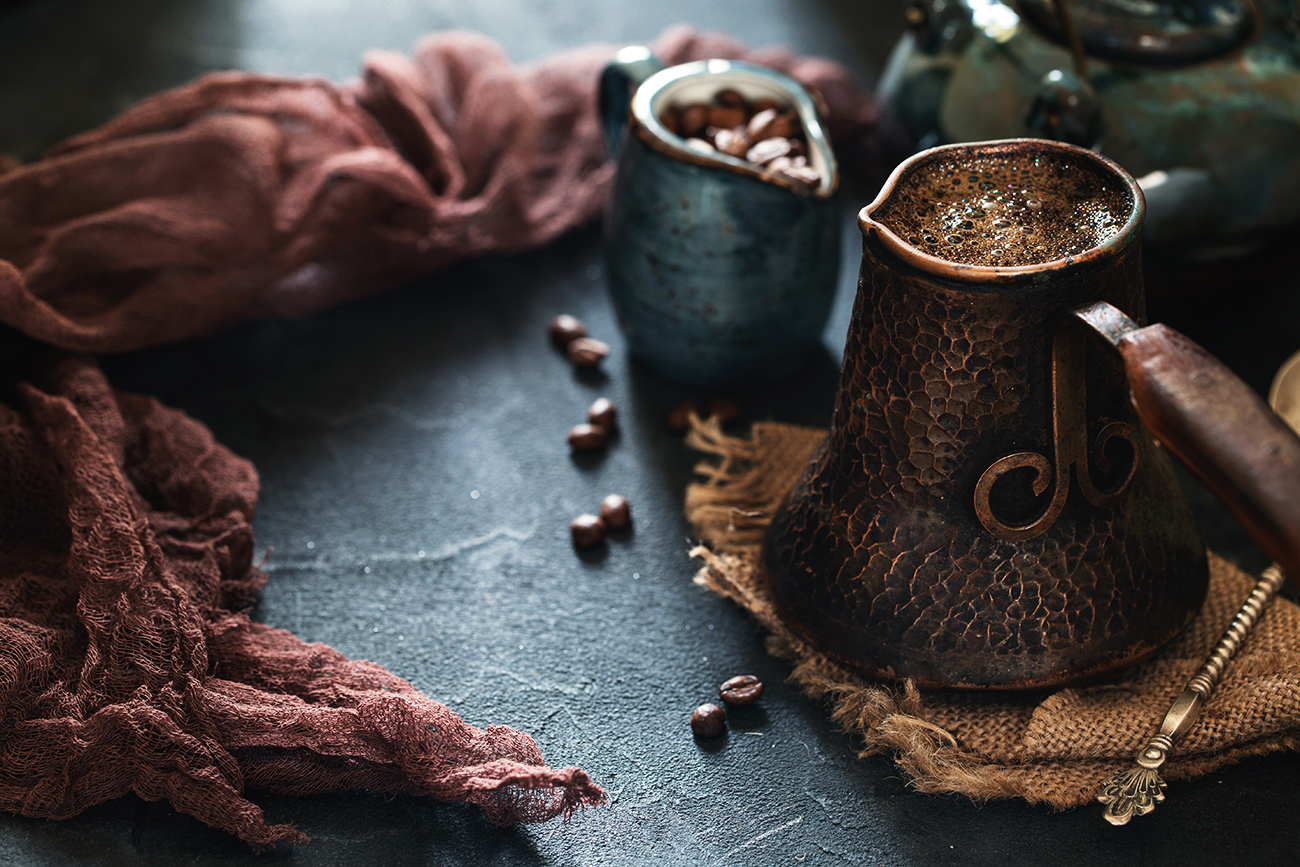 Source: Vostock Photo
In the Caucasus region, coffee is prepared from finely ground beans for better taste.
1 tbsp of ground coffee beans
½ tbsp of sugar
½ cup water
This coffee is handmade. First, pan-roast the beans, and then grind in a mortar. After, start brewing the coffee. Put the mixture of ground beans and sugar in the pot and fill with water. Put the pot on the stove, and boil until you see foam. Do not boil the coffee, otherwise you risk dissipating the flavor.
Russia: Coffee and a glass of vodka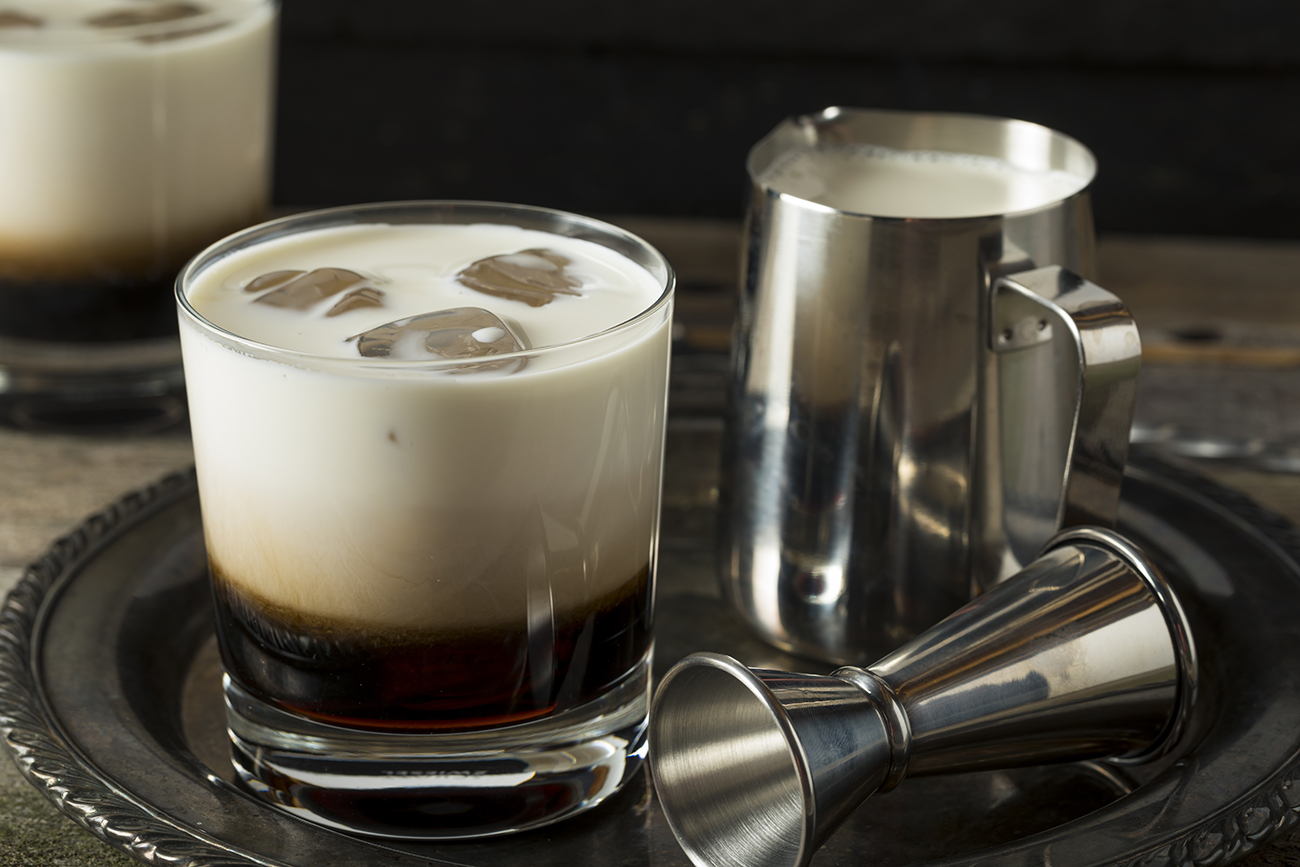 Source: Vostock Photo
In some places abroad you can find an interesting coffee drink. It's called "Russian coffee," although it is not very popular in Russia, we just can't avoid sharing this recipe. By the way, it is uplifting and perfectly removes hangover (but don't drink more than one cup).
½ cup of very hot coffee
sugar to taste
a glass of vodka — 25 ml (1/4 cup)
liquid cream — 25 ml (1/4 cup)
crushed ice — optional
First, prepare strong coffee. Then, add sugar to taste; brown sugar is better. While the coffee is still hot, pour a glass of cool vodka in the cup. If you want to serve this drink the original way, then pour into a faceted glass. Add cream and optional crushed ice.
If using any of Russia Beyond's content, partly or in full, always provide an active hyperlink to the original material.