Why Russians love these heart-shaped cinnamon rolls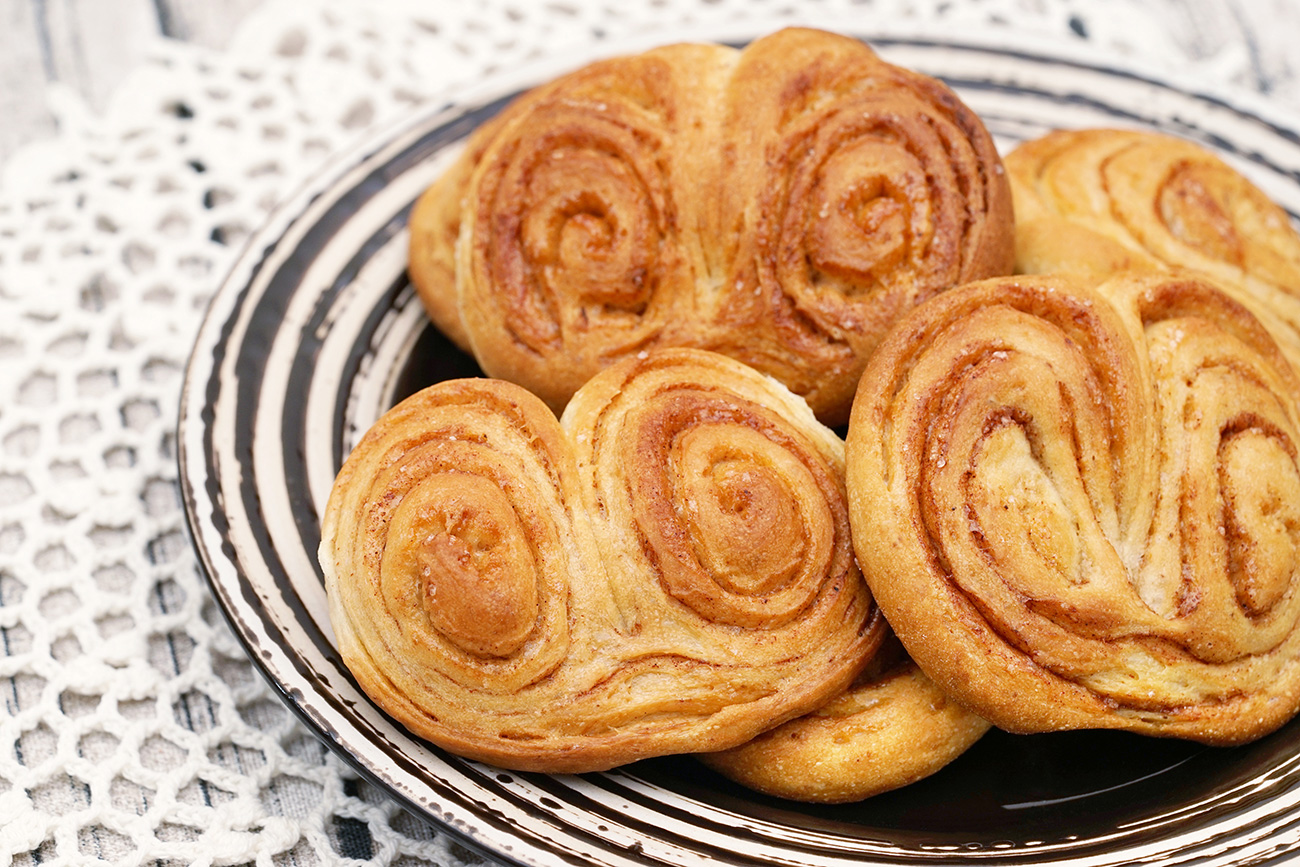 A heart-shaped cinnamon roll is more than just a sweet bun. When baked by grandma, it can inspire Russian children to behave, tidy up their rooms and take out the trash. For grown-ups, it stimulates the appetite and stirs up childhood memories.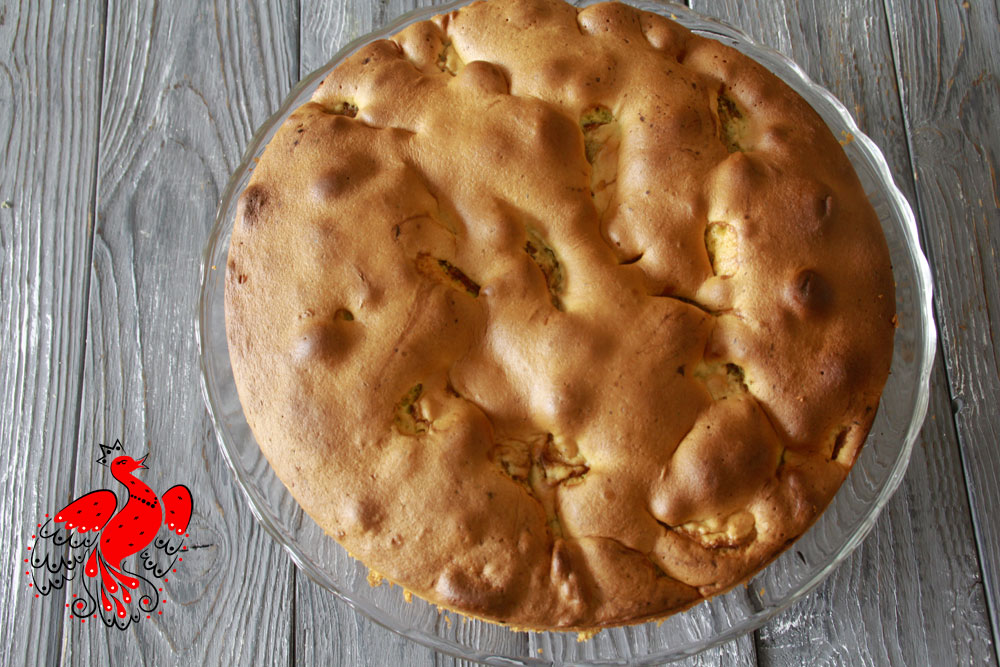 Heart-shaped cinnamon rolls are the easiest and tastiest dish that can be baked with pastry dough. People have been making pastry since Ancient Egypt, and sweet buns are a necessary component of every European cuisine. This is why it is hard to tell exactly when heart-shaped cinnamon rolls first appeared in Russia. Some people believe they are a variation of the ritual buns associated with spring because their heart shape resembles a primitive image of a small bird, the traditional Russian symbol of spring. Others argue that cinnamon rolls became known in Russia only in the 19th century when "Vienna buns" were introduced from Europe.
One thing that can be stated with certainty is that cinnamon rolls have a special place of honor in the tradition of Russian home cooking. So much so that in the Soviet food industry the ordinary pastry roll was known as the "Moscow bun."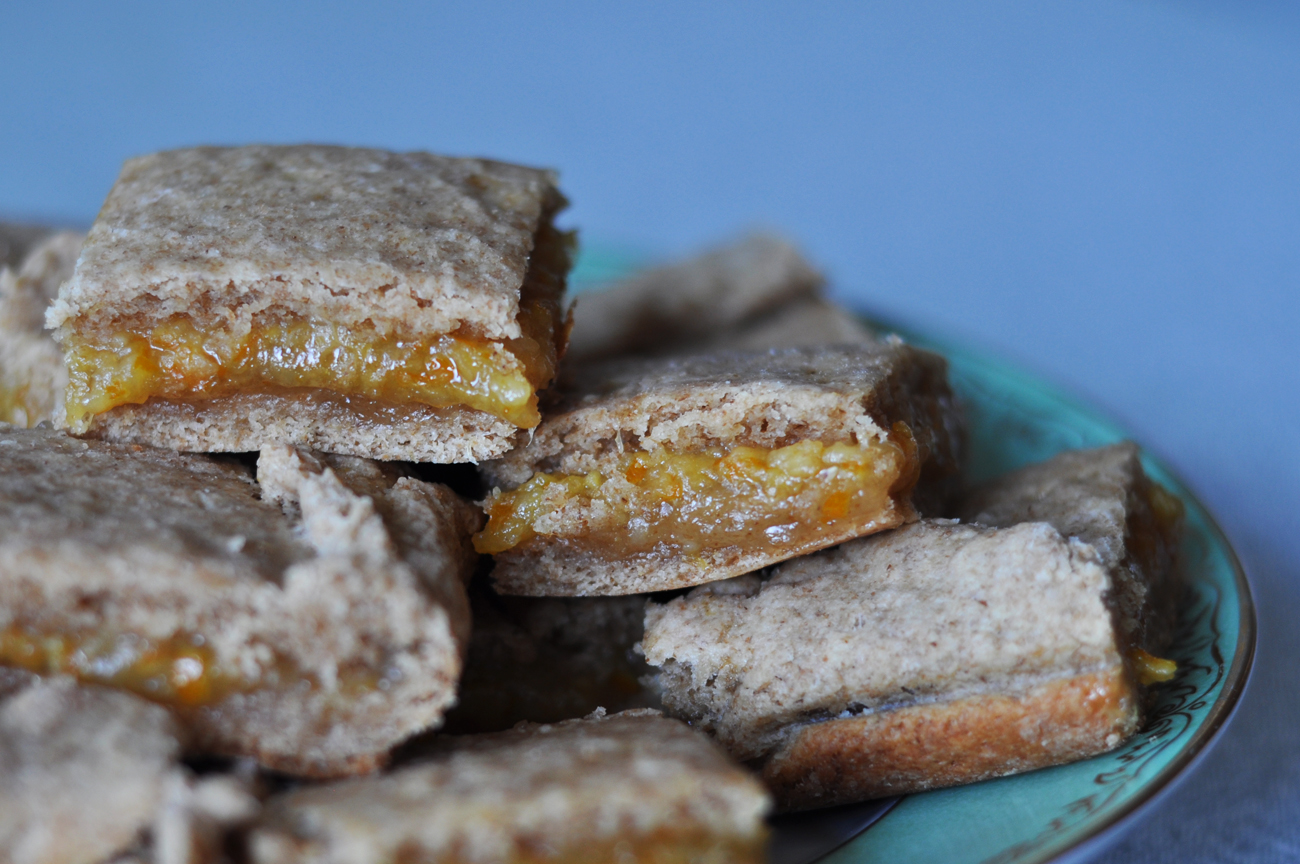 But baking rolls at home merits a special occasion: the process is too complex and the end product is too yummy to bake them on ordinary workdays. Besides, eating pastry every day will certainly cause you to gain extra weight.
This is why the baking of rolls is historically linked to the baking of pirozhki (small buns with various fillings). Soviet families always baked a lot of pirozhki, to both treat themselves and to give handfuls away to relatives and neighbors. This required a lot of dough: two or three liters of milk can make around six kg of pastry. And because the making of pirozhki was most often the prerogative of kind-hearted Russian grannies, some of the filling would inevitably be eaten by impatient kids throughout the process. Or sometimes there might just not be enough of the filling (cabbage, minced meat, or jam) to fill all of the pastry. In order to prevent the remaining portion of the dough from being wasted, it would be made into cinnamon rolls, which was always cause for celebration in the family.
How to make it:
Ingredients:
1 liter milk
200 grams sugar
1 kilogram all-purpose flour
11 grams instant dry yeast
2 eggs
150 grams butter, softened
2 tablespoons vegetable oil
cinnamon
1. Pastry for pirozhki and cinnamon rolls requires a leaven or pre-starter. This gives the yeast a chance to rise prior to adding it to the dense dough (where fermentation is impossible).
To make the leaven, heat up the milk. It needs to be warm but not hot, or you can kill the yeast. Add five tablespoonfuls of the sugar, one packet of instant yeast, and 10 tablespoonfuls of flour. Stir well. The leaven should have the thickness of a yogurt drink. Put a layer of flour on top of the mixture, cover with a towel and leave in a warm place for 30 minutes.
2. As the leaven begins to rise, you will see bubbles form on the surface. This indicates that the yeast is alive and beginning to work. Once the leaven is ready, add 1 egg, 50 grams of softened butter and some of the flour. Start kneading the dough with your hands until it is well combined. Gradually, add the rest of the flour. If you are using flour that is not of particularly high quality, you may find that 1 kilogram is not enough and you may need to add more. The final product should be soft and pliable but dry enough that it doesn't stick to your hands.
3. Shape the pastry into a ball, cover it with a towel and leave in a warm place for 1 hour. This should be enough time for the dough to rise. Punch down the dough with your hands, and leave it to rise for another 30 minutes.
4. Roll the pastry into a tube measuring about 8 centimeters in diameter, then cut it into segments of 7 to 8 centimeters in length.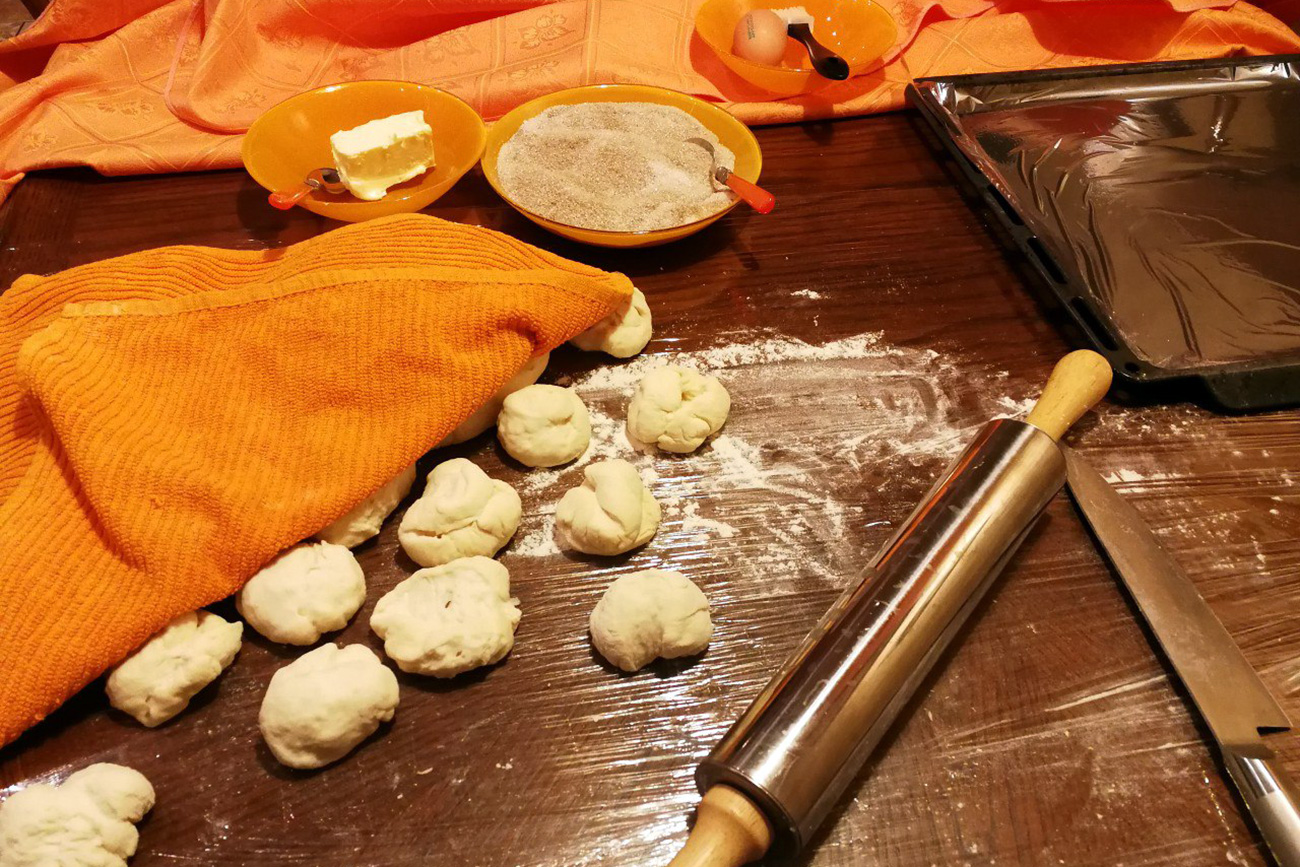 Photo: Alexandra Kravchenko
5. Be sure to cover these segments with a towel while you work because this dough dries out quickly when exposed to air.
6. Make the filling for the rolls. Melt 100 grams of butter in a microwave or water bath. Then, in a separate container, mix the remaining sugar with cinnamon to taste. In a third container, prepare an egg wash by beating the remaining egg with a small quantity of water.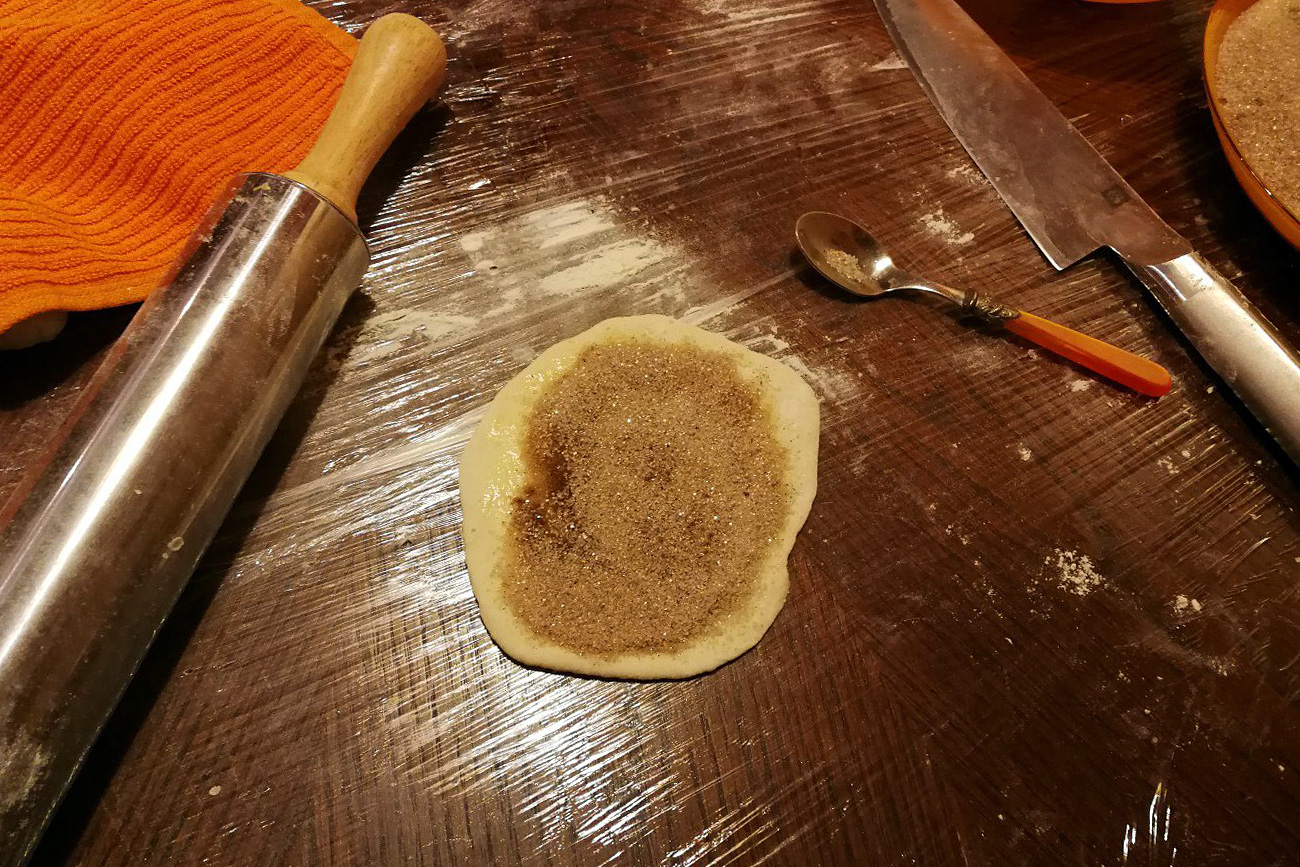 Photo: Alexandra Kravchenko
7. Now you will start making the heart-shaped rolls. Take a piece of pastry from under the towel and roll it out with a rolling pin until it is around 5 millimeters thick. Use a tablespoon to pour some melted butter on the dough, then powder it generously with the cinnamon-sugar mixture.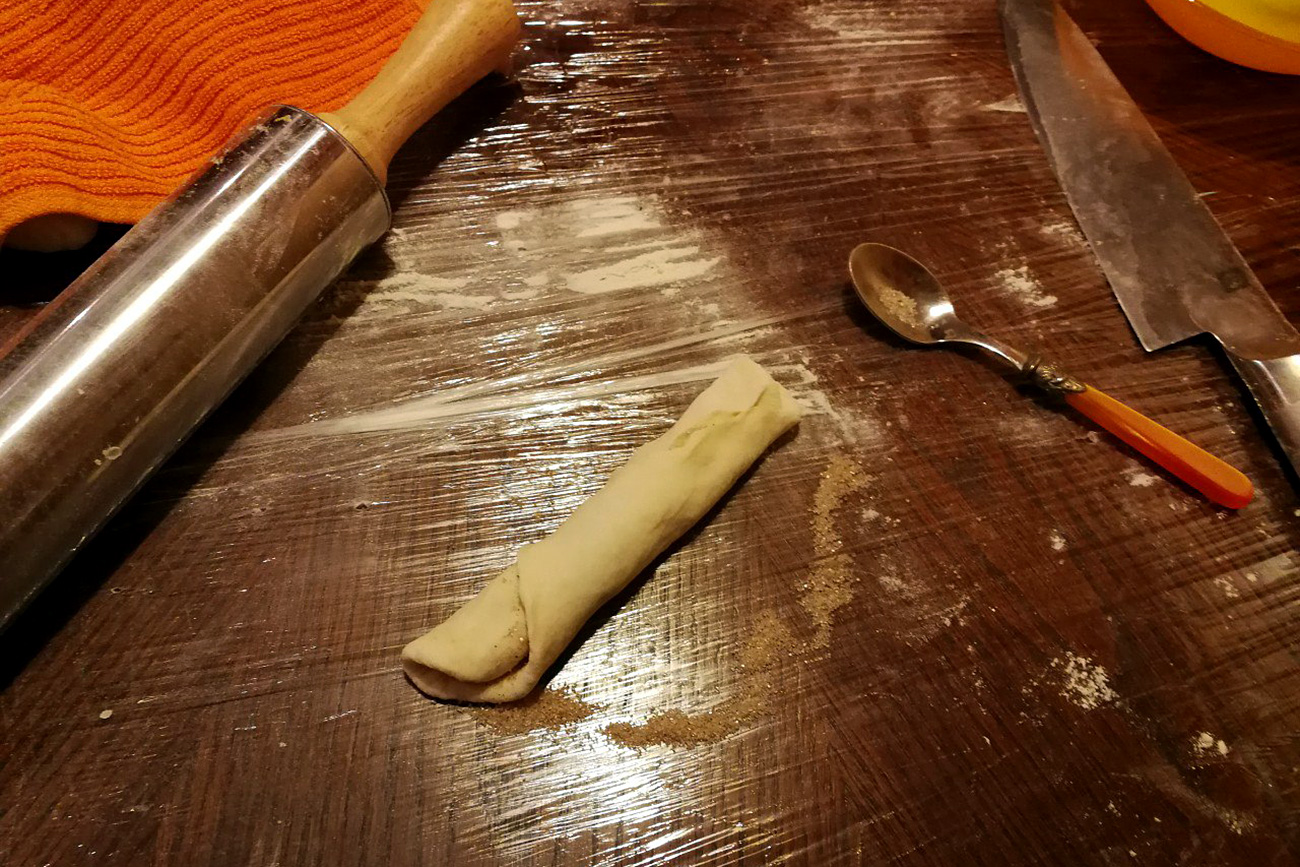 Photo: Alexandra Kravchenko
Roll the dough into a tube, bend it in two and make a cut along the bend.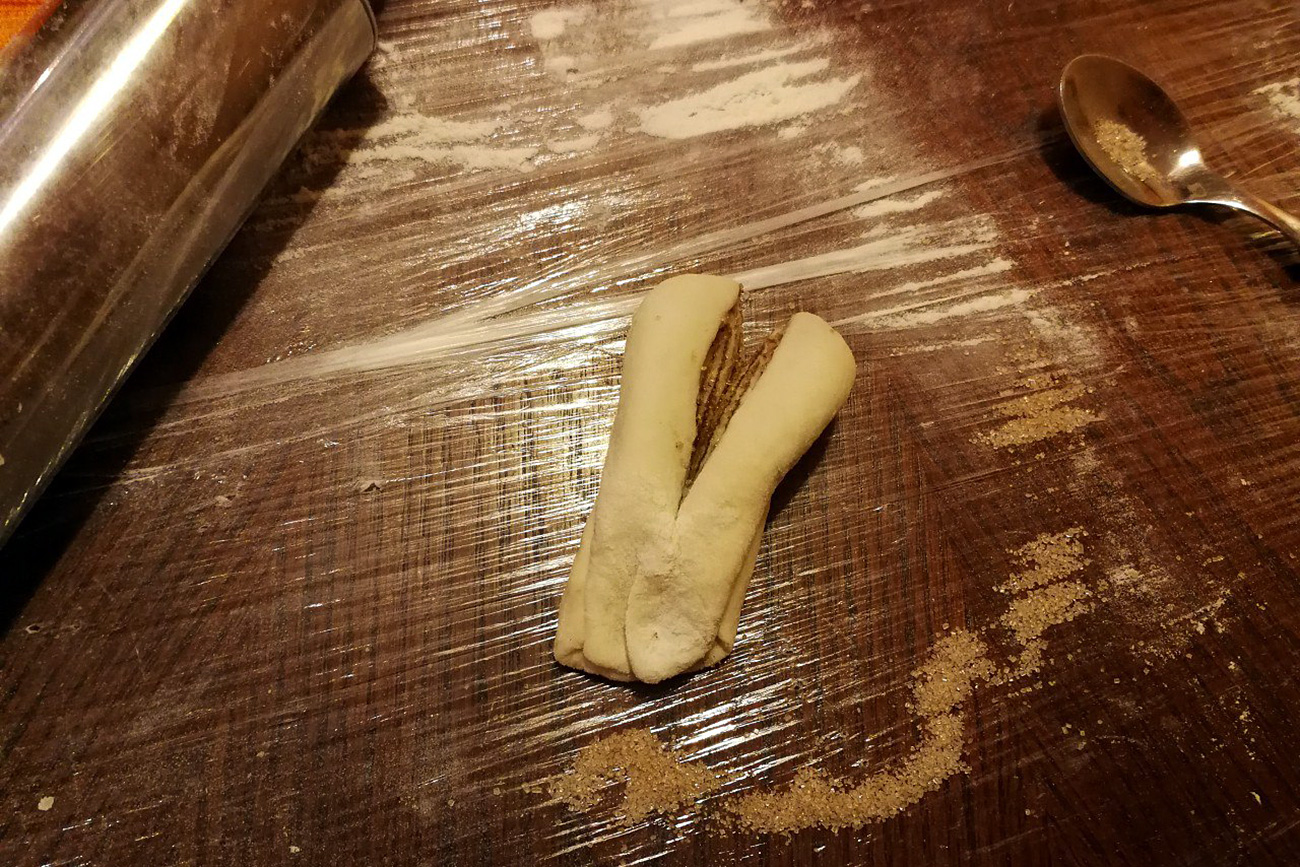 Photo: Alexandra Kravchenko
Unfold the resultant "ears" into a heart shape.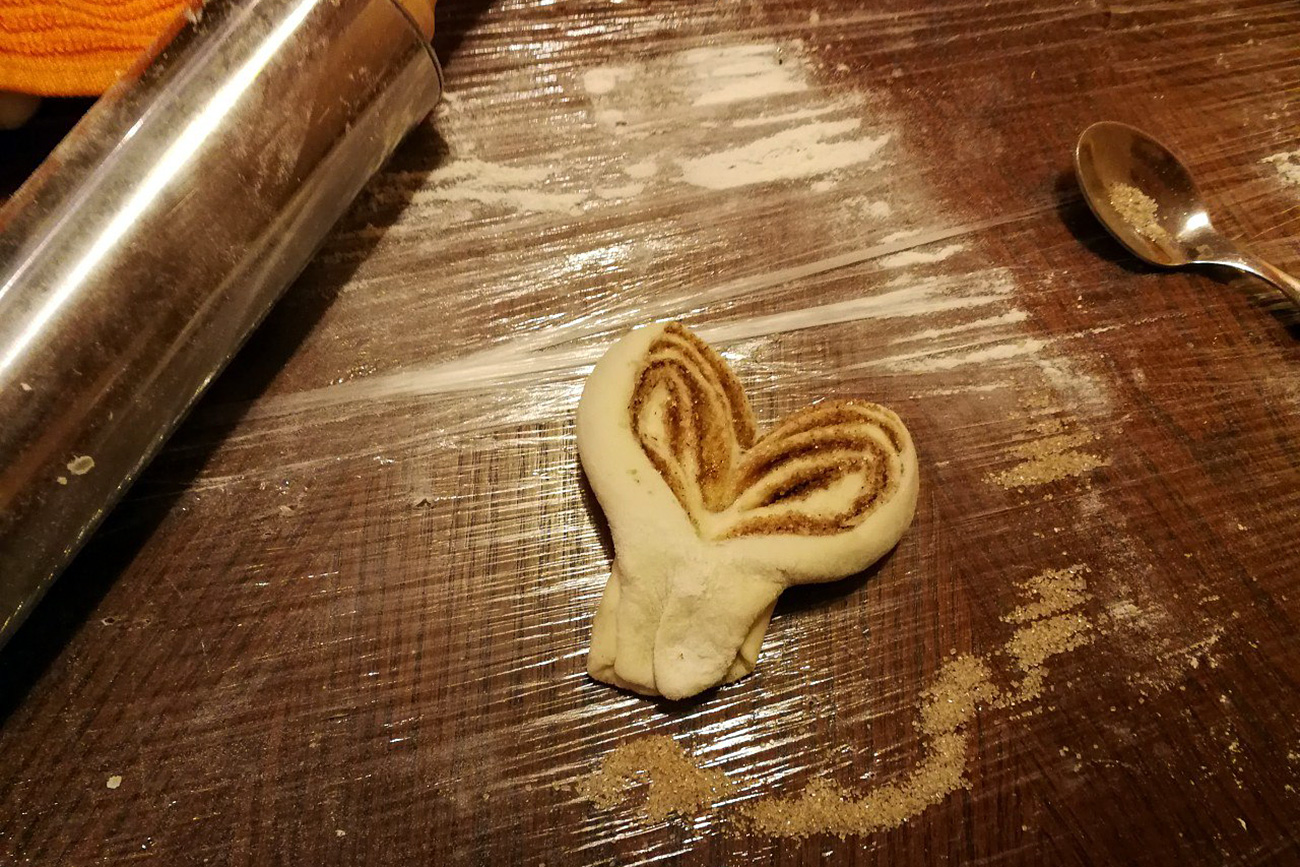 Photo: Alexandra Kravchenko
As you complete each roll, place it onto a baking sheet, covered with baking paper. Use a silicone brush to coat the rolls with the egg wash before baking.
8. Bake your rolls for 15 minutes at 180 degrees Celsius or until the tops are golden brown.
If using any of Russia Beyond's content, partly or in full, always provide an active hyperlink to the original material.