Hot stuff: Elon Musk's flamethrower vs. the Russian military's TOS-1 'Buratino'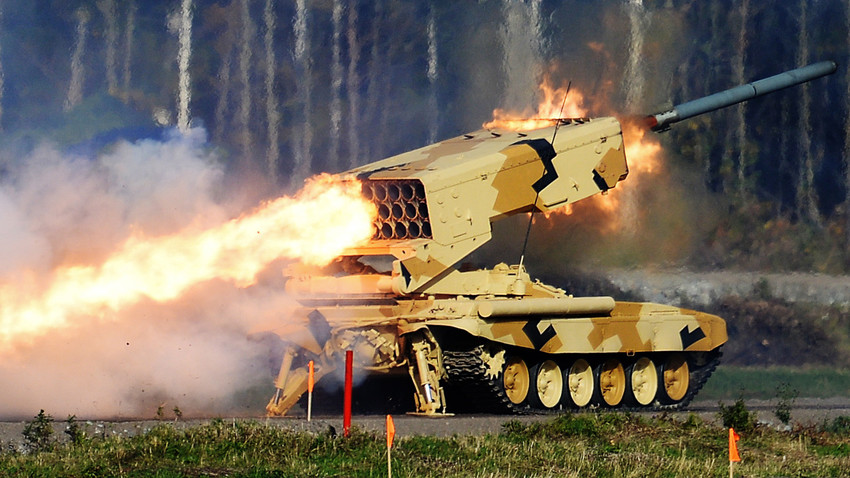 A TOS-1 "Buratino" heavy flamethrower system firing at the 10th Anniversary International Exhibition of Arms, Military Equipment and Ammunition "Russia Arms Expo 2015" on the grounds of the Nizhny Tagil State Demonstration and Exhibition Center of Armament and Military Equipment.
Donat Sorokin/TASS
The world's most famous entrepreneur has shocked the world again, this time with a commercial flamethrower - but how does it stand up to the weapon used by Russian soldiers?
Elon Musk's The Boring Company recently released something to "liven up any party": Flamethrowers. The public can now purchase the weapons but don't worry too much - these bad boys aren't the same as the ones the military use, they're more like giant blow torches.

"The second amendment and state legislation allows U.S. citizens in most of states to own and use firearms for self defense," Viktor Litovkin, a TASS news agency military analyst, told Russia Beyond. "Laws in a number of states even allow people to have flamethrowers."
According to him, Musk's new gun is a commercial product that looks like flamethrowers from computer games and 20th century history books. They're probably good for cooking a steak in your backyard and lighting bonfires...but that's about it.
The difference between a Russian flamethrower and The Boring Company's one
Man-portable flamethrowers have been transformed into huge, mounted systems on caterpillar-tracks capable of scorching everything in their path for hundreds of meters.
The Russian military owns a heavy flame-throwing system - the TOS-1 "Buratino." Named after the fairy-tale character, Buratino, (the Russian version of Pinocchio), this system is able to push its "nose" into any hole, trench, or underground system and torch the enemy.
The TOS-1 "Buratino" is based on the T-72 tank. Instead of a gun mount, however, it features 30 tubes (220 mm caliber) capable of unleashing a hurricane of fire in just a few seconds; the missiles contain a thermobaric mixture that literally smash shelters and troops into smithereens with fire and shrapnel.
Each thermobaric charge in the projectiles creates an "air-mixture cloud" that explodes at temperatures of 3,000 ℃. Run while you can!
If using any of Russia Beyond's content, partly or in full, always provide an active hyperlink to the original material.