Will Russia's 'Terminator' battle machines become fully robotic?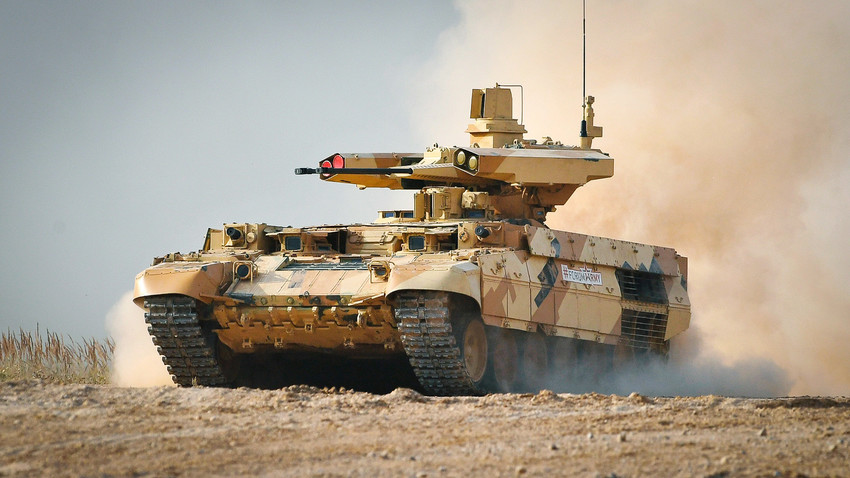 Army engineers have been busy upgrading the 'Terminator 2' and some of it's systems are now remote controlled, making it deadlier than ever.
Russian engineers have started working on the new version of the military's "Terminator-2" tank support machine. These battle wagons have caused quite a stir in recent years and the upgrades are among the most anticipated hardware set to bolster Russia's rank in the near future.
The "Terminator-2" was created as a tank support unit for close urban combat, and have already been successfully baptized in Syria against ISIS militants. But the vehicle's new upgrade - "Terminator 3" - can carry up to four 9M120 Ataka missile launchers, two 30mm 2A42 autocannons, two AG-17D grenade launchers, and one coaxial 7.62 mm PKTM machine gun. As you can see, the T-14 Armata tanks are well covered.
Terminator-3
Engineers from Uralvagonzavod, which created the machine, are currently experimenting integrating unmanned technology into the tank support units.
"At the moment, the Defense Ministry ordered a batch of five-men crew 'Terminators' where soldiers control and unitize every weapon, navigation, or any other system of the machine. But the creators also have a three-manned version of the machine, where a number of functions are operated by computers that can transform the 'Terminator-2' into a remote-controlled turret on a battlefield," Dmitry Safonov, a former Izvestia newspaper military analyst, told Russia Beyond.
According to him, while the remote control operates the machine's gunnery, the crew can focus on entrenching the vehicle in the ground, decreasing its visibility from enemy forces, and ultimately destroying foes with its heavy weapons.
Engineers are even considering making the "Terminator 3" fully robotic, but this won't be happening any time soon. "Fully robotic systems are not only a big technological issue, but also a juridical one. These things will be worked out in coming years," Safonov added.
Engineers are also working on integrating additional air defense systems in further models, as the machines are vulnerable against battle helicopters capable of firing missiles from distances of up to 5 km.
"All these modifications and new models will be presented to the public in the coming decade. As for now, we will be able to see what new was added to the 'Terminators' during the upcoming Army-2018 military exhibition salon in Moscow's suburbs," the expert said.
If using any of Russia Beyond's content, partly or in full, always provide an active hyperlink to the original material.