First photos published of Russia's secret Okhotnik strike drone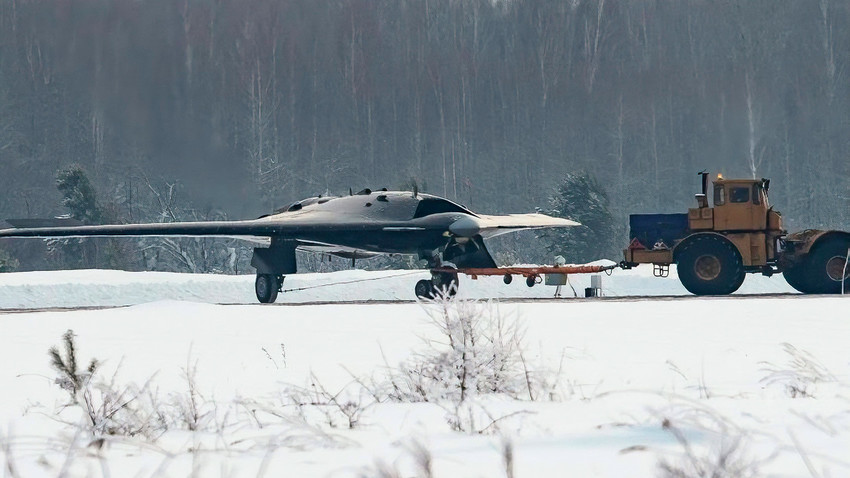 One of Russia's first UAVs will be able to deploy weapons designed for fifth-generation fighters and provide a platform for testing aircraft technology of the future.
The first photos of Russia's latest drone, the Okhotnik-B (Hunter-B), taken at a test site near Novosibirsk, hit the Internet in early February.
As the images show, the machine is a flying-wing type, providing better cover from enemy air defenses and allowing the drone to carry more firepower.
The Okhotnik is being developed (supposedly in top secret) by the Sukhoi Design Bureau—the company that created Russia's Su-57 fifth-generation fighter. This is what we have managed to find out from public sources as well as Russia Beyond's own contacts in the Russia defense industry.
The Okhotnik weighs around 20 tons and has a top speed of 1000 km/h (almost the speed of sound).
The drone is highly autonomous thanks to its AI brain. What's more, some of its technology and ammunition have been borrowed from the Su-57 fifth-generation fighter.
"The Okhotnik's arsenal includes air-to-surface missiles and an array of bombs (glide and operator-controlled) that will not be suspended from the wings, but hidden inside the body to reduce visibility on enemy radar," Professor Vadim Kozyulin of the Russian Academy of Military Sciences told Russia Beyond.
They potentially include the OFZAB-500 high-fragmentation high-explosive incendiary bomb and the ODAB-500PMV fuel-air-explosive bomb, which were used during the campaign in Syria.
"This is not just one of the first strike drones built in Russia, but a platform for testing sixth-generation fighter technologies. I wish to stress that the specifications are still being finalized, but the main feature is already known—fully robotized systems," Kozyulin made clear.
In Russian military terms, "fully robotized" means no pilot and the ability to make independent battle decisions from start to end. "The machine already performs the full cycle of combat operations, with the exception of deploying weapons in battle. This function lies with the operator," he added.
According to Kozyulin, the airframe is made of composite materials with a radio-reflective coating based on stealth technology.
If using any of Russia Beyond's content, partly or in full, always provide an active hyperlink to the original material.