Music copyright: VKontakte refuses to pay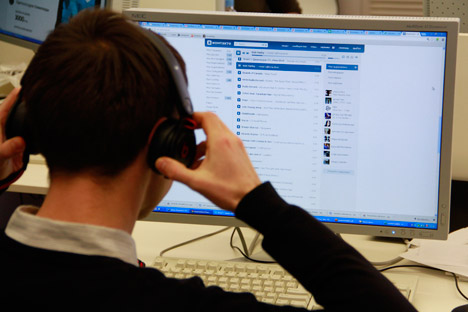 Free music is one of the most popular service in VKontakte. Source: RBTH
Russia's largest social network VKontakte has decided to appeal a court order that would require the owners to reimburse Russian pop singer Maksim for hosting her music on their website.
Eastern Europe's largest social network, VKontakte, has appealed a court order to reimburse lost profits from a pop singer's songs hosted on its website. This is one of many scandals involving VKontakte, which the Recording Industry Association of America (RIAA) has accused of being one of the most important players in the audio piracy market.
The owners of the VKontakte social network have appealed a court order that requires them to pay Gala Records $17,700 – or $1,600 per song – for hosting 11 tracks by Russian pop singer MakSim.
VKontakte has invoked an unofficial rule that has taken root in Russia, returning inquiry results saying "searches for the music in question have been blocked following a lawsuit from the copyright owner." This is exactly what Rutracker (one of the world's largest torrent trackers of music, games, movies, TV series, books, maps and other copyrighted materials) does. They only block file-sharing after receiving a complaint from the copyright owner.
This allows them to save time and money on legal fees but by no means guarantees them immunity from prosecution. Gala Records and the arbitration court have tried to demonstrate to VKontakte that blocking copyrighted material "does not constitute grounds for release from liability, because the respondent didn't take any independent action to prevent the infringement before the claimant filed the lawsuit."
VKontakte is a social network targeting mainly Russian-speaking users (although Tom Cruise has recently opened an account there too). The daily number of visitors exceeded 40 million in fall 2012. Still, it is not just the joy of socializing that attracts users – anything can be found there, from music to movies. All of the content is posted by users, and, formally, the network's management has nothing to do with illegal content.
VKontakte has been dogged by controversy for some time now. Some of the scandals are related to copyrighted content. The Recording Industry Association of America (RIAA) placed VKontakte on the list of the main culprits behind the 30-percent collapse in Russia's music market in 2012. It called VKontakte "one of the world's worst pirates," hinting at the network's unfair competitive advantage stemming from its stolen music offered for free – something its rivals just do not do.
Gala Records made a similar reference during the litigation, as it demanded much greater compensation for hosting its music and tried to convince the judge that the social network's revenue is directly driven by the fact that it offers free music downloads. The judge rejected the argument.
VKontakte has also been involved in political scandals. While the Moscow protests that took place during the winter and spring of 2011/2012 were mostly organized via Facebook, it was VKontakte that served as a virtual meeting point for rallies outside the capital.
Last week Novaya Gazeta published a letter that was allegedly written by VKontakte founder Pavel Durov to the former first deputy of the Chief of the Presidential Executive Office, Vladislav Surkov, who is widely believed to be the Grey Cardinal of Russian politics.
The letter – the authenticity of which Durov disputes – suggests that the administration was pressuring the social network and demanding it close down the protest groups. Durov resisted, explaining that the protesters would migrate to Facebook and Twitter and the country's national treasure – VKontakte – would lose users.
It is this kind of pressure that may be behind the latest scandal, which involves so-called "kids' fashion" communities that post pictures of scantily clad children wearing makeup and striking provocative poses. The pictures first appeared in February, causing a storm of protests among users; the storm and initial mentions of those communities originated in blogs of those close to the pro-Kremlin Nashi movement and the Presidential Executive Office.
VKontakte's management struggled for a long time to find a legal basis for shutting down the groups, which formally neither violated any rules nor promoted child porn. Eventually, the most popular "kids' fashion" groups were deleted and replaced with a placeholder reading "deleted at the request of the Federal Service for Supervision in the Sphere of Telecom, Information Technologies and Mass Communications."
Even so, no one has succeeded in defeating the social network, which boasts 200 million registered user accounts and 40 million unique daily visitors. Common law does not exist in Russia, so, even if VKontakte loses its appeal, this does not mean that any similar lawsuits against it in the future will be successful.
All rights reserved by Rossiyskaya Gazeta.