Moscow unveils designated 'Hyde Park' protest sites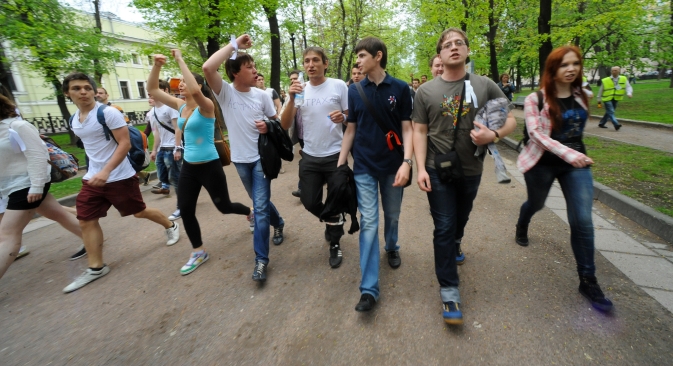 Muscovites comes to parks with the protest rallies. Source: ITAR-TASS
Gorky and Sokolniki parks became the first especially designed free speech zones in Moscow, where people will be able to hold rallies without prior authorization from the municipal administration. Opposition activists, however, fear the parks will turn into "reservations" for street protests.
Moscow has opened its own so-called Hyde Parks. Authorities hope that the project, which allows rallies of up to 2,000 people to be held without prior authorization from the municipal administration, will create a new protest culture for the city. Meanwhile, the opposition believes the parks will turn into a breeding ground for pro-Kremlin demonstrations.
The first application for a rally in the Gorky Park "Hyde Park Speakers' corner" has been filed, according to the park's website. A rally of up to 300 Lonely Girls will be held there on May 1, from 3 p.m. to 5 p.m.
Another "Hyde Park Speakers' corner" has also opened in Sokolniki Park. Those wishing to organize event in one of these parks have to file an application on the park website or submit a written note to the administration between three and 17 days prior to the event.
The two parks can hold 2,000 people each, and rallies are allowed from 7 a.m. to 10 p.m.
Moscow authorities believe that these "Hyde Park Speakers' corners" will create a new culture of urban protest in Moscow. When asked by Kommersantwho was welcome to have rallies in the parks, a Gorky Park spokesman said: "In summer, between 20,000 and 100,000 people come to the park every day. The park is a public space that is open to everyone."
Moscow officials confirm that there will be no restrictions on the types of rallies allowed. Everyone from ­LGBT activists to nationalists are welcome, ­ provided they comply with federal and municipal laws.
The mayor's office hopes that the two sites will make life easier for municipal officials, who often have to conduct lengthy negotiations over rally sites with the opposition.
The opposition is not as optimistic as the city administration, though. At the start of the project, the opposition stated that the parks would become "reservations" for street protests. Protesters are growing more concerned, especially because the authorities have been unwilling to authorize protest rallies in central Moscow.
Many opposition activists believe that the authorities are trying to change the concept of what a rally is by organizing this project.
"The authorities are making a big mistake if they think that Hyde Park Speakers' corner in London is a site for political rallies. Marches are held everywhere where there are people. Hyde Park Speakers' corner is not a political site, but a place where people go to share their problems and talk trash," says Eduard Limonov, leader of the unregistered political movement The Other Russia.
Sergei Davidis, who has organized major opposition rallies in the past, thinks the authorities believe they are trying to meet protesters halfway, while the parks will actually be swarming with pro-Kremlin movements.
Under the applicable legislation, organizers of large rallies are supposed to notify the local executive authorities of their intentions and have all plans for the rally approved.
In the summer of 2012, following a wave of mass protests by the opposition, amendments to the law on rallies were introduced to impose harsher sanctions for violations of protest rules.
Fines were increased multiple times, and a ban was imposed on wearing masks during rallies. Furthermore, unsanctioned mass protests staged under the guise of open-air events and parties that disturb public peace were also banned.
The article is based on materials from Kommersant, RIA Novosti and Gazeta.ru.
All rights reserved by Rossiyskaya Gazeta.